For those couples who like to think outside of the 'box' (or building!) when it comes to picking a wedding venue, you may be interested in having somewhere that is a complete blank canvas (perhaps literally a canvas!). Somewhere unique and flexible so that you can decorate and lay out everything exactly how you want. A shell of a place that can cater to your very own style, be built around your theme and be set in the location of your dreams.
For a magical, sometimes intimate and truly romantic experience, many are choosing a marquee alternative to ensure a personal and unusual place to say 'I do'. With current trends of festival and Coachella style weddings, people are looking for flexibility from the next generation of marquee style weddings.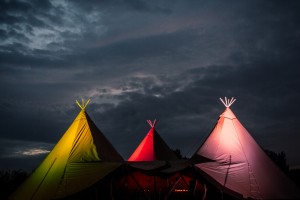 No longer just a white tented box to offer, there are now numerous tented options to choose from including marquees, katas, yurts, sail cloth tents, circus tents, canopies, Chinese hats, pavilion tents and tipis. They each offer something a little different. For examples, marquees may not offer as much character as a tipi but wouldn't have as many poles inside. So it depends what style you are going for and what you want the space to say and do for your big day.
At the moment, I am really loving the trend for tipis. The dictionary definition of a tipi/tepee/teepee is
a tent of the American Indians, made usually from animal skins laid on a conical frame of long poles and having an opening at the top for ventilation and a flap door.
For me, the fun, unique, and intimate, tipi-shaped structure is a space your guests will never forget. They can come in different sizes and can cater for large or small gatherings. For example a single tent would be better for a smaller gathering, or as a structure for a chill out area. Whilst a large gathering can be housed by linking tipis together to create a wonderful festival vibe space.
Putting together any marquee style wedding is certainly more work than going with a bespoke hotel package but the world really is your oyster when you have a blank page to start from and you're only limited by your imagination! Here are my tips when planning a tipi wedding:
Where to pitch your 'tent'? Finding the right site is key to whether logistically your dreams can become a reality. Find out if the location has power (if not you'll need to bring in a generator) and any other utility services (you'll probably need to bring in toilets and the caterers will need to bring in water).
How many guests are you inviting? If you have a number of guests in mind then you can start to decide how many tipis and the configuration that would work for your gathering.
What time of year are you planning on tying the knot? If it's going to be cold you may need to bring in heaters. If it's likely to rain (and let's face it, that's always possible in the UK!) then you need to consider walk ways to avoid slippery grass areas.
What do you want inside the 'canvas'? Think about your floor plan and where you want the dance floor, bar and seating etc. Do you want long tables and benches or round tables with chairs? Everything you want inside the tipi, you need to think about and either buy, hire, make or borrow.
What style or theme do you envisage? This will help you decide on décor and accessories (and where the fun begins on Pinterest!)
How do you want the place lit? Lighting is vital for an outside venue, not only to create ambience and atmosphere but also to practically light the way when night falls (let's face it, you don't want to have a dark walk to the toilets in the middle of the night!)
What style of catering do you require? If you want a hot sit down meal then you need to make your catering company aware of the venue location so they can factor in the equipment that they will need to bring with them. Or you may choose to go for a catering van that can just drive right up to the venue with everything ready onboard!
Do your guests know about your location? It's worth letting your guests know if you are getting married in 'a field' so they can wear appropriate footwear. Consider laying on special transport to get them to a remote location and maybe provide umbrellas and wellies on stand by if the weather is not favourable.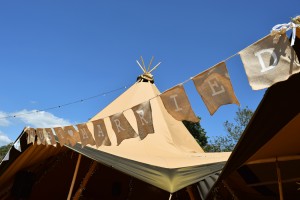 For more guidance on what to think about when planning a tipi wedding, we suggest speaking to the lovely folks at Love Tipis. Here's their introduction to some of the services that they have to offer, kindly written by their Event Coordinator, Michelle Mockbee.
From themes of woodland fairytale to the wild west or for the festival bride, tipis give a new approach to hiring a marquee. In the world of weddings this caters to a couple that desires an unconventional and stunning approach to celebrate your big day. (Beyond weddings, tipi hire is becoming a more common choice for family celebrations, festivals, charity events, retreats and corporate events.) Tipis may give the impression of being casual, however this feeling of relaxation comes from a coordinated team with months, or in some cases over a year of planning.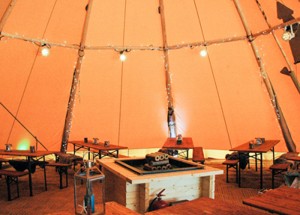 Tipis hired by Love Tipis originate in Sweden and are of substantial size, able to fit 12 Pine Wood Tables and Benches per tipi or a space for a concert and bar. The larger Giant Hat Tipis are 10.3m in diameter and link to other tipis. These tipis are also able to have the sides up, which gives the feeling of blending into the beauty of the natural environment. They also come with smaller tipis that link into the larger ones, allowing you to shape intimate tucked away spaces for a chill out or bar area. The number of seated guests determines how many tipis you will require. An average of 12 long tables with 8 to a table is able to fit per tipi, although this is a very tight fit. With round tables, the maximum you are able to fit per tipi is 7, which accommodates 10 people per table. Caterers will love you more if you hire long tables over round ones (they are easier to navigate).
There are other accompaniments such as a broad selection of LED lighting, indoor fire pits, bar, snug furniture and a dance area with a wooden dance floor. Some new additions at Love Tipis include some custom chill out or snug furniture featuring hand-stitched sheepskin cushions that settle in on apple crates. These seats serve as both luxurious seating and storage for your guests. They provide neutral tones to match any theme or colour scheme. Benches with cosy sheepskins have a lovely rustic feel, but your older family members, colleagues or friends might be giving you the evil eye all night and be quite uncomfortable.  Remember you can always have a mix of chairs and benches.
Love Tipis work closely with clients to design the interior of the tipi from seating to fire pits.  All the extra items you request takes up space.  Exploring all the possibilities through floor plans, really allows the day to unfold before your eyes.  The orientation/formation of the tipis, and how it all comes together allows for a stress free planning process. It's their job to stress out over making sure everything fits, and they will walk you through the process so you can concentrate on the more important details, not the general logistics. They are also happy to come out for a site visit and walk you through the process. Your safety is their first concern.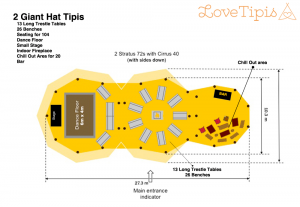 For events that will go throughout the night, lighting will leave your guests breathless. Beyond fairy lights, there are many considerations.  The neutral tone of the canvass allows lights to create absolutely stunning effects.  For example, it is not the disco ball that catches the eye, but the reflections and patterns it makes on the canvass.  LED indoor uplighters can be set to multiple colours or hooked into the sound system to change with the beat of the music.  LED outdoor uplighters create dramatic effects on both canvas or up in trees. Festoon lights are brilliant for pathways and setting the tone outside the tipis. All of the lighting is LED, which is very useful if your event is being run on a generator.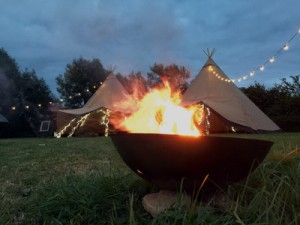 Tipis have smoke holes in the centre, and they hire out firepits to go inside the tipis.  They also offer outdoor fire pits to cosy up to under the night sky.  In regards to walkways, they provide flame torches or vases with slow burn candles. They also have a variety of candle chandeliers to hang inside the tipis in dining areas. All of these choices are based on your budget and your theme. Love Tipis make sure that the lighitng you pay for compliments the look your are setting out to achieve.
Love Tipis have developed special relationships with certain companies to provide all encompassing packages for clients that could include glamping, accommodation, license for marriage, as well as catering with bar and dining. They work closely with three companies that provide a variety of settings and themes depending on the ambience you seek.

The Maybush Wedding Company based in Oxfordshire is a pub on the Thames that provides an exclusive package to the pub with a field that hosts bell tents and two Giant Hat Tipis for your event. There are also options of accommodation nearby, along with a beautiful and quaint canal boat to be hired. For those of you seeking a mix between the outdoors and the facilities of a pub with catering, the Maybush is happy to make your dreams come true.

The Bell Tent Company based in Brighton provides all-inclusive packages with bell tents and tipis that host for any occasion. They are able to provide a variety of venues for those seeking a glamping, festival or woodland feel. Their sites provide bell tents, luxury loos, hot showers and a real ale bar with signature cocktails. Depending on your menu preference, there are options of hiring in a wood fired pizza boxcar or Mexican style cuisine. To get away from it all for a natural and relaxed feel in a field or in the woods with bell tents, food and a warm fire, this is the company for your event.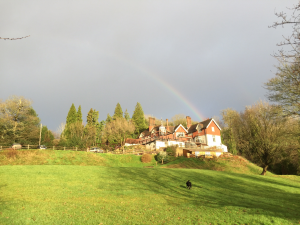 The Beacon is an idyllic rural setting with 17 acres and three ponds nestled in the woodlands of Tunbridge Wells. The newly revamped pub is at the top of a hill overlooking small villages and lush rolling hills. Their all-inclusive package is where luxury meets the wild west. This venue is licensed for marriage ceremonies and offers a variety of options to host up to 100 guests for a Love Tipis reception overlooking the natural beauty of the ponds and woodlands. The Beacon is part of the local food movement offering a gorgeous menu, and a top-notch service. For those of you looking for that luxury feel, whilst still being surrounded by the countryside, The Beacon is a gorgeous option. Take a look at their wedding pack for more information.

Love Tipis are based in Oxford and Brighton, which lends flexibility in hiring with Love Tipis. Each venue sets a certain tone and aesthetic. The tipis are able to offer numerous styles that provide a standard of event that compares to no other. With a vast knowledge and experienced team that loves the product they provide. At Love Tipis they pride themselves in providing a high quality service to work individually with their clients and their venues. By providing custom floor plans, lighting and seating layouts of the tipis, they strive for a stress free process that is thorough and prompt.
For more information go to www.lovetipis.co.uk or contact info@lovetipis.co.uk or call the Oxford Office on +44 (0)1865 250027 or the Brighton Office +44 (0)1273 689891.

@LoveTipis

@Love-Tipis