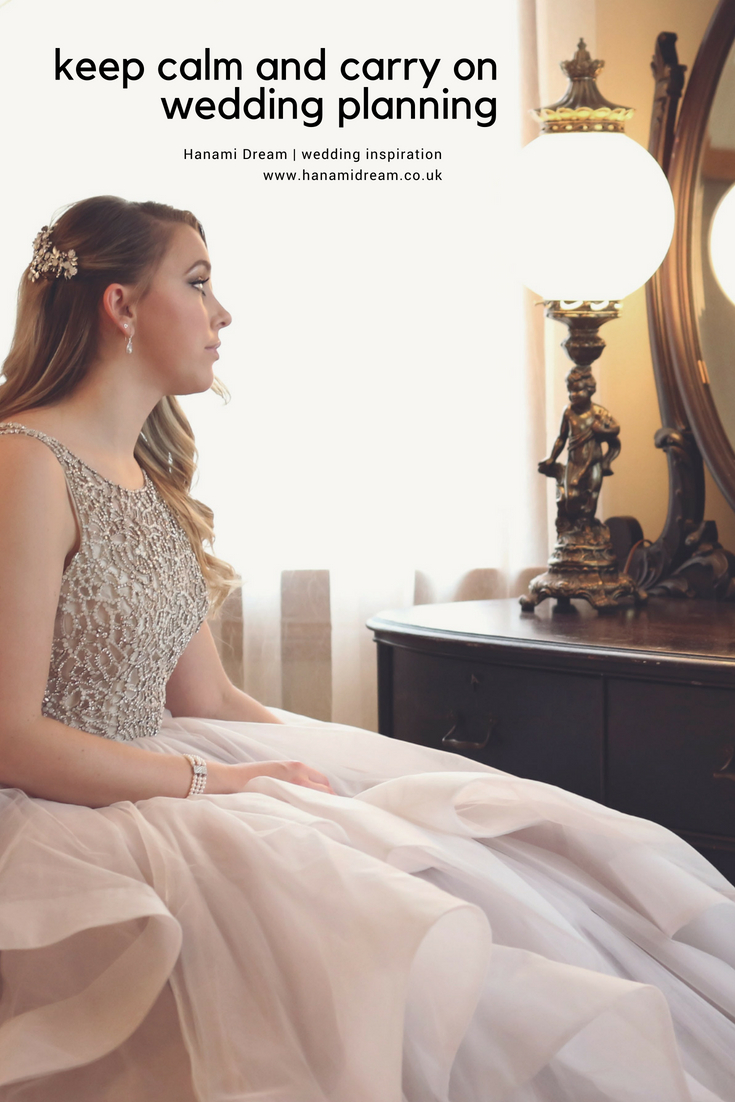 Keep calm and carry on…wedding planning
Huge congratulations if you're currently planning your forthcoming wedding. Whilst organising a wedding is incredibly exciting, it can sometimes be a daunting challenge too. Especially as you've possibly never organised an event of this scale or importance before, you're trying to please lots of people and everyone seems to have an opinion on it. So it would be understandable if you find that you can't keep calm and are sometimes stressing over the small stuff.
Here are top tips from Stephanie Varda Bridal Coach on staying calm and dealing with stress during the wedding planning process and build up. Considering how to deal with conflict, compromise and comments from other parties.
Ten things to remember when (not if!) you get stressed while planning your wedding
Get some perspective
This is the first tip because it kind of shocks some brides.  So many people think their wedding day is the most important day of their lives.  Your wedding day is the first day of your marriage, so it's worth keeping that in mind.  Your marriage and your partner will be very important to you as you go through life.  Remember what this is really about.  Now for the practical stuff….
Do it together
That's what marriage is about – so don't take responsibility for all the decision making involved in planning your wedding.  Discuss things as a couple – talk to your partner about what you both want from your wedding.
Delegate
Even better than planning together could be to ask your partner what they would like to take charge of and let them own that part of the wedding.
Get help
If friends and family offer help, then accept it.  As discussed above, you could either delegate some smaller tasks to them (or the tasks you don't like so much!) or accept their advice where you need it.  Beware of unsolicited interference that presents itself as help or advice, though – say no to that!
Be grateful
Your loved ones will be spending lots of time, money and effort on your special day.  They might not agree with all of your choices, but they are doing this how you want it because they love you.  So, appreciate them.
Take breaks
Don't live and breathe your wedding for the entire time you are planning.  You will just start to resent it all.  Take time out to do something else for a little while, perhaps with your bridesmaids or your other half.
Adapt
Things might not go exactly to plan, and plans may change.  Don't get upset about things that you can't do anything about, and stay flexible and open to change.  A wedding involves lots of people, and some of them won't do exactly as you want them to.
Prioritise
Decide which parts of the day are most important to you and where you want to splurge, and which you don't care so much about and those might be where you can save a little on costs.  This will help you to…
Don't sweat the small stuff
Identify what is not that important and either delegate or just get it done and don't think about it again.  Think about the whole day and the bigger picture of what you want from your wedding.  Don't get caught up in worrying about the details – nobody will notice anyway, your guests will just want to enjoy the day, have a big party and celebrate your love.
This is your day
This one is last because this is the one you really need to remember.  This should be your mantra.  We all want our guests to have a great time on our wedding day, but you can never please all of the people all of the time and this is your day, so do it your way!

Sign up to receive the latest wedding planning tips, tools, trends and traditions straight to your inbox.