Last week marked a whole year since my Twitter networking hour came to fruition. Having partaken in many local and wedding related networking I noticed that most hours are in the evenings and sometimes don't include many brides or grooms to be. #UKWedLunch was born to cater for couples and wedding professionals planning a wedding in their lunch break.
A year on and #UKWedLunch is going from strength to strength; with 1,156 followers and counting; a different discussion topic every week; and lots of lively interaction between brides and grooms to be looking for recommendations and UK based wedding professionals networking in their lunch break.  Lots of connections and new contacts have been formed as a result of #UKWedLunch. I'm incredibly proud of how it is developing and look forward to the next year of networking. Please spread the word so others can join us on Wednesdays 1-2pm on Twitter.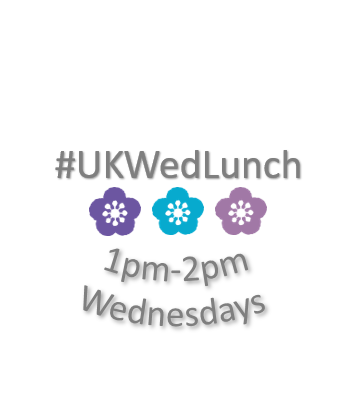 However I'm not always good at celebrating my successes. I'm often guilty of looking at the 'hole rather than the donut' – whilst I may have ticked plenty off my to do list, I'll still be thinking about what I haven't done. Earlier this year I fell in to this trap and felt a bit despondent as there wasn't enough time to bring many of my ideas to light. It resulted in me blogging less and this made me feel more disappointed. What I had failed to do was recognise what I had managed to achieve alongside the growing demands of another baby joining our family.
It is now (following a fantastic break away in France with my family) that I look back on the year so far with fresh eyes. Now I can see and celebrate the great things I have achieved rather than dwelling on what I haven't yet done. Before my holiday a series of exciting things happened which over whelmed me as they all came at the same time. After a bit of a step back, I now can appreciate and shout about these great achievements.

Firstly, my most recent styled bridal photo shoot (a modern Edwardian Secret Garden) was featured in Brides magazines online – a great honour especially to show case the amazing local suppliers involved.
Secondly, another shoot I organised last Autumn (a gold and Marsala Wind in the Willows) was used throughout the latest UKAWEP Wedding Academy wedding business magazine being shared globally with the wedding industry, fellow students, alumni, contributors, editors, tutors and prospects of the academy.
Thirdly, I also embarked upon on a 100 Day Goal challenge run by The Business Bakery that reached its climax last week. The essence of the strategy is to try to do a little every day to chip away at your ultimate end goal. Back in May, I challenged myself to monetise my blog which has been an ambition and business objective I'd set my sights on this year. These 100 days have enabled me to see little steps that can build to a whole. And in the last 100 days I've achieved this goal – not via the advertising route I'd envisaged but I've discovered to take opportunities wherever they arise and I've been really pleased to do some consultancy for a local wedding venue. The next 100 Day Goal starts again on 1st September and I look forward to seeing where this mind set takes me in the build up to the end of the year.
Additionally, some other great forthcoming opportunities have come my way include styling the Wedding Open Day at Cogges Manor Farm next month – watch this space for the images from this festival inspired shoot that will I will feature on the blog.
I continue to receive more wedding styling enquiries so I've now included a venue styling page on my website so couples can see the types of services I offer.
Plus more plans are afoot for another photo shoot in the autumn as I've been approached to style one by a local venue.
And lastly (and most importantly), I was lucky enough whilst away to celebrate my own wedding anniversary with my amazing husband. I continue to be grateful for the love and support he gives to me. We've done quite a lot in the 6 years that we've been married and I look forward to our many adventures to come too. Six years of marriage traditionally would warrant getting an iron as a gift (which could be more inappropriate for me – I can't remember the last time I ironed anything!)
So, after a brief social media break (forced due to lack of wifi!) but a wonderful family time away en vacances, I come back refreshed and raring to go.