A topic very close to my heart (and sweet tooth) is cake!
When it comes to weddings, cakes are often the focal point of the wedding reception – proudly displayed, incorporating themes and colour schemes of the day, and featured in one of the main staged events of the day – culminating in a great photo opportunity when it formally gets cut.
There are many elements of a wedding that are steeped in tradition, superstition and symbolism. Here I unravel a little behind why wedding cakes are included in the festivities and then The Pretty Cake Company give their advice for the perfect 'recipe' to get the wedding cake of your dreams.
Even though some couples are picking alternatives to the humble wedding cake (such as 'cheese' cakes, cupcakes, giant porkpies, quiches tiers and pancake stacks to name a few), the evolution of this wedding element is nothing new as it's seen many guises over the years including bread rolls and pie.
The custom originally dates back to Roman and Medieval times when bread would've been thrown at the bride. Thankfully this developed into the breaking of the bread over the head (symbolizing the bride losing her virginity).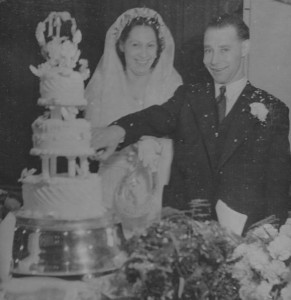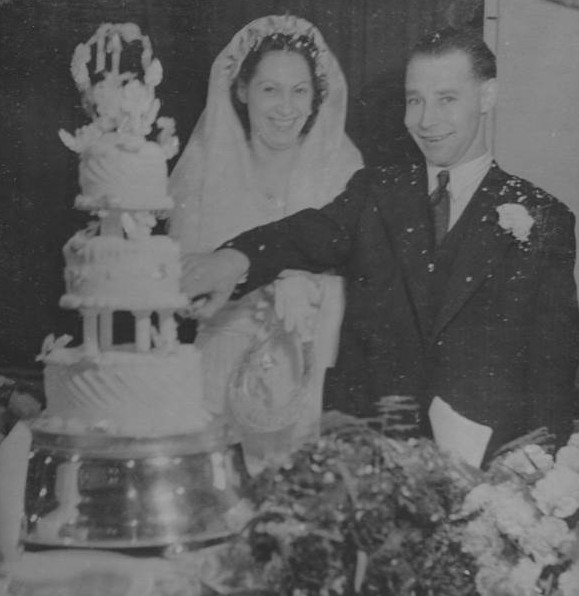 Over time this progressed into guests bringing baked goods to the wedding and piling them up as high as possible. The couple would try and kiss over this high cake without it falling over and were deemed to have good fortune if they were successful. Not content with the instability of a baked goods stack, one clever baker came up with the idea of sticking the rolls together and the Croquembouche was born.
Today's traditional wedding cakes have a rich fruit cake (a sign of fertility), often a gorgeous layer of marzipan (that I can't get enough of! ) and white fondant icing. The white colour of the bride's cake was again a sign of purity and also one of wealth as fine white sugar would've been expensive back in the day. The whiter the cake the wealthier you were plus the number of tiers showed extravagance too (although often some tiers could be fake ones to save money!) Plus an alternative 'darker' groom's cake alongside (perhaps in chocolate).
Traditionally, the cutting of the cake (as well as being a staple photo opportunity) was done by the bride on her own (to symbolize losing her virginity) and she would hand out the cake to ensure fertility. Nowadays it is the first task performed together as a married couple. Some couples feed each other the first slice as a sign of commitment (or smash it in each others' faces if you're feeling cheeky!)
With the bottom tier for cutting, the middle tier for sharing, the top tier is often saved for the first anniversary or christening.
Meanwhile, symbolic charms placed in the cake attached to ribbons can be pulled out by the bridesmaids to predict their fortunes. Plus it was thought that single people who slept with a slice of the wedding cake under their pillow would dream of their future spouse.
There is so much tradition and choices to call upon to create your wedding cake and this element continues to evolve with emerging geode cut out cakes, crystalling detail, food walls and even wedding cakes with image projections on them. Take a look at some of my other trend predictions too.
---
Here are some top tips from the incredibly talented Samantha from The Pretty Cake Company with a cake designer's insight into picking your cake and a look at current wedding cake trends to consider.
The wedding cake will be the most prominent centrepiece of your wedding reception with the potential to be a highly decorative work of art. So deciding on what form your wedding cake should take, is one that should be given very careful consideration.
An average wedding cake now is upwards of £500 and can go into the thousands, so your requirements will dictate your budget. The costing is primarily dependent on three things, size, flavour and decoration.
SIZE
When contacting cake designers it's important to give as much information as possible. Give your anticipated guest number as this will allow the cake designer to work out what size tiers would be most appropriate. If you would like to reserve the top fruitcake tier for a first anniversary or christening then do mention that as well.
I have had clients in the past who want very tall grand wedding cakes, but not necessarily all the cake that would come with it, so think about the option of using polystyrene dummies to add extra tiers as this would help reduce the cost.
FLAVOUR
Simple sponges such as vanilla and lemon tend to be the cheapest with other most popular flavours such as chocolate, carrot and fruitcake, being more expensive due to the ingredients cost and increased time taken to make them.
Ask your cake designer what other flavours they could suggest as other flavours can often be made by adapting existing basic recipes. Other popular flavours that I have done in the past are coffee and walnut, orange and almond, lime and passion fruit, toffee and salted caramel, champagne and strawberry, but with lots of good quality flavouring extracts on the market, it's very simple to come up with some more original suggestions.
Sometimes you can make a simple flavour more exciting by simply making the filling a bit more interesting, like lemon cake with a passionfruit curd buttercream or chocolate with a salted caramel buttercream.
DECORATION
Decoration is by far the most influential part of costing the cake as this is what takes the most time and requires the most skill. Things like sugar flowers, texture work and intricate pipework on the cake, can take several hours and sometimes days, so if you are on a budget, then maybe try and avoid these.
---
Here's the 'recipe' to get the wedding cake of your dreams:
1. CONSULTATION
Check with your cake maker if they offer a face to face consultation, if there is a charge for it and whether cake samples would be available for tasting. It's important that you have confidence in your cake maker and that the cakes will taste as good as they look. Some companies do charge for consultations, which might be deductible from the cost if you book.
2. EXPERIENCE
Most reputable cake makers will have a strong portfolio of their work which will be further substantiated with websites, social media pages and recommendations from previous clients and local venues. Do your research beforehand and choose a cake maker that has experience of the styles you like (such as elegant, pretty, floral wedding cakes versus novelty wedding cakes). Respect a cake maker who is honest with you and will tell you up front that they feel that there are better people out there who can create what you want.
3. AVAILABILITY
With weddings occurring almost any day of the week now, cake makers can be very much in demand. Ask your cake maker how many wedding cakes they take on in one week and how many people will work on it so that you know that your cake will not be compromised.
4. BOOK IN ADVANCE
I always advise my couples that once they have a date secured with their venue they should book, pay a deposit and reserve the date with their suppliers as soon as possible. Consultations and finer details can be worked out much nearer the time. Generally it's best to book 9-12 months in advance. Often the cake is one of the first things you should book but one of the last things you should finalise as it can incorporate so many aspects of the wedding eg colours, flowers, fabric, stationery (which will only be known towards the end of the planning stage).
5. DEPOSIT
Ask when the deposit is required which tends to be between 25-50%. It's always a good idea to make a note of when the balance is due to be paid. This tends to be between a month to 2 weeks before the wedding although check with your cake maker on their policies.
6. DIETARY REQUIREMENTS
Let your cake maker know if there are any allergies that they need to be aware of. However, also bear in mind that, unless you are using a very large company with allergy safe environments, it could be tricky to completely eliminate the risk of cross contamination.
7. ACCESSORIES
Think about how you want the cake displayed and how you're going to cut it. A cake stand can dramatically change the way that a wedding cake looks and I always recommend the use of one. It adds precedence, height and is an added decorative feature. Most established cake makers will have a range of stands for hire. Some venues offer use of a cake stand as part of the package but always ask to see it beforehand, as they can be old fashioned silver stands which might not suit the style of your cake. It is generally the responsibility of the couple to return the stands within a couple of days of the wedding, unless this has been agreed prior and a collection charge has been paid.
8. DELIVERY
Make sure you let your cake maker know where and when the cake is to be delivered or if you are going to collect it. Most cake makers will charge for delivery and this will also include the return journey. They will also need to know who is the point of contact at the venue as you may be otherwise busy. Plus think about where the cake is to be set up, being mindful that it shouldn't be in direct sunlight, or have a cluttered background.
---
Logistics aside, the fun part is picking what it'll look like and how it will embody the theme of your special day. Here are some current trends in wedding cakes to give you some inspiration:
 Chalkboard: Chalkboards are often used at weddings for place settings, order of events and direction signs, so why not follow the theme through onto the cake, and personalising with a monogram or favourite quotes and lyrics. It's also the perfect opportunity to show off some pretty calligraphy fonts.
Semi naked cake: The naked cake has been around for a number of years now so it's about time there was a new twist on it! The semi naked cake has a thin scraping of buttercream which allows the sponge to show through slightly. It gives an interesting rustic finish which looks beautiful decorated with fresh flowers and fruits.
Textured Buttercream: Lots of people love the thought of sinking their teeth into light fluffy sponge and a nice thick layer of delicious buttercream. So if you prefer buttercream to fondant then this is the perfect cake for you. Finished with fresh flowers, it gives an elegantly simple yet stylishly beautiful wedding cake.
Marble: Marble cakes are seeing a big revival at the moment and here is a cake which incorporates many on trend features. The marble tiers on the top and bottom are flecked with gold and the metallic drips on the bottom tier are also very fashionable. The chalkboard tier adds the opportunity for a bit of personalisation and the beautiful sugar flowers add a pretty feature which feminises the cake.
Ruffles/texture: Texture has been popular for a few years now and here is a cake which demonstrates texture in many ways. The vertical ruffles add an understated elegant texture; the gold sequins add sparkle and the pretty gold piping was inspired by a stationery design. Together with the sharp edge finish on this cake and the single garden rose on the top tier, this is a crisp, sleek and sophisticated wedding cake.
Metallic and opulence: Metallic decoration can be seen in many ways, be it, metallic leaf, metallic lustre, metallic sequins or simple enhancements with a paintbrush and edible metallic paint. Here is a grand 5 tier cake with a metallic gold leaf tier. Metallic leaf can leave a distressed finish as it is very difficult to apply, but this is part of its charm. The cake was finished off with patches of intricate lace pipework and gorgeous sugar flowers.
Floral romance: Cake and flowers often go together, whether the flowers are real or if they are made from sugar. Here is a selection of recent floral wedding cakes showing how diverse each one can be.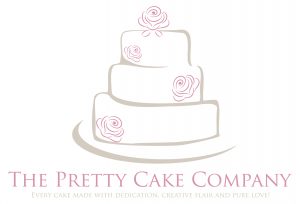 The Pretty Cake Company offers a friendly, personal and bespoke wedding cake design service to produce breath taking wedding cakes that will be remembered for years to come. They produce wedding cakes that are individual to the bride and groom – always focusing on the attention to detail that makes all the difference. They have over 10 years of experience in designing and creating wedding cakes and work closely with numerous prestigious wedding venues in Oxfordshire, Gloucestershire and The Cotswolds.  They will work with you and take your ideas and inspirations in order to create a truly memorable wedding cake. They pride ourselves on using the finest quality and freshest ingredients available.
Unlike many other cake companies, they now specialise only in wedding cakes, as this is their true passion.  Now they are able to focus on keeping up to date with current bridal trends and ensuring that their clients receive expert advice in the wedding cake field.
Clients are guaranteed a friendly, efficient service where quality is never compromised. Consultations by appointment only. They are based in Minster Lovell, Witney, West Oxfordshire and can deliver to a wide area.

@Prettycakeco

@The-Pretty-Cake-Company-Witney-Oxfordshire