#WonderfulWeddingWares May 2019
Join the #WonderfulWeddingWares Instagram challenge this May with Hanami Dream!
What is #WonderfulWeddingWares?
This month long challenge is about making new contacts, finding new people to follow and discovering the amazing talent our region has to offer the wedding industry. It's the little details that bring any event to life and a wedding is a culmination of many different beautiful and wonderful wedding wares from an array of amazing suppliers.
In this challenge there is a new wedding theme for each day of the month of May – simply post your photo to your Instagram feed along with the #WonderfulWeddingWares hashtag. There's no need to take new photos to join in – you can choose to tag an existing image that you have already posted that you feel fits the theme well. And don't worry if you don't have an image for every day – just do the ones that fit your products.
Who is #WonderfulWeddingWares for?
This challenge is for any wedding supplier offering their products to couples getting married in the Cotswolds, UK such as: photographers, venues, stylists, stationery designers, florists, dress makers, favour producers, tableware renters, prop hire companies, jewellery designers, cake makers and anyone else who provides a place, product or service that make up a wonderful wedding day.
It's a great opportunity to showcase your own wonderful wedding wares. Tell your friends and colleagues – let's get as many involved as we can.
Just tag your posts with #WonderfulWeddingWares
When does #WonderfulWeddingWares start?
Get ready for the start on Wednesday 1st May 2019. I can't wait for May – with two bank holidays and my birthday thrown in there too, plus it'll be great to see the different ways you creative lot interpret each theme. I will also pick a selection of each theme from different suppliers to make mood boards to share on social media and my blog.
#WonderfulWeddingWares prompts
Here are the #WonderfulWeddingWares prompts for May 2019 (weekends and bank holidays in bold):
Eco
Circus/carnival
Medieval
Industrial
Great Gatsby
Red
Pink
Gold
Yellow
Chocolate
Purple
Blue
Spring
Summer
Autumn
Winter
Rain
Outdoors
Nighttime
White
Black
Pastel
Green
Bold colours
Tartan
Mismatched
Sparkly
Lace
Paper
Fruit
Festival
Follow Hanami Dream, the creator of this challenge, on Instagram.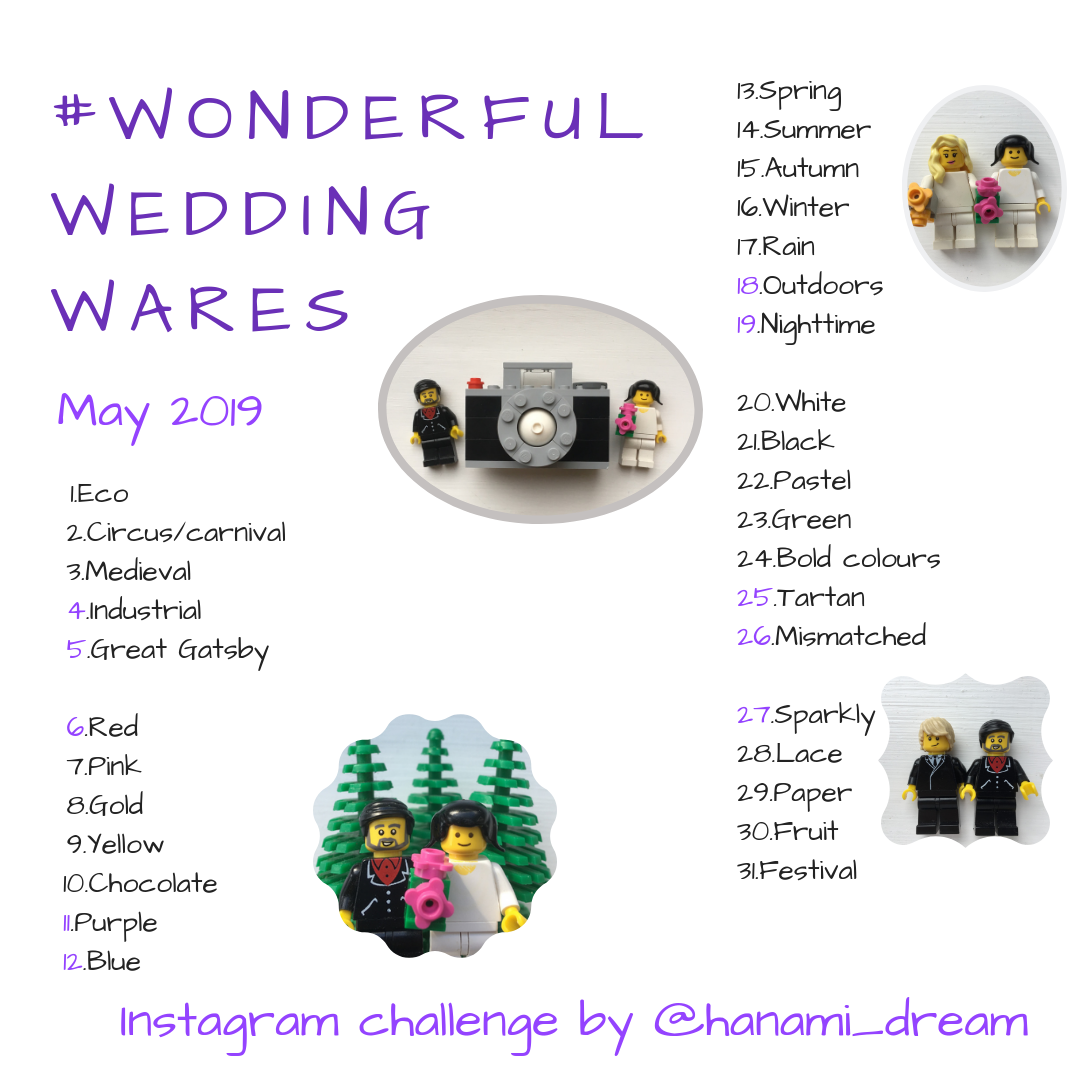 sign up to receive the latest posts straight to your inbox