In Victorian times, it was popular for people to use hidden gestures to communicate their feelings and often they would covey these with flowers as they connected them each with it's own meaning. It was an elaborate code for lovers or suitors to send messages to each other.
Another custom is to spell out the name of your future spouse using the initial letters of the flowers. Even Kate Middleton had Sweet William flowers in her wedding bouquet to Prince William.
Nowadays, you could use the meaning of flowers to help narrow down your selection for your wedding flowers. (Don't forget to also consider what is in season, traditions and the colours of flowers too).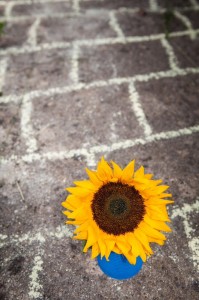 Here's a list of some meanings of flowers to help with your wedding flower decision:
Acacia: friendship
Agapanthus: secret love
Apple Blossom: good fortune
Aster: contentment
Azalea: abundance
Carnation: fascination / love
Chrysanthemum (red): I love you / sharing
Chrysanthemum (white): truth
Daffodil: regards
Dahlia: dignity and elegance
Daisy: innocence
Forget Me Not: true love / remembrance
Freesia: trust
Gypsophila: innocence
Heather: luck
Honeysuckle: generosity
Hyacinth (white): loveliness
Hydrangea: vanity
Iris: faith
Ivy: good Luck / eternal fidelity
Jasmine: amiability
Lavender: distrust
Lilac: first love
Lily: purity
Lily of the Valley: return of happiness
Lisianthus: calming / appreciation
Magnolia: perseverance
Marigold: grief
Orchid: beauty
Peony: bashful
Rose: love
Snowdrop: hope
Sunflower: adoration
Sweet pea: pleasure
Tulip: love
Violet: faithfulness
This is by know means an exhaustive list but just a starting guide to begin thinking about what meanings are associated with flowers for your big day. Take a look at some other blog posts on colours, seasonality and tradition of flowers at weddings.