The tradition of wedding flowers is steeped in symbolism and there's lots to think about in terms of colours, meaning and seasonality.
Flowers have been a part of wedding traditions since at least Greek times when flowers would have been grouped together in a garland to be worn on the head and seen as a gift of nature. It would also contains strong smelling herbs such as garlic or chives to ward off evil spirits. In the Middle Ages, garlands were worn entwined with ears of wheat to symbolise fertility. And with the rarity of baths, the bouquets were a nice fragrant distraction from any other lingering smells!
Nowadays, wedding flowers can compliment and reflect the theme, style, colours, tone and surroundings of the day. You can include flowers in your bouquet, corsages, button holes, table decorations, flower walls, displays at venues or as confetti or petals sprinkled by the flower girls.
Flowers are a big focus in 2016 not only in the décor but with hair accessories and headwear. Plus a new trend of ring corsages is emerging and the use of wild flowers like daisies. It doesn't all have to be about the flowers, as foliage will be as important or instead of flowers in displays. Alternatives to traditional flowers are seeing the use of succulents in bouquets, on tables and given away as favours. Plus instead of the usual confetti, there is now a herb toss as another option which gives such lovely aromas to this part of the day.
Then once you've finished with your bouquet (if you've not thrown it to your single friends), there's also a lovely new trend emerging of the 'lonely bouquet' where you leave your bouquet in a public place, with a note for someone else to find – thus spreading smiles and the joy of flowers to others. (Google it, I've not made it up!)
We have asked the highly talented (and award winning) Dee McMeeking to help unravel some of the mysteries of picking the right flowers, at the right time of the year, for your special day.
It's one of those questions a bride to be will always be asked – "what flowers are you having?" and I know for some of you that can be a scary question! If you are blessed to know your hypericum berries from your viburnum then you will not need to read any further. But if your floral knowledge is more daffodils and dandelions then here is my quick guide to things you need to know about seasonal wedding flowers.
1) Flowers are seasonal
In theory that means that you can't have certain flowers at certain times of the year. Think of it like Cadbury's crème eggs or Easter Eggs – you don't find them easily in shops in August or December! Flowers are the same. So if you have set your heart on a bouquet of peonies and you are getting married in the UK in November you may struggle. I say 'may' because the majority of cut flowers we use here in the UK are imported and most flowers are in season and being grown somewhere in the world, but that will make them more expensive.
Top tip: There are a couple of great apps that can help you out here – Flowerwheel, or Flowerbook. Both allow you to see when flowers are in season and more importantly photos and colours! So if your answer to the "what flowers" question is pink and white flowers, you can take this a step further and get some ideas with super search functions by colour.
2) Flower prices vary during the year
Flowers are one of those products where the prices will vary, sometimes quite significantly, at different times of the year. It's as much about supply and demand as it is about seasonality. There is one big hot spot in the year that I have to mention – Valentine's Day! The price of red and pink roses can treble if not quadruple just for that week. But other flowers can be cheaper than normal – such as orchids – purely because everyone is buying red roses.
When something is in season, it is naturally growing at its peak, the price is lower. So if you work with seasonal flowers you can get more for your money.
3) Using local flowers can save you money
More and more brides are opting for an informal look with their wedding flowers. The country garden "just picked" look where your flowers look more natural and less structured. If this is your style then you can do your own wedding flowers – certainly for your wedding reception, you might want a bit of help for bouquets and button holes. There are UK based growers who will sell you seasonal flowers "by the bucket" you just pre-order them, collect them, and then display them in your own personal style. Buying direct from the grower will save you some money and you will have very fresh flowers, often picked that day. To find your local suppliers check out this site http://www.flowersfromthefarm.co.uk/
4) The colours of flowers change with the seasons
I mention this purely from an experience I had with a bride who was fixed on her colour scheme of navy and gold and her flowers HAD to match to these colours. Now even at the peak of any floral growing season you are not going to get gold flowers and navy is also a tricky one too! Especially if you are in February in the UK! So if you are getting married in Spring or Winter remember that you may have to compromise with your flower choices. My solution was to go neutral with the flowers – ivory, white and creams and then add her gold and navy in through adding details such as ribbons and containers. Sometimes you may just need to be a little creative with your colour scheme.
5) Where do I start with selecting my flowers?
Here is how I would approach finding out what is in season for my wedding flowers. First of all start with your wedding date and figure out which season you are getting married in. Search for "wedding flowers in season UK" now the UK bit is important because if you stumble on an American wedding blog in your search results what's in season there may not be accurate for you! You will be surprised how many great guides there are already out there on blogs (just like this blog- check out these posts on seasonality, colours, and meaning of wedding flowers). Then I would pick out a few of these flowers that I liked and pop straight over to Pinterest and create a wedding flowers board. Search for "wedding flowers with xyz flowers" and see what emerges. When you have some visuals and you know roughly what is available at that time of the year you have enough research to either take to a florist or to source the flowers yourself!
Happy planning!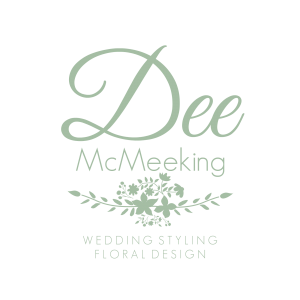 Dee McMeeking is the designer (wedding planner, wedding stylist & floral designer) behind Dee McMeeking Wedding Styling, a wedding styling & floral design business based in Warwickshire, UK & Dublin, Ireland. If you're a creative with lots of great wedding ideas but need some help to bring your unique style to life on your wedding day, then contact Dee today at weddings@deemcmeeking.com. Dee works with clients from anywhere in the world and is waiting to hear more about your wedding styling ideas.