Great street food and amazing pop-up restaurants have been on the rise in the foodie world for a number of years, so it's not surprising that this trend has made it's way in to the wonderful world of weddings.
It was fantastic to see such an array of highly talented local caterers and produce at last month's Witney Festival of Food and Drink. This wealth of local products and producers was celebrated again at Blenheim Palace Food Festival and it won't be long until Jamie Oliver and Alex James's Big Feastival over the August Bank Holiday in Kingham in the Cotswolds. These events make me realise that we have some amazing food grown and made nearby in the beautiful Cotswolds.
A food revolution and revival has certainly been occurring over the last few years and our tastes, experiences and cultures are broadening our options and are making food a real focus and meal times a real event. The origins of where food comes from, organic products and responsible sourcing is becoming more transparent and giving people the opportunity to buy local.
Alongside the popularity of festival and bohemian style weddings, having catering vans to prepare and serve your guests on site is fast becoming a great addition to any outside wedding. These are not your football ground style burger vans, this is top end, street food done exceptionally well. They come complete and often travel with their own kitchen (keeping additional catering equipment hire costs to a minimum). These are all encompassing and absolutely delicious options to keep your guests' mouths watering and coming back for more.
Nowadays, there's a catering van to suit most themes, budgets and palates from all around the globe such as: pizza, burritos, sushi, curry, hog roast, waffles, fish and chips, jacket potatoes, doughnuts and crepes. Plus food catering for a selection of different dietary requirements (look out for a blog post on this topic very close to my heart coming very soon!)
So here is my pick of some of the top wedding catering vans in and around Witney (in Oxfordshire and the surrounding Cotswolds):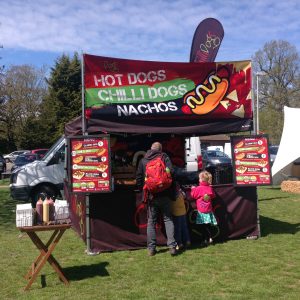 ChilliDogs cater for events, festivals and weddings with their handcrafted hot dogs and real-deal nachos, fully loaded with the ultimate chilli con carne and their infamous cheese fondue.
All their food is made using premium ingredients sourced from local suppliers. Their sausages for example are handcrafted to their unique recipe by a local smokehouse, their hot dogs are made from 90% British pork, double beechwood smoked for a deep satisfying flavour, their chilli is cooked for over 8 hours for the ultimate rich flavour. ChilliDogs don't do compromise.
Gourmet nachos and hot dogs are great for weddings as they are great social food and cater for all tastes – from chilli cheese dogs for those with big appetites to simple classic dogs for those who like to keep it simple!

@ChilliDogs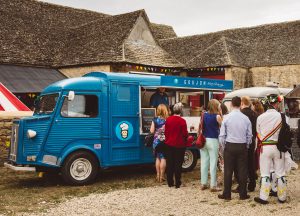 Goujon Monkey are an Oxfordshire based gourmet street food caterer offering traditional favourites with a modern twist.
They pride themselves on serving the finest quality street food available, using only the freshest ingredients. All of their food is cooked from scratch and served from a lovingly restored vintage Citroen H van.
With menus to suit different tastes including their hand prepared Beer Battered Cod, Goujon Monkey offer a unique addition to your big day.
When they're not serving delicious food at weddings and other private events, you can find them at various festivals and street food gatherings in and around Oxford.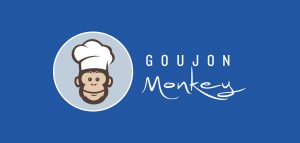 goujonmonkey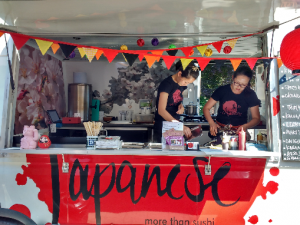 Set up 6 years ago by Momo, based in Oxford. She sells freshly cooked, hot Japanese food from her street food van. She moved to Oxford from a small place in Mie prefecture, Japan twenty years ago. Growing up in a Buddhist temple she helped her mother and grandmother prepare food for guests and learnt how to cook and present traditional Japanese food. She wanted people to know more about Japanese food, not just sushi! So she started selling 'maki sushi' which is home-made, rolled sushi along with other things like Japanese fried chicken, edamame beans, miso soup and traditional rolled omelettes at a local farmers' markets.
Now more than hot food they trade from a street food van in Woodstock Road in Oxford (outside the old Infirmary, opposite the Royal Oak pub) with an expanded menu.
They are very proud that they offer true Japanese food. They can also cater for events and parties either at a venue or a private home. Their catering style is flexible so can be customised to suit your event.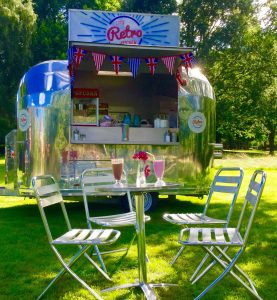 Little Retro Kitchen is a brand new build catering trailer, inspired by American Airstream and has just reached it's second birthday. They are based in Worcestershire, but can travel and cater for any occasion. They pride themselves on using local produce, and have the highest hygiene standard of Hygiene 5 rating.
Amongst other things, they serve Worcestershire Gourmet Burgers topped with local cheeses, wild rocket & onions. Cheese choices are Worcester Gold (creamy tangy cheddar), Chilli Cheese or Worcester Sauce & Shallot Cheese. Plus sides of fries and rainbow coleslaw. They also offer a Wedding Cheese Cake supplied with biscuit selection, chutneys & grapes, as well as wedding breakfasts with dry cured bacon baps.
Little Retro Kitchen is a great visual at any event, with their colour change lighting and illuminated roof sign, that looks great when it's dark too.

@Little Retro Kitchen Party Catering & Events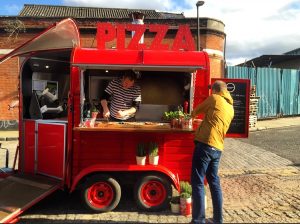 Lucabuca was formed from a love of a good party & especially good food. Having been in the events industry for over 15 years it seemed natural to create something that could add an attractive & delicious dimension to weddings, festivals, pop-ups & parties. The love of fresh ingredients, authentic Italian food  and taking pleasure from helping people to celebrate the special times in their lives enabled Lucabuca to be born. Add in bright red, sparkly lights telling everyone what we do, an authentic vintage pop up with our wood fired pizza oven, custom made gazebo, foliage, ladders & stools and you've got the perfect beautiful Italian detailed furnishings to add to any party!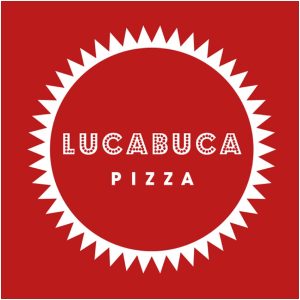 @lucabucapizza

@lucabucapizza

@lucabucapizza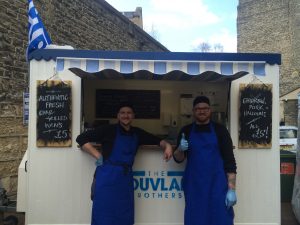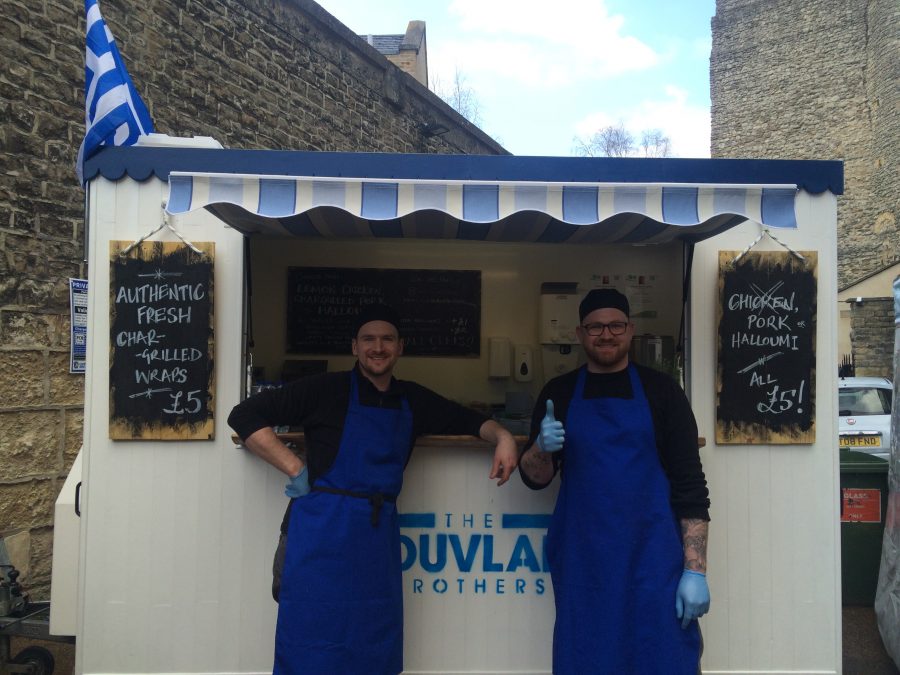 The Souvlaki Brothers is owned and managed by two Greek brothers, Panny and Yiannis, who set the business up with one simple goal – to provide the most delicious Greek street food possible!
They believe in keeping things simple – make one product REALLY well. They specialise in souvlaki; a choice of chargrilled marinated pork, succulent lemon chicken or grilled halloumi wrapped in traditional fluffy pita bread with homemade tzatziki, fresh tomato and onion salad, a scattering of crunchy french fries, and a secret combination of herbs and seasonings.
This fresh, extremely tasty street-food has somewhat gone under the radar in this country up until now, and The Souvlaki Brothers are leading a charge to change that, with what they believe is the most authentic version of their favourite food (and maybe even some Greek dancing along the way…)
Quick to serve, portable and with minimal packaging, their souvlaki are perfect at events, festivals and weddings, providing a new and exciting food option for hungry crowds and a slice of Mediterranean sunshine!


And not forgetting this selection of other delicious helpings:
My tummy is rumbling just thinking about all this food! We are lucky to be surrounded by such great local products and producers of sumptuous meals to accompany our special occasions. #keepitlocal
Bon appetite!