[As featured on page 65 of the December/January edition of Your Berks, Bucks & Oxon Wedding]
Couples are currently looking at ways to personalise their nuptials and break from tradition. Wedding styling is seeing an abundance of original alternatives that blend together cultures, creativity and lots of personal touches.
Mixing and matching seem a great way to compromise, as couples decide that they don't have to settle on one particular style. This gives a great fusion of modern and vintage, along with contrasting textures, colours and mixed metals.
Here are my top wedding styling trends to look out for at the moment:

Bringing the outside inside
The greenery trend has meant less flowers and more plants and foliage are prevalent, with top tables awash with garlands running down the whole of the table and spilling off the ends to the floor, with gentle inclusions of white flowers. Think of the foliage arch that was around the door of St George's Chapel for Harry & Megan's wedding.
Couples are also thinking more seasonally with their choices and including foraged items such as moss, fruit, vegetables, feathers, cones and other seasonal items from the environment around them.

Alternatives to paper stationery
Couples are thinking beyond paper and using different material types such as Perspex, denim, wood or agate slices for their suite of wedding stationery. For the transparent acrylic trend, the use of Perspex chairs, tables, menus and signage means that stationery doesn't detract but blend in with the surroundings. Clear 'stationery' will continue to grow in popularity for a modern style and this is evolving further to iridescent details.
 
Minimal look and feel
On average, wedding guest numbers are decreasing and micro weddings are on the rise; with couples wishing to keep things small, personal and more meaningful. This vibe is also transcending to the look of the day, with plain, simple and minimal styling. This can be enhanced by using one colour for maximum impact such as white for an amazing statement with a relaxed and tranquil atmosphere.
Festival vibes
Outdoor or tipi weddings with macramé ceremony backdrops are seeing a massive upturn at the moment. Think hanging greenery, trees, dream catcher favours, festoon lighting, ribbon drapes, food vans, chill out areas and fire bowls.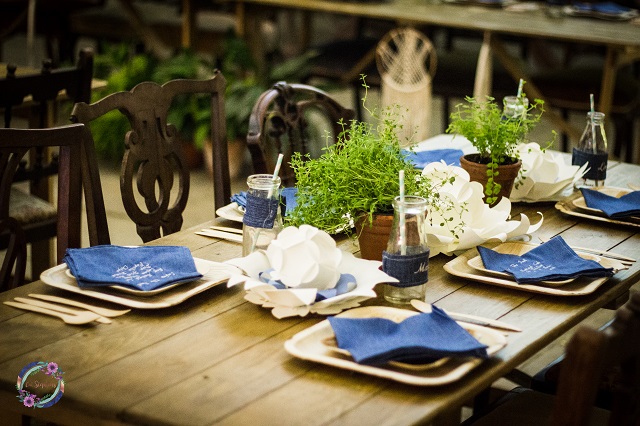 Alternatives to real flowers are better for the environment and the pocket – make paper flowers or borrow house plants for a great diy wedding.

Statement backdrops
Move over flower walls and arches – the ceremony wreaths are here! Archways are being superseded by moongates, circular arches and other impactful ceremony backdrops. Couples are using them to walk through on their way down the aisle, a spectacular ceremony or photo backdrop, behind top tables, bars or dessert tables. The wreaths can be decorated with flowers and/or foliage, all over or partially covered.

Air plants
Another alternative to flowers is air plants, which are a brilliant evolution on the succulent trend. Their delicate tendrils give a wonderful contrast against the soft tulle of wedding dresses.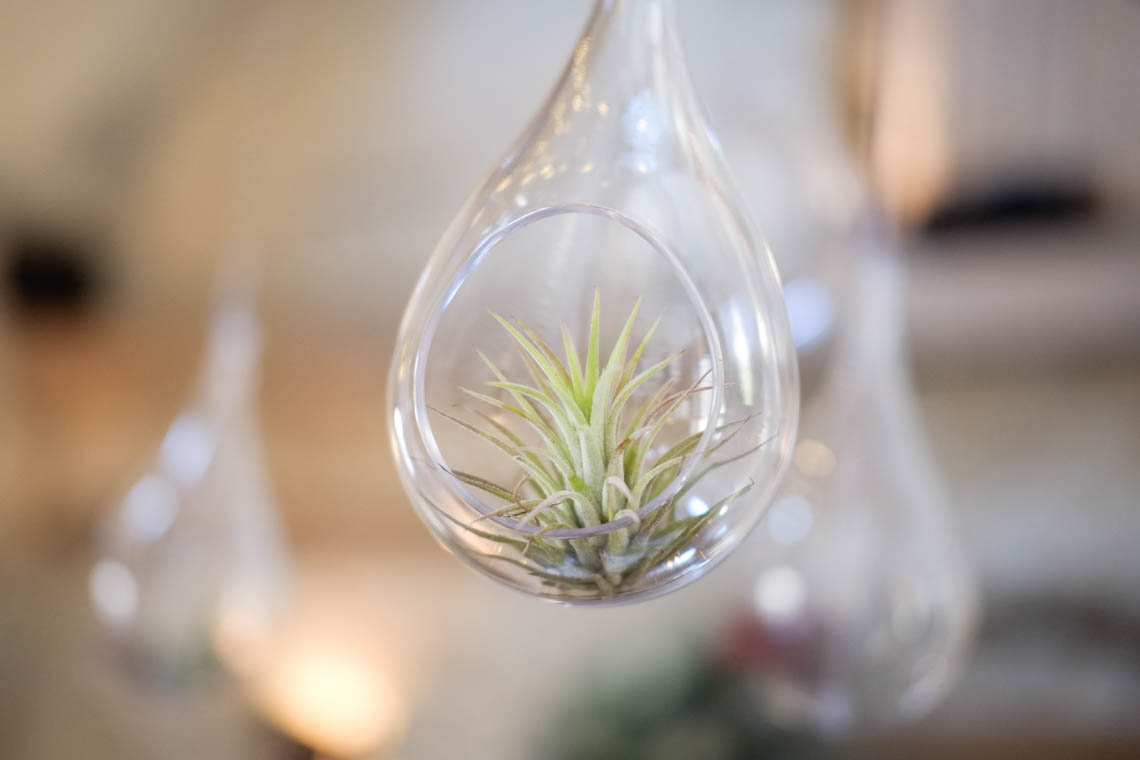 Use them in bouquets, table displays or in glass suspended baubles.

Gem stones rock
Shiny rocks will continue to see a place in wedding venue styling with agate (or hollow geodes) still at the forefront of designs in cakes and name settings, as well as the revival of marble details.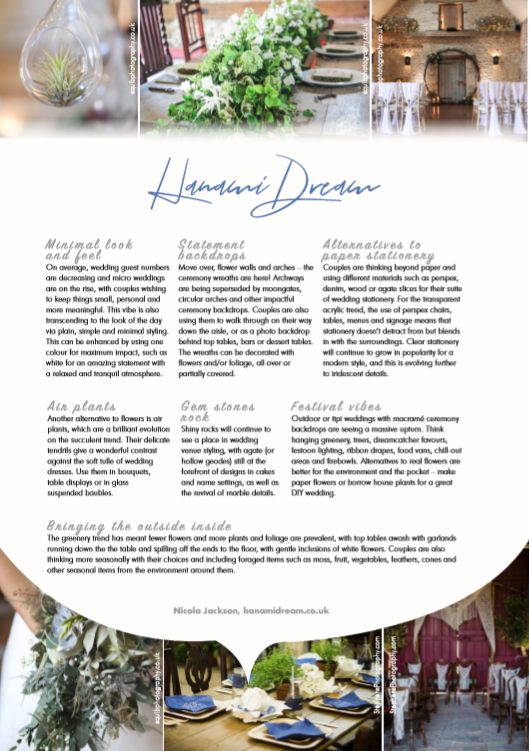 sign up to receive the latest posts straight to your inbox
winner UK Blog Awards 2018