If your big day is just around the corner, you may be getting down to the nitty gritty of confirming all the final numbers with the caterer and venue, finishing off making favours, as well as starting the wonderful part of beautifying yourself in preparation for the big day.
Even if you're armed with the best schedule in the world (my forte by the way!) there are always a few minor things that crop up on the day that you can't prevent or avoid. However, you can be prepared and plan for some eventualities.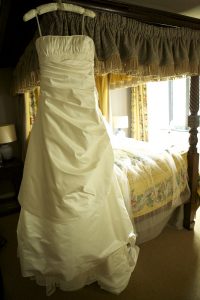 Here is Hanami Dream's wedding day survival kit list for brides and grooms. It is not an exhaustive list but contains some items that I have found to be useful to carry (or better still get one of your trusty attendants to) on your wedding day to combat any little hiccups.
Blotting paper – dab away any sweat or 'shine' on your face
Chalk – to cover up any scuff marks on a white wedding dress
Double sided tape – to avoid any 'wardrobe malfunctions'
Floss – to keep your smile looking at it's best for all those pictures
Foot insoles – to save your feet for all that dancing
Hair bands, comb & pins – anything to keep your 'do' under control during the day
Mints – for fresh breath for the first kiss (as well all the meet and greats)
Nail file – to get rid of any snags
Nail vanish – clear polish is good for stopping pulls in your tights turning in to ladders
Paracetamol – light pain relief so you don't have a headache for your first night together
Plasters – in case of blisters from your amazing wedding shoes
Rescue remedy – amazing herbal drops to keep you calm
Safety pins – in case anything comes undone
Sewing kit – for minor repairs like sewing on buttons
Straws – so your lipstick stays in tact (and not on your glass) whilst you sip your drink
Tissues – for dabbing away tears (hopefully of joy!)
Tweezers – to get rid of any stray hairs
Water – a small bottle on hand will make sure you don't get dehydrated or a dry mouth when saying your vows
Wet wipes – to freshen up during the day!
There are plenty of pre-made kits on the market that you can buy to fulfil the need for an emergency kit. However it's lots of fun to pick and pack your own things that are personal and relevant for you and your big day. Perhaps you could prepare some for your bridal party or maybe your bridesmaids might assemble one for you.
What would you add to this list? I'd love to hear any of your suggestions (in the comments below) for items you'd have in your wedding survival kit.