One of my friends recently inherited something really precious. I think it's more valuable than jewels or antique furniture. This heirloom is a time capsule. A priceless glimpse throughout the ages. A lovely family photo album that belonged to her father's godmother.
The album covers weddings, christenings, graduations and some pictures of trips to visit friends and family. It charts these special occasions from the 1940s up to the 1990s and she arranged the pages so there is a wedding photo of a couple, and then a picture of the same couple at their child's christening, graduation and often their children's weddings too. It was clearly something that she treasured to keep all that time and to keep updating.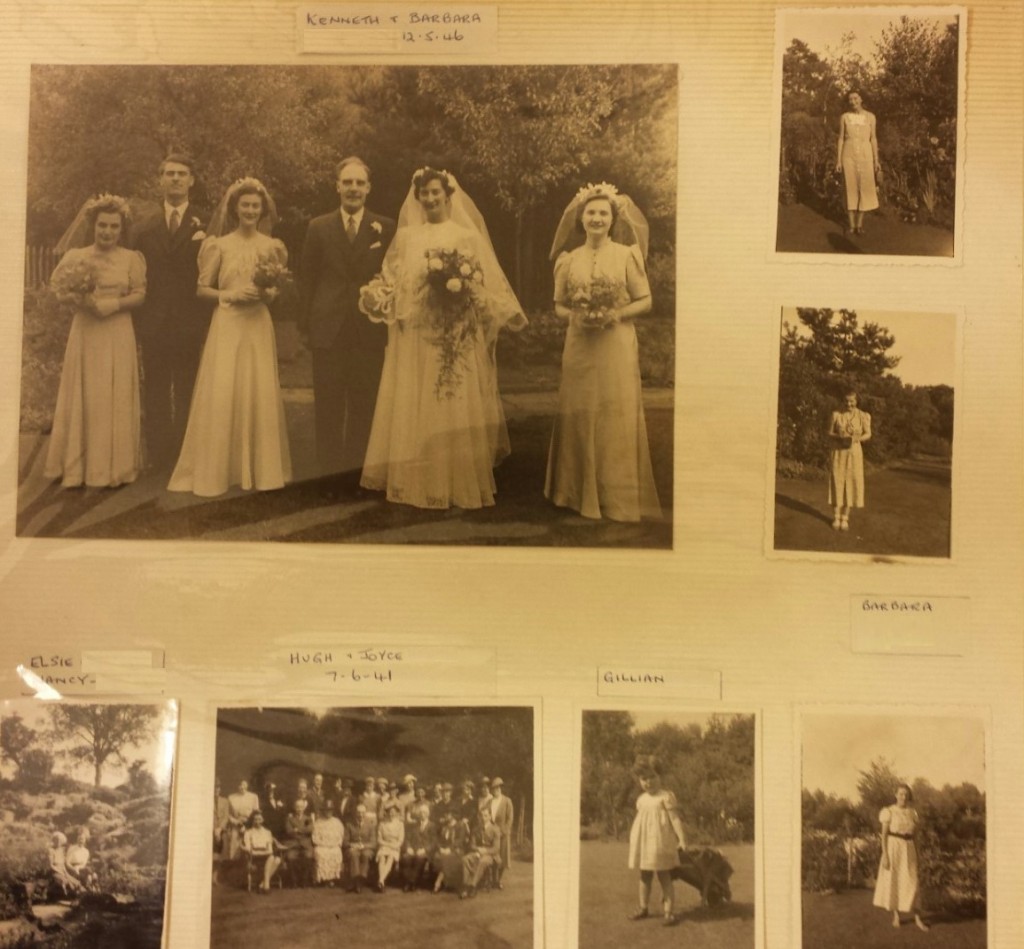 Whilst I don't know any of the people in the album (apart from my friend), you can clearly see a family resemblance between the people on each page. More strikingly is how much each wedding photo is a time capsule for dresses (material, styles, length and colours) along with bouquets, veils and hair styles. They are an exaggerated example of fashion trends of their day and epitomise moments in time. We find that some decades have common trends such as:
1920s – Flapper style low waist, straight, flowing, lace dresses showing a bit of ankle. Bob hair cuts with hair accessories and head pieces.
1930s – Slim-hipped, long, simple, column dresses made from beaded, luxe fabrics, often with lavish embellishments.
1940s – War time shortages led to non-rationed net curtain or parachute silk, full skirted dresses. Or nice skirt suits. Big bouquets and wedding bands for absent husbands.
1950s – Rising hemlines and shorter veils meant shoes were more important. Sweetheart necklines, under lace, full skirted, small waisted, tea length dresses worn with gloves.
1960s – High waisted, empire line or A line mini dresses plus pill box hats with veils.
1970s – Hippy style, long sleeved, high necked, longer length dresses. Or trouser suits with big floppy hats.
1980s – Fairy tale, voluminous, princess gowns with puff sleeves and long trains worn with floral crowns.
1990s – Corseted off the shoulder dresses with full skirts vs bias cut, sheath dresses.
2000s – Strapless, sleeveless dresses.
2010s – Figure hugging, illusion backed, mermaid style dresses vs Hollywood split or pick up skirts.
We've captured some of these characteristics of wedding attire for each decade on our wedding time capsule Pinterest board. Plus there's currently an exhibition running (until 15 March 2015) at the V&A in London that's well worth a visit. It's called Wedding Dresses 1175-2014 and looks at 300 years of bridal fashions.
What's interesting is that trends tend to come back around again. And this decade seems to be about picking what style you want from the past and merging things together to bring your own dream to life. I, for one, really wanted a big bouquet just like my late grandmother had at her wedding in 1948.
Plus a long train and long veil like a 1980s princess but strapless, figure hugging with a pick up style skirt as is common in this millennium.
It is strange looking back at some pictures from the recent past as the ones from the 1980s and 90s seem dated, whilst ones from the 1940s or 50s look relatively tasteful by comparison and more unaligned with current styles. Are some eras too recent for us to be able to appreciate for inspiration yet? Or is it that black and white photos are kinder? In any case our children will no doubt look back at our wedding photos and laugh at the fashions of the day. One thing that really struck my friend was the poignancy of the wedding photos from during or just after the war in the photo album. We can not imagine what it must have been like to live through a world war as a young couple, separated from each other.
There's certainly something special and different about having photos from all the weddings and special occasions you've ever been to in your life together in one album. Nowadays digital photography often means that we don't even print out any photos. Considering that for many, big occasions (like weddings and christenings) are the only times when people see their extended family. So it seems fitting that these momentous occasions are captured in time to pass to others as a wonderful time capsule.
Timeless. Captured. Memories.