There are many traditions, rituals and customs that people uphold and perform in connection with weddings. Some of these have now lost their relevance in modern society and sometimes we are not even sure why we undertake them. However we continue to perform them for fun, family tradition and superstition, especially as many of them have derived from efforts to bestow the happy couple with good luck.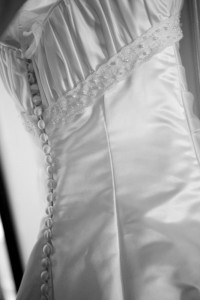 There are many superstitions surrounding what the bride wears (see our post Wedding traditions: Don't forget the silver sixpence in your shoe!) and it is often said that is unlucky for:
the bride to make her own dress
the groom to see the bride in her dress before the ceremony
the bride to wear her entire outfit before the wedding day
Bridal wear is really seeing a big shift in trends to provide new, innovative and unusual styles to make sure the bride makes a statement and is different to any other on her big day. Trends that are appearing on the catwalks include: mix & match separates, crop tops, high necklines, off the shoulder, asymmetric hems, backless dresses and plunging v necks on the back. For the more daring and alternative bride there's fringing, jumpsuits, palazzo pants, peakaboo skirts or even capes.
Rather than a plain dress, some brides are opting for a floral one or even camo print (which is starting to be really popular in the US – not necessarily in classic hunting camo but more pink or snow camo, or accessorising the traditional camo with orange accents!) Plus the recent bridal fashion shows for Spring/Summer 2017 also saw a shift towards pastel and even black dresses.
This may seem like a turn away from the traditional white wedding dress, however, it's not that long ago that white wasn't the usual colour to wear for your wedding day either. White was actually seen as quite an impractical colour as it would show the dirt and therefore you'd probably only get one wear out of it. So it was seen as a colour worn by the wealthy and not common as a wedding dress colour. Whilst modern culture symbolised white as a pure colour, you nearly always see the Virgin Mary depicted in blue as it reflects calm and purity. In fact, until the 15th century in the UK, white was seen (and is still in some cultures) as a sign of mourning.
Until Queen Victoria in 1840, most British royal brides wore silver. However her beautiful white lace court dress influenced the trend for white dresses in all brides as before this time they would've worn their Sunday best dress. In fact, red dresses were often a popular choice and this colour remains popular (and lucky) in Thai, Chinese, Vietnamese, Indian and Korean cultures. Then during World War 2, brides wore nice tailored suits or even their uniforms.
As the wearing of white wasn't such a common occurrence, it's no surprise that there was a rhyme to determine which colour would bring the most luck:
Married in white, you have chosen alright.
Married in grey, you will go far away.
Married in black, you will wish yourself back.
Married in red, You will wish yourself dead.
Married in green, ashamed to be seen.
Married in blue, you will always be true
Married in pearl, you will live in a whirl
Married in yellow, ashamed of your fellow.
Married in brown, you will live in the town
Married in pink, your spirit will sink
Whichever customs and traditions you decide to incorporate into your big day, we wish you health, wealth, happiness and all the very best in your married life.