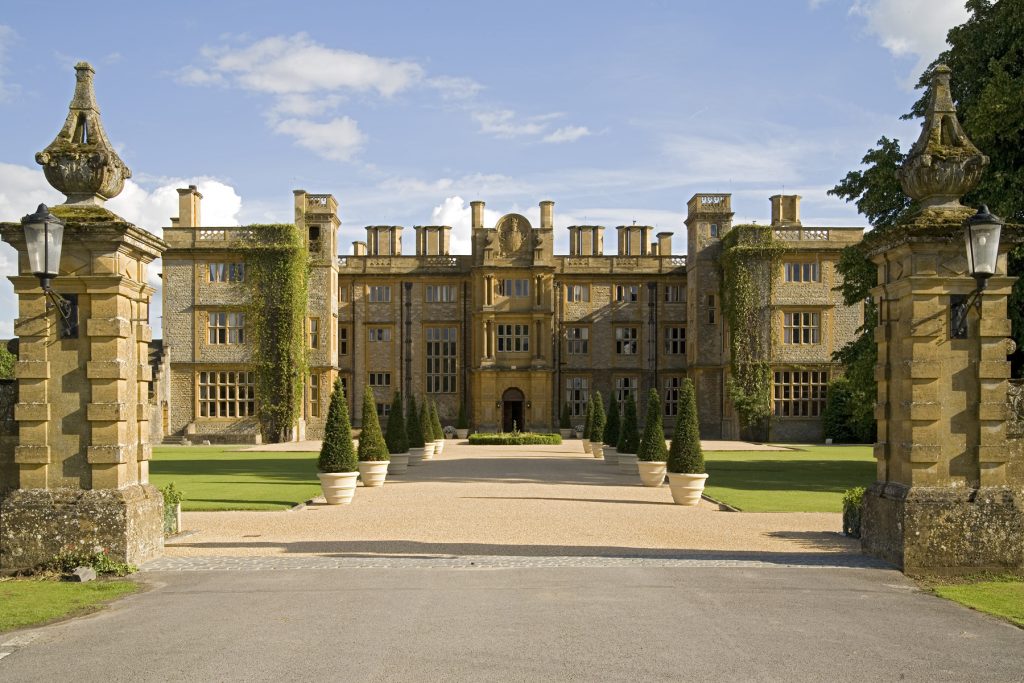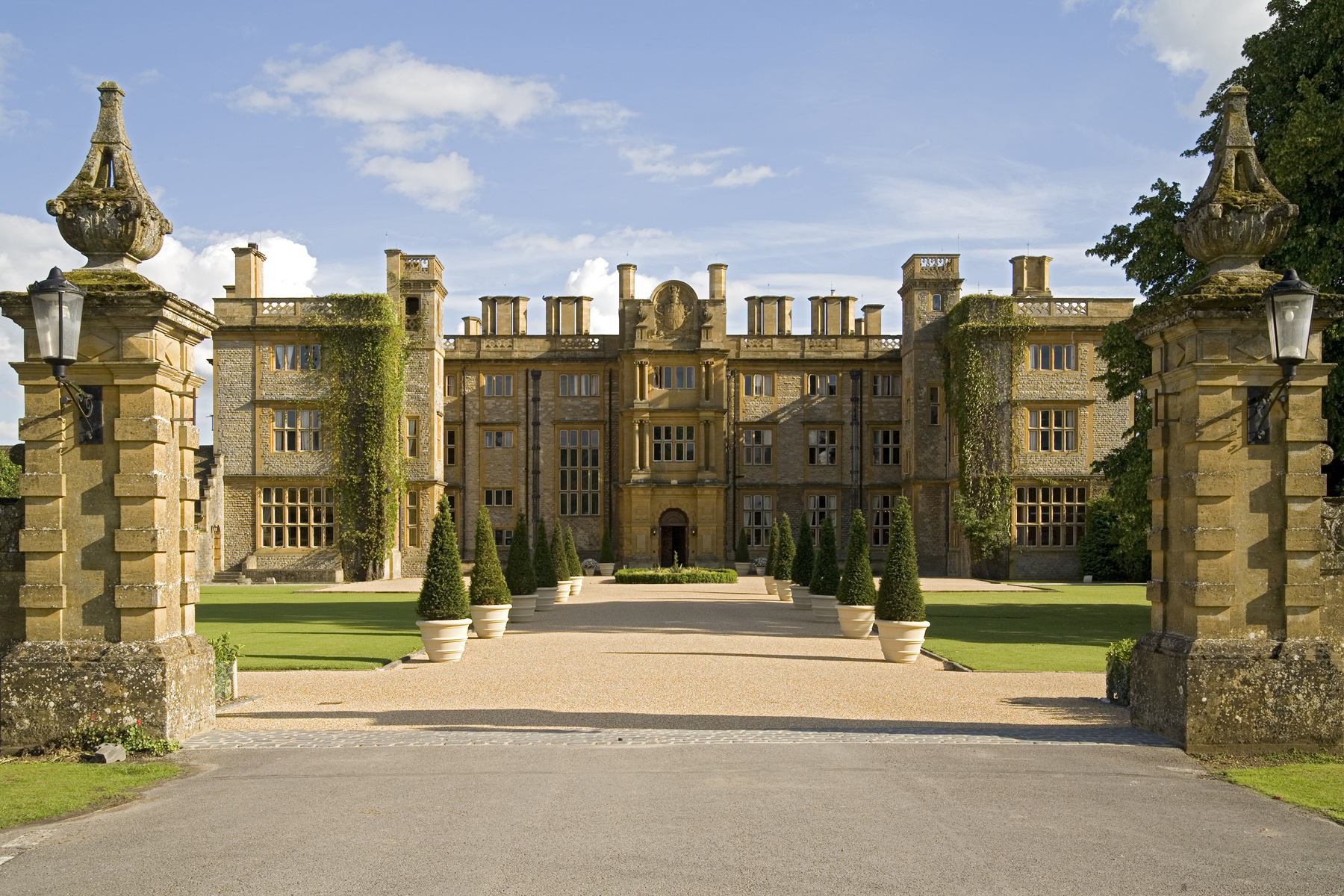 Well, if you're looking for the WOW factor, turning in to the long drive way and getting a first glimpse at this wedding venue will get your jaw dropping and have your guests in awe.
Location
Set in rural Oxfordshire lies Eynsham Hall which, despite it's name, is actually in North Leigh (on the road between Witney and Woodstock) rather than in Eynsham itself. After driving through wooded areas, you come upon some impressive gates that lead the way to the estate. The half-a-mile, tree-lined, driveway escorts you until the Hall slowly comes in to view.
Quirky details
Eynsham Hall pitches itself as a stately (but not stuffy) Jacobean manor. And this harmony of traditional and contemporary elements sit alongside each other seamlessly. I was delighted to look around this wedding venue at Christmas time and loved all the festive trees decorated individually in each room. And it's the quirky attention to detail that pops up in every room making each one a bit different with their own talking points.
Grounds
Not only a grand stately home, but Eynsham Hall is surrounding by around 3,000 acres of beautiful parklands and formal gardens – perfect for your wedding photographs.
The terrace overlooks a fountain with a relaxing sound of the slow trickle of water. There's also tennis courts, a pool, sauna and beauty treatments on site to enjoy before or after the big day.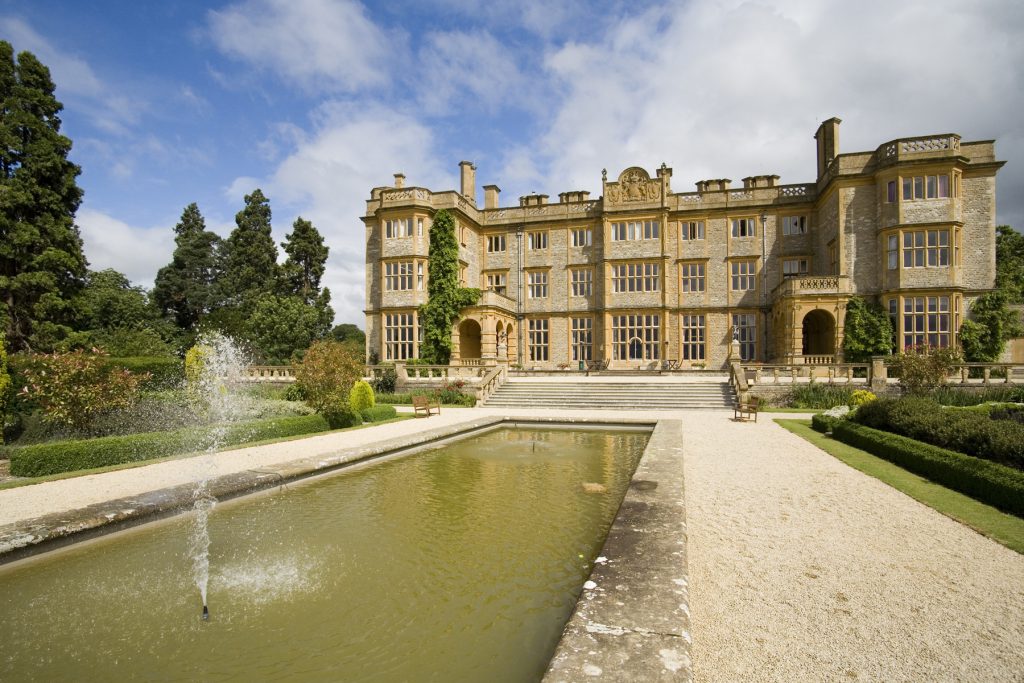 Facilities
There is certainly no doubt that this is a stately home – proud of its heritage and exuding opulence from it's very essence. With an amazing staircase to make a grand wedding entrance, oak panelled walls, foreboding portraits hanging, huge fireplaces and large arched windows with big window seats to perch and view the impressive gardens.
But this venue also oozes charm and elegance. It is relaxed and accessible just like the mismatched sofas and arms chairs in the lounge that invite you to sink in to them. And my eye kept being drawn up to the striking high ceilings to notice that each room had a slightly different modern twist for the chandeliers, whether that was using drinking glasses, stag antlers or even a spider's web.
It also boasts a luxurious bridal suite including a big copper bath to enjoy. Plus the spacious Peacock Room for the bridal party to change and get ready in before the ceremony.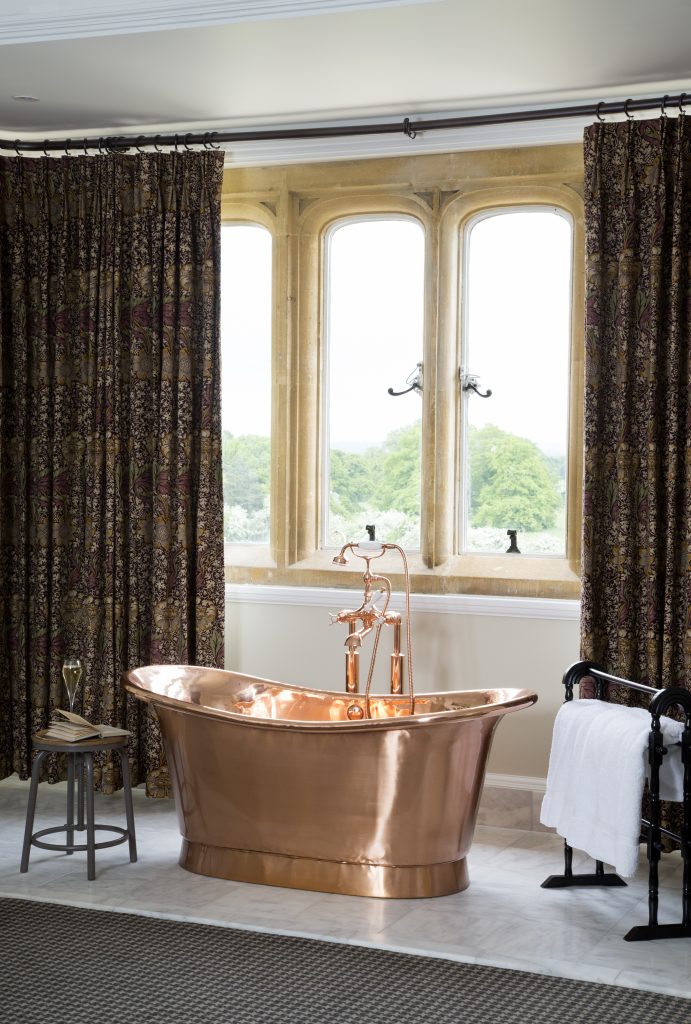 Service
For your wedding day, this would be your house and you'd feel at home and be made very welcome. This wedding venue only hosts one wedding a day so you have their exclusive and undivided attention.
The staff are slick behind the scenes and experienced at what makes a wedding work well. There's options of which room to hold your ceremony (as well as whether you have it inside or outside). Whilst Eynsham Hall has always specialised in large scale celebrations, it has also announced the addition of a new and intimate licensed ceremony space for weddings for 40 guests from January 2018.
Space
You'll be spoilt for choice with the number of different rooms at your disposable. You could use one room for the ceremony, the library for drinks, relax outside on the terrace and have a sit down meal in another room.
In my opinion this venue wouldn't suit the diy couple who want to personalise everything, as the decor and surroundings already speak for themselves. There's not much that you'd need to organise yourself. Although I think some chair covers may be needed in some rooms if the distinctive colour of the chairs doesn't suit your own wedding theme.
Conclusion
This wedding venue needs no adaptation or adornment and will provide you with a lush backdrop to a stunning wedding, whether you're after an impressive, plush do or an intimate affair.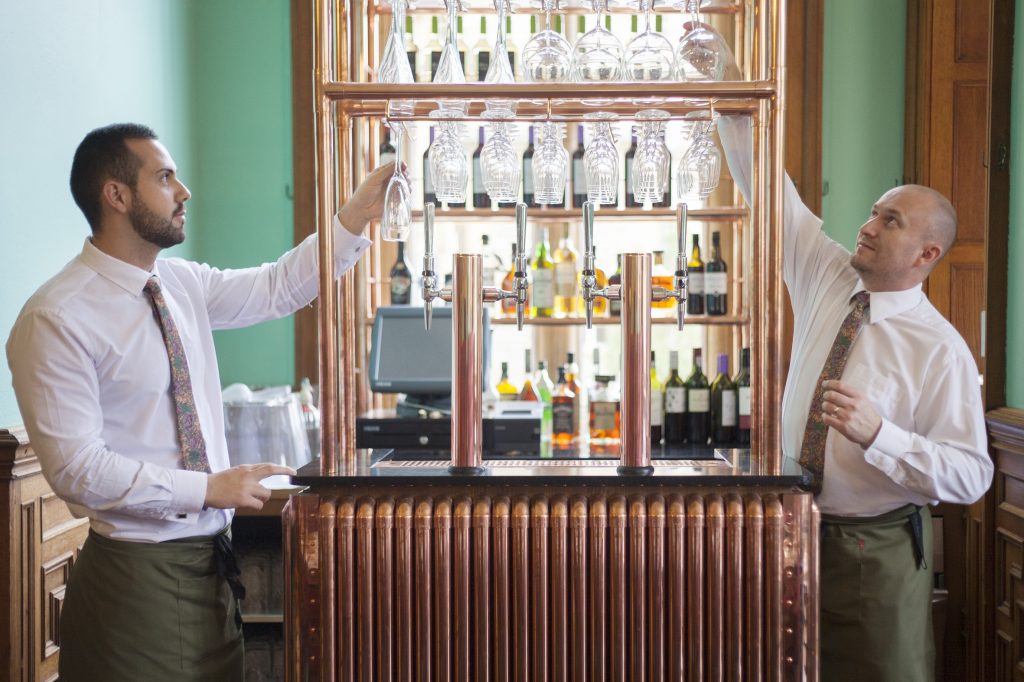 WEDDING VENUE FACTS
Type of venue: country house hotel
Find out more: http://www.eynshamhall.com/
Location: A4095, North Leigh, Witney OX29 6PN
Wedding season: year round
Guests: 80-150
Marquee option: marquee permitted
Ceremony: licensed inside or outside from £475
Venue hire: included in packages
Nearest church: Methodist Church, 1 Chapel Lane, North Leigh, Witney OX29 6SD
Wedding breakfast: packages from £115 per person in April-October (from £110 pp in winter months)
Accommodation: 35 rooms in the main house (plus 90 onsite)
Wedding fairs: several throughout the year – next on 25th February 2018
Other things worth a mention: check out the copper pipes of the beer pumps in the brasserie and yellow sofas in the contemporary bar