One of things that has been great about lockdown is the community camaraderie. No longer were our neighbours solely the people that we lived near by chance, but these became some of the only people that we saw for several months earlier this year. Spotting neighbours whilst out on your outdoor exercise for the day, or stood on our doorsteps for the weekly clapping for the NHS on a Thursday night. We all became more aware of our those that lived nearby because for once we were all around, all the time, at the same time.
We are really lucky that we live in a lovely cul-de-sac which already had a Ramsay Street quality about it – where everyone knows each other and there often is an annual street party (for some kind of royal occasion or national anniversary to observe) complete with street games, music and cakes.
The lockdown did make us all look out for the elderly and vulnerable more, we supported one another, shared and formed a neighbourhood What's App group. For those of us who celebrated a birthday during lockdown, all the neighbours gathered (at a social distance) to sing happy birthday on the doorstep.
Whilst people have returned to work and are on the street less often, our neighbours now have names and we all know more about each other.
weddings through the decades
As well as several birthdays during lockdown, there were also a number of momentous wedding anniversaries marked down our road as well. In particular, one set of neighbours celebrated their 40th wedding anniversary and shared a snap shot of the day on the What's App group. This spurred on my idea to look at real weddings throughout the decades to look at differences, similarities and things we can learn to help with wedding planning now.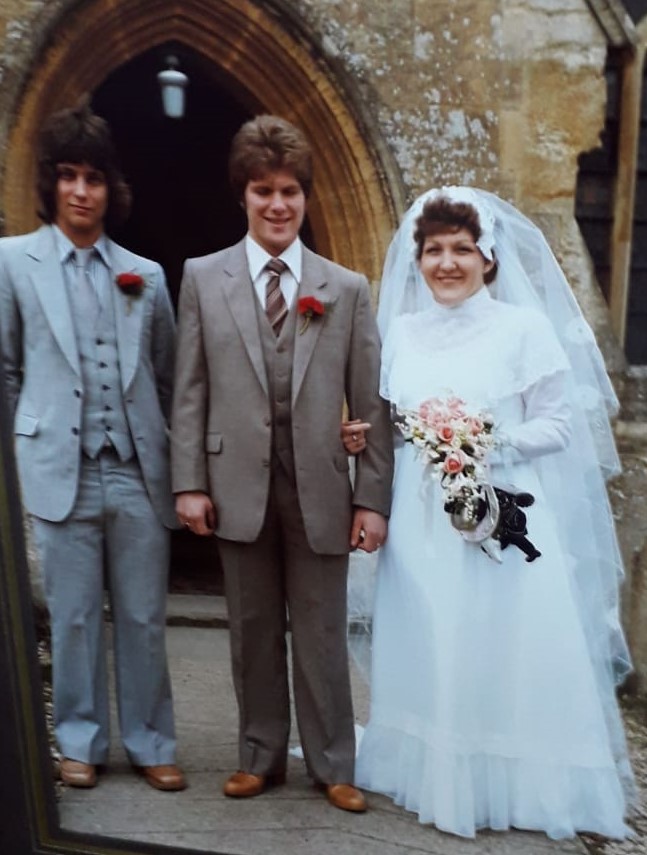 Britain in 1980
Not unlike this year, the country was facing recession in 1980 with rising unemployment (due to economic policies such as spending cuts and taxation rises) at a 45 year high of 2 million people (out of a population of just over 56 million in Britain back then). Plus there were steelworkers' and miners strikes. And we were on the cusp of the Falklands war.
We had the first British female Prime Minster in the shape of The Iron Lady, Margaret Thatcher, who famously said that 'The lady's not for turning' regarding her strong policies. Despite or because of her stance, the 1980s was a revolutionary decade which has shaped the way we live for ever.
highlights of 1980
Gone were the thifty days of the 70s, as people now had credit cards to borrow and flash their cash on fast food, exotic holidays, over the top clothes and shiny new computers.
Six out of ten British women were going out to work (higher than almost every European country) and it saw the rise of the yuppies (young urban professionals) with their chunky mobile phones, filo faxes and red braces.
Also in 1980, Alton Towers opened, the pre decimal sixpence coin was withdrawn from circulation (and is now only sported in brides' shoes on their wedding day) and John Lennon was shot.
inventions of the 1980s
For me the 1980s was about Back To The Future movies, ET, Star Wars, Rubiks' Cube, Sylvanian Families, dancing flowers, McDonalds, cassettes (I didn't make it on to CDs yet), synthesizers, music videos and BMX bikes.
Music was typified by the New Romantics or pop factory soap stars like Jason and Kylie, along with Michael Jackson and Band Aid. We only just had 4 tv channels and front seat belts were only compulsory in 1983.
The biggest technological changes in the eighties were the introduction of home computers and by the end of the decade the world wide web, plus digital mobile phones (although these were very large and very expensive), microwave ovens and the first electric vehicle was invented in the 80s. 
wedding trends in the 1980s
Regardless of the decade, every wedding photo is a time capsule for dresses (material, styles, length and colours) along with bouquets, veils and hair styles. They are an exaggerated example of fashion trends of their day and epitomise moments in time. Some decades certainly have common trends.
Wedding of the 1980s can be summed up by the royal weddings of Prince Charles and Diana (30 July 1981) and Prince Andrew and Sarah Ferguson (23 July 1986). And the much anticipated Neighbours wedding of Scott and Charlene, plus The Princess Bride movie. Think of these and you've got over the top, puff sleeves (which are back in trend now), frills, lace, big tiers of wedding cake and the start of videography to capture the day.
These weddings showed that more is definitely more. After a church service, the reception would be held in a hotel with a disco and lots of dancing. Typical food could have included prawn cocktail for starters, a chicken main, followed by a black forest gateaux for dessert.
Couples were beginning to spend more on their wedding celebrations – around 7 times the national weekly wage (of £145.88) with an average wedding costing around £1,150 and they started to invite more guests.
weddings in 1980
In 1980, there were 370,022 marriages in England and Wales (compared to 245,513 in 2015). There were 60.4 men marrying per 1,000 unmarried males and 48.1 females. The number of weddings has steadily declined over the years.
The average age of men getting married in 1980 was 29.4 and 26.7 for women (which continues to rise).
50% of weddings took place in a religious ceremony in 1980 (which continues to decline).
real wedding from 1980
My neighbours, Karen and Paul, married on Saturday 26th April 1980, 40 years ago. Their ceremony was held at 3pm at St Martin's Church in Bladon, followed by a reception at Long Hanborough Pavilion.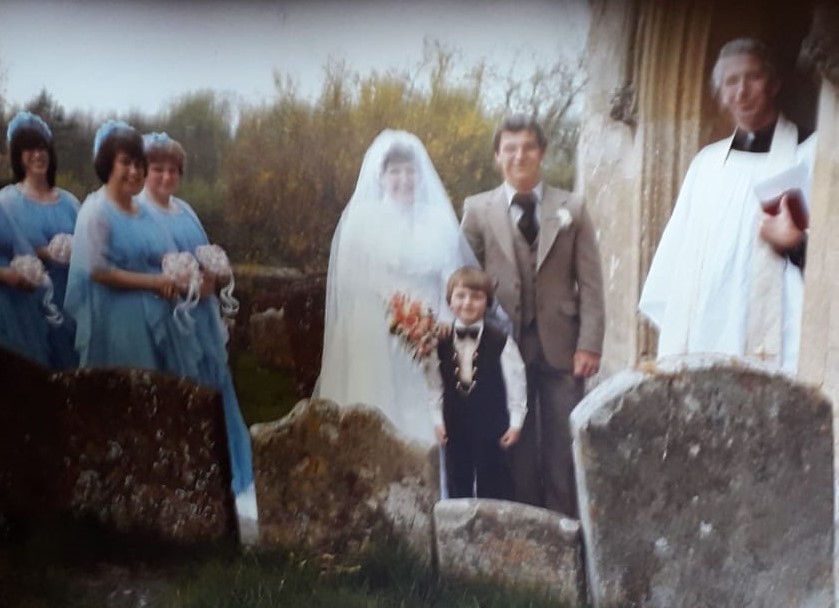 They travelled in a brown Ford Cortina. The bridesmaids had a pale baby blue and white colour theme.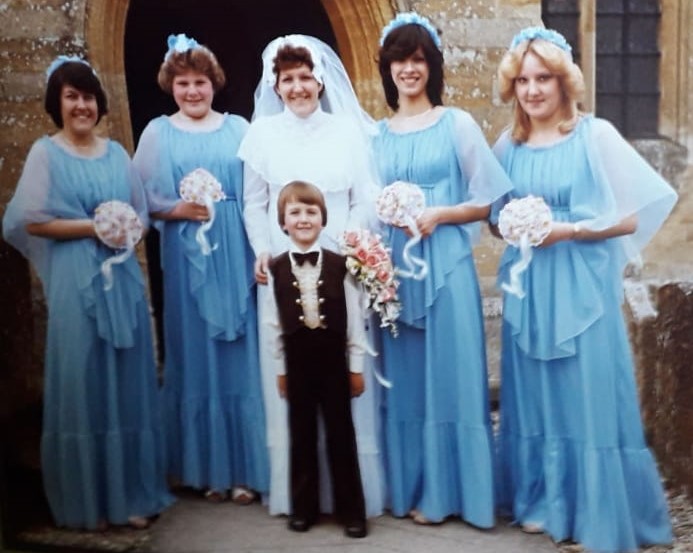 The food served at the reception was a cold sit down meal, and a buffet in the evening. During the afternoon there was soft background music and then a disco in the evening.
And they went to a hotel afterwards which was a surprise present from the best man.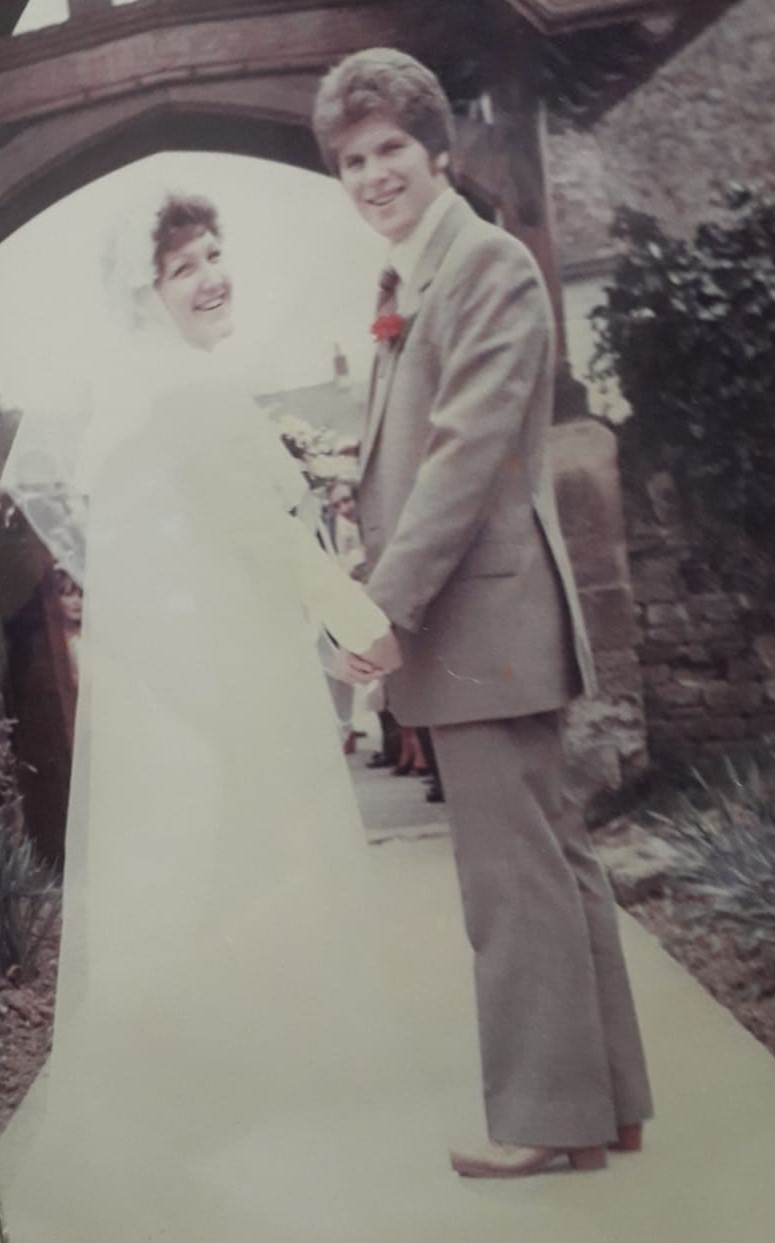 summary
Big may have been better in the 1980s (even if couples had to borrow to achieve it) but we owe a lot to that decade – imagine planning a wedding now without the internet on your phone or computer!
sign up to receive the latest posts straight to your inbox