Your wedding day is a unique kind of day when your 'circles' all come together. It's not often that you have all the people from different walks of your life in the same room at the same time. How wonderful to look around and see the people you love just there for you two.
Photographs are a brilliant way of capturing who celebrated your big day with you, plus traditionally guests sign a keep sake book and leave a poignant message for the happy couple to read back after the special day. This lovely tradition has got some modern updates and ingenious alternative ideas.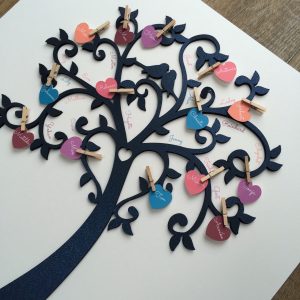 Here are a few of my favourite wedding guest book alternatives:
Photographs

Take polaroids of guests on the day and put them in a book alongside a handwritten message
Have a photo booth for people to take their own snaps of the day
Have a video diary or place where people can leave their own video messages

Paper

Have a recipe book where everyone contributes a favourite recipe to be printed in a book (see recipegiftbook.com below)
Get guests to complete a calendar with their message on their own birthday or special anniversary
Ask guests to write how they know bride & groom on postcards
Provide advice cards for guests to suggest date night ideas
Leave notes and cards in an engraved oak lift-lid box (see Make Memento below)
Get guests to put their best wishes on to labels to hang from a wish tree (see Tree of Hearts below)
Ask guests to write their messages and seal them in a bottle to be opened on their first anniversary

Furniture / homeware

Encourage guests to sign a pottery wedding plate that you can display or use in your kitchen (see Busy Brush Café below)
Get guests to sign a piece of wooden garden furniture such as a swing seat, table or bench
Ask people to sign decorative, keep sake items for your home such as a quilt, globe or Christmas baubles
Provide bottle labels for wine that people can write advice or wishes to be read on wine to be opened for future anniversaries

Poster / artwork

Use guests fingerprints to create the leaves on a tree on a canvas that be hung afterwards (see Tree of Hearts below)
Have hand written messages on various hearts placed around a cut out framed tree (see Paper Tree Design below)
Frame an illustration of your venue which guests can sign (see Illustrated Invites below)
Get your guests to contribute and colour in a giant poster mural (see Fancy Features below)
Ask your hen party to all 'kiss the miss goodbye' and place their lipstick mark next to their signature for instant framed artwork
Provide wine corks for guests to sign and then be framed
Place signed pebbles or wooden hearts in a big glass vase

Games

Get guests to sign jigsaw or Jenga blocks
Write labels with wishes and attach them to balloons that can be launched at the end of the day
---
And take a look at these brilliant local suppliers that can bring a different angle to a guest book at your wedding: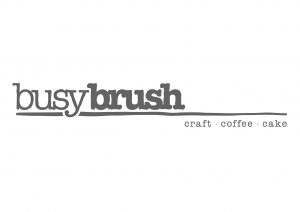 Create a beautiful and highly personalised platter or serving plate, design it with a painting of your venue or of the happy couple and have it glazed and fired ready to present at your wedding along with a special ceramics pen that guests can use to write their message on the plate.
Busy Brush Cafe offer wedding plates of all shapes and sizes that can be used every day in the kitchen or hung up on the wall for decoration. Spend a couple of hours in the quirky and supportive cafe environment and have fun painting up your own plate, or have one of the team design it all for you to specification. The plates can then be collected a few days later once they've been glazed and kiln fired and the team will provide you with a permanent ceramics pen for guest messages that will last a lifetime! Prices range from £40 to £150 depending on size and detail required.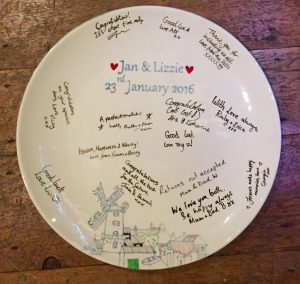 @busyatbusybrush
---
Fancy Features make Giant Colouring In – fully personalised artwork hand illustrated to canvas ready to get coloured in by you and your friends at your event. We design and deliver artwork to clients all over the world.
---

A small family business located in Somerset, who are passionate in bringing a niche service to wedding stationery.
Producing beautifully detailed pencil sketches of the couple's wedding venue or church which are then used as a theme throughout the wedding stationery products. Choices of colours, font styles and wording of invitation according to your needs ensures a personal and unique touch to the couple's stationery. "Designed exclusively for You".
Our Guest Comment Frame is proving particularly popular for its uniqueness as we go one step further than to just leave a blank space for guests to write on at the reception.
We provide guests with 'message cards' for them to write on during the reception, which has proved to be a great talking point after the speeches have been done and dusted and a lull in the proceedings whilst coffee is being served.
After the honeymoon, the couple send us the cards to be edited onto the frame and these original cards are returned together with the completed frame.
Our specialty is that we either print or scan the original messages onto the frame around the sketch, ensuring that perfect spacing and an overall pleasing look is achieved. Providing this in either a black or white modern frame, this product not only doubles as a great keepsake but great to hang proudly in the home as a reminder of the Special Day!

theillustratedinvitation

The Illustrated Invitation

theillustratedinvitation
---
Our hand-engraved, solid oak keepsake boxes make the perfect wedding gift for the happy couple! Perfect for storing treasured wedding keepsakes and mementos, you can make this gift extra special by adding a personalised engraved date to mark the special occasion!
Handmade to order in our studio, our solid oak wood boxes have been lovingly designed and crafted using thick, heavy European oak timber. The wood is hand-cut, then individually sanded and treated to enhance the natural grain and preserve the beauty of the wood. Our boxes are finished with a chic hand-engraving and black infill, with the heart arrow finished with a red infill – producing a truly unique style. Finally, our oak boxes are finished with a clear gloss protective varnish to ensure durability and display a stunning finish. These lift-lid boxes are great for presenting and storing cards, photos and other treasured wedding mementos!
---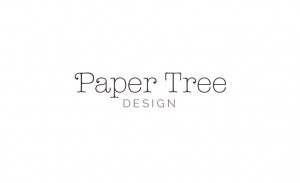 The wedding tree from Paper Tree Design is a great way to remember all the people who took part in your special day, family members on the hearts and friends written around the tree. It can be provided fully made up, or instead you can chose to have a blank tree and hearts for your guests to hand write around the tree. Various sizes are available depending on the number of guests, and prices start at  £50.00. The tree can be colour matched to the colour theme of the wedding, contact suzanne@papertreedesign.co.uk for further details.
Paper Tree Design was created through a love of paper and a desire to produce beautiful and personal stationery and decorations. Thoughtfully designed, we focus on quality and attention to detail to make your stationery truly individual. With a background in Fashion and Textile Design, and 15 years experience in retail buying and product development Suzanne has a wealth of experience to draw on and is passionate about delivering design with little personal touches that reflect the clients loves and interests.
Living in rural Oxfordshire Suzanne cannot help but be inspired by the beauty of the natural world and the changing seasons, and can frequently be found in lanes and hedgerows with her camera and a sketchbook. Specialising in paper cutting, at Paper Tree Design we create your handcrafted wedding stationery to order. Choose to personalise a card from one of our ranges or commission a bespoke design. I am at my best working with your theme and ideas for a truly personal invitation and welcome you to come and have a chat and a cuppa in my Oxfordshire studio to discuss plans for your wedding.

@Paper-Tree-Design

@papertreeoxon
---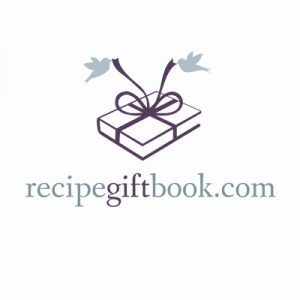 recipegiftbook.com enables friends and family to give a truly meaningful gift to the bride and groom, the gift of a recipe.
Create a beautiful keepsake to celebrate your wedding day, a cookbook filled with recipes from all your wedding guests.
Whether it's treasured family recipes or modern favourites, your guests will have fun sharing their recipes, photos and personal messages with you. Guests simply add their recipes online then following your wedding a charming hardback cookbook is sent to you.
Creating a 'recipe gift book' is a great way to bring both families together in the run up to a wedding. It's a special cookbook and a wonderful way to collect precious recipes and create something unique to celebrate your marriage.
The bride and groom can choose from six recipe book designs and personalise the front cover title to make their book unique. When complete the bride and groom will receive a beautiful hardback book, presented in a gift box. The finished recipe book is free for the bride and groom. The guests just pay £4.99 to add a page to the book. The bride and groom can order additional copies of their recipe book and even allow guests to purchase a copy too.
recipegiftbook.com supply the ultimate personalised wedding present from all of the guests, a gift the bride and groom will treasure long after their wedding day. Take a look at their introductory video to find out more: https://www.youtube.com/watch?v=Di7YPD3koBA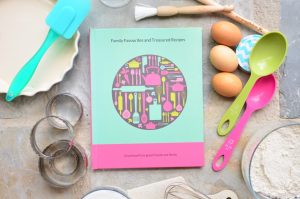 @recipegiftbook

@recipegiftbook

recipegiftbook

@recipegiftbook
---

Tree of Hearts specialises in personalised wedding stationery and has over 90 beautiful collections to choose from including traditional, modern, vintage and beach designs catering for a wide range of tastes and styles. They offer quality stationery at affordable prices and have everything you need from save the date cards and wedding invitations to order of service, table plans, fingerprint trees and thank you cards.
Free samples are available upon request so you can see and feel the quality of their stationery ensuring it is perfect for your special day.
Fingerprint trees can incorporate approximately 50 (small), 80-100 (medium) or 150-200 (large) fingerprints per tree size. Includes a personalised print and 3 small ink pads in colours of your choice.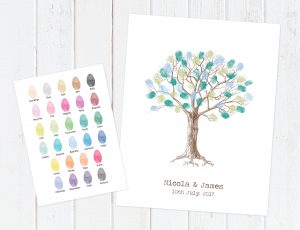 Wishing tree & wishing tags includes a white freestanding manzanita wishing tree (90cm tall) supplied with personalised wishing tags & sign in a design of your choice. The tags can be used for favour tags or wishing tags.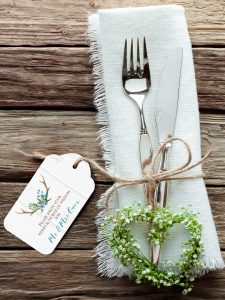 @TreeOfHeartsWeddingStationery

---