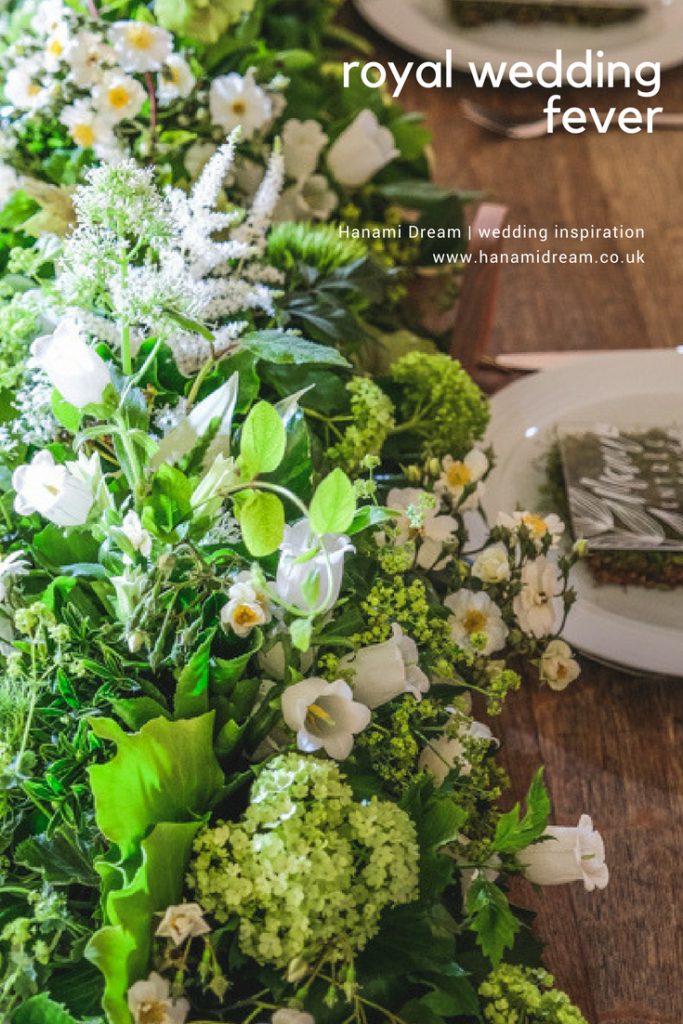 I was certainly swept along with the recent royal wedding fever. I loved the build up, the anticipation, the speculation and the excitement. Then on Saturday, I was glued to the screen – waiting, watching, weeping, and welcoming all the wonderful wedding attire at the ceremony for Prince Harry and Meghan Markle.
Royal weddings
But what is it with our obsession with royal weddings? Is it that it is the ultimate in celebrity wedding? Or that everyone just wants to dream of a fairy tale ending? It is definitely nice to have something positive and beautiful to focus on as a nation.
For me, I love the pomp and ceremony. Royal weddings are sure to be lavish affairs and an exaggerated Pinterest fantasy that will influence trends and weddings to come.
My romantic idealism was peppered with weddings in films and television programmes that influenced my youth including:
Charles & Diana (who can forget the puff ball sleeves and the huge long train! And I remember how my family rushed to go and get a colour television in time for their wedding!)
Scott & Charlene in Neighbours (I still can't believe that programme has been going over 30 years!)
Monica & Chandler in Friends (how beautifully romantic to fall in love with your best friend)
The One with All the Wedding Dresses episode in Friends (even though my husband thinks it's a crazy idea I still want a wedding dress party with my friends sometime)
Prince William & Kate (they got married the same year that we did so this event heightened the build up to our big day)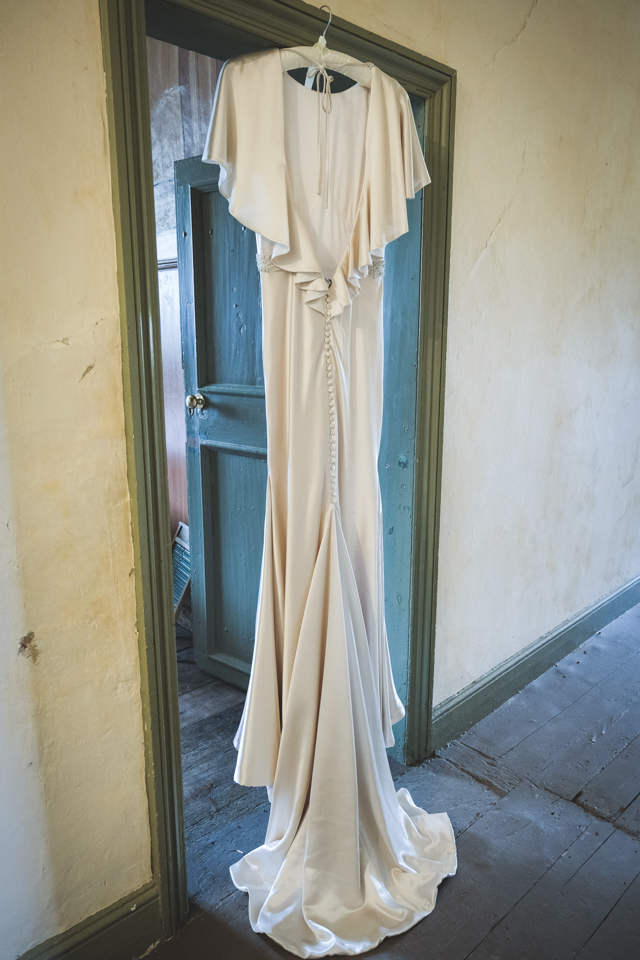 Wedding day build up
I personally, really felt for Meghan in the week before the royal wedding as I too was unsure if my own father would make it to our wedding. I'm sure they remembered their absent friends at their celebrations like we did.
Wedding trends
Now that I'm working in the wedding industry, not only am I immersed in this wonderful world every day but it also enhances my desire and need to follow trends and things that may influence weddings in the future.
The guests were following the current love of blue with outfits in various shades of it, whilst it was great to see Amal Clooney sporting a striking mustard yellow number, and a little disappointing that there were any extravagant hats from some of the royal family to talk about afterwards.
The affect of the royal wedding in 2011 is still apparent now as couples continue to choose to have trees inside at their weddings. Like this, Harry and Meghan's wedding will no doubt prompt further foliage and minimalist trends.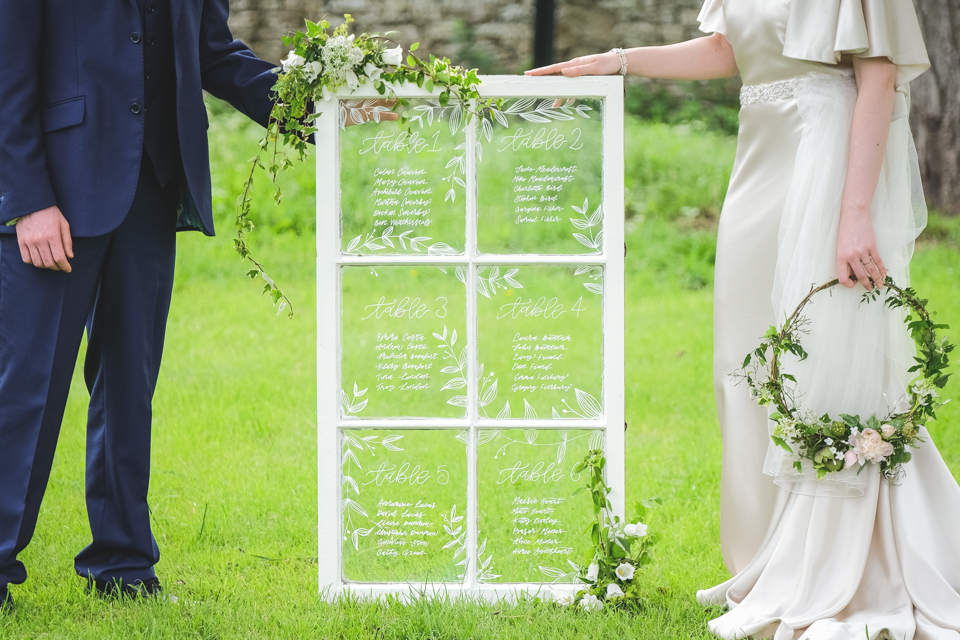 Minimalist wedding
One highlight for me was the plain, simple and minimal look and feel that transcended the whole day. It gave the impression of a relaxed, personal and tranquil atmosphere. See my top tips for a minimalist wedding.
Meghan's beautiful white off the shoulder boat neck (bateau) dress with long 3/4 length sleeves looked absolutely stunning. Adorned with Queen Mary's tiara and a long flowing floral embroidered 5 metre veil.
Nothing could distract from its simplicity and beauty. All the accessories enhanced the look and it was completed with a small bouquet of foliage and white flowers with astilibe being my favourite amongst them.
Foliage
Additionally I was blown away by the foliage arch that was constructed around the west door of St George's Chapel in Windsor Castle where the royal wedding took place. It was reminded my of a secret garden photo shoot that I did last year which featured a top table garland awash with greenery running down the whole of the table and spilling off the ends to the floor along with gentle inclusion of white flowers.
The for my wedding was to collect armfuls of beautiful cow parsley and adorn the church with swathes of the lovely white flowers. Unfortunately I got married in August and by the height of the summer there wasn't any cow parsley gracing the lanes of the British countryside anymore. I had to rethink my plan and pick flowers that were in season at the time of my wedding.
But a May wedding (and I imagine a much bigger budget than for our wedding) was perfect for this vision to become reality. The flowers at this royal wedding were reminiscent of the English countryside, driving along country road past hedgerows peppered with white blossom and cow parsley jam packed in the verges. Through tree lined lanes where the hedges from both sides meet over the road and an arch way is formed from lorries passing through and clipping it to shape. It evoked picturesque images of tiny chocolate box cottages full of foliage brimming around the front door.
The back drop was idyllic and it didn't detract from the couple who are so clearly in love. Much more than that, how brilliant that the royal wedding flowers were turned into bouquets for hospice patients afterwards. Here are some other suggestions for the enjoyment of your flowers to continue after the wedding.
Break with traditions
The overarching theme of this royal wedding was that in parts it was breaking with tradition. I love that Meghan opted to omit 'obey from her vows and that Harry will wear a wedding ring. For me it's about being a team. And what a touching something blue that she was sporting when the drove off to their evening reception.
This fairy tale wedding has firmly joined my list of influential weddings in my life. After all, we all want someone to 'Stand by me'.
Now pass me another slice of lemon curd and elderflower cake!