The Upton Firehouse wedding reception venue
I had the pleasure of visiting the Upton Firehouse socially in the build up to Christmas last year and was blown away by the quality of the food. As someone with (sometimes tricky) dietary requirements I'm often nervous about eating a set meal out, especially at Christmas time and especially in a smoke house (for someone who doesn't eat meat). However the food was not only delicious but the care and attention to detail did not go unnoticed. We were so well looked after and really valued the personal attention.
"Absolutely amazing food, superbly presented, and served by incredibly friendly staff. All made for a fantastic festive evening! Will be back as thoroughly recommend."
13 December 2019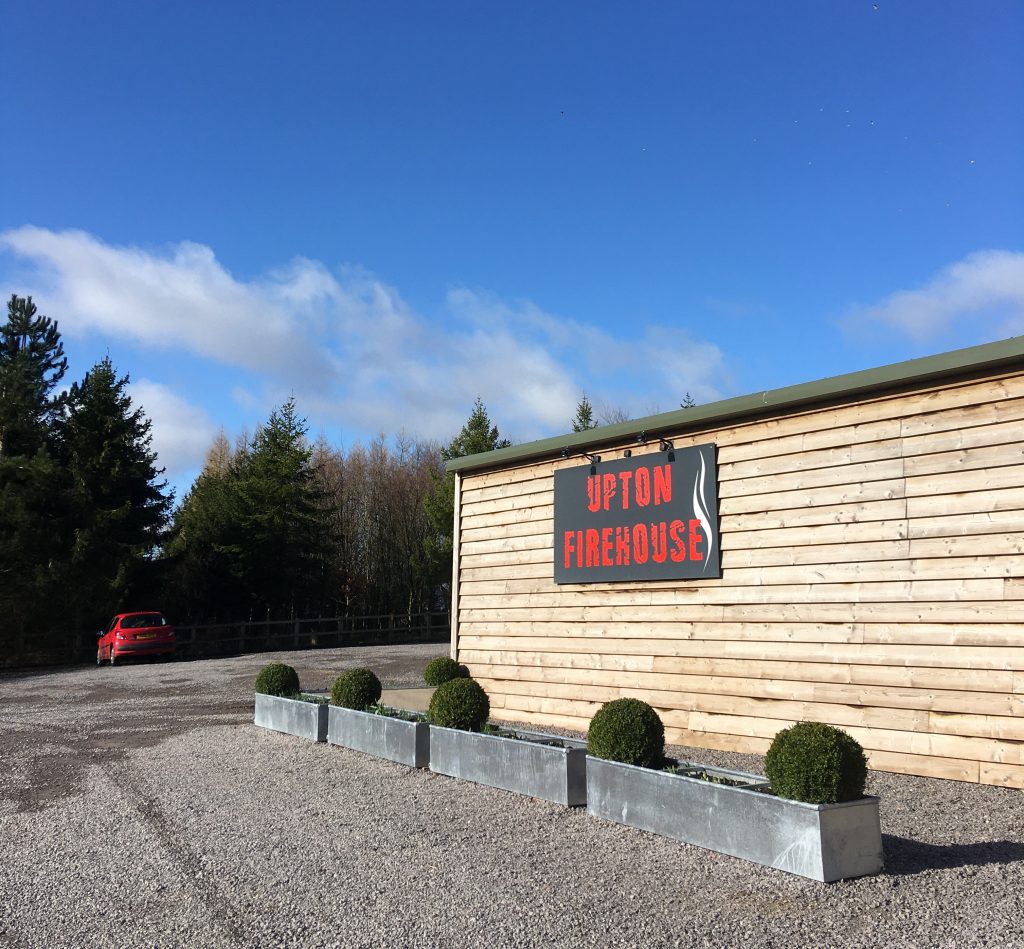 I returned to have a proper visit at the end of February this year (just prior to lockdown) to uncover how fantastic this location would make as a wedding venue (when we are able to have larger celebrations in the future) and I wanted to review it in order to fully sing it's praises.
Tucked off the A40
You have to drive to get there as it is out of town, just down the road from Burford, but surrounded by farmland and countryside.
Whilst nothing is around for miles, on site there is an amazing large self catering cottage for rent right next door which sleeps 12 (and the option for yurts in the garden too).
There is also the Brewery, Smokery, as well as the Farm shop (for smoked meat, game and fish).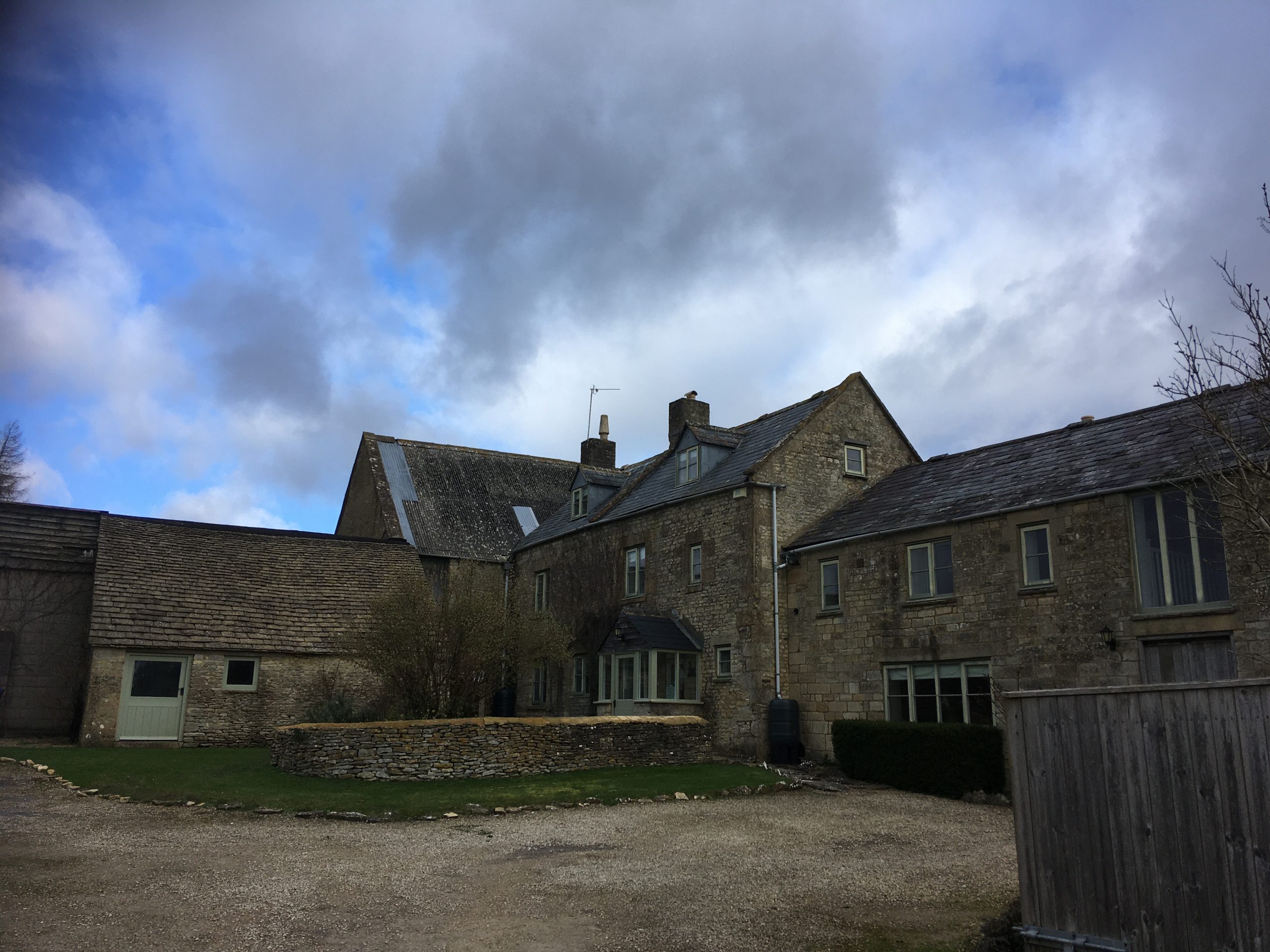 Top quality local produce
The food is sublime at the Upton Firehouse, which serves amazing BBQ lunches and can cater for large parties. The key is the quality of the ingredients that they use and that they are constantly evolving and on trend with the food that they offer.
The BBQ restaurant serves seasonal local good quality produce including lamb from the local butcher, asparagus from up the road, crayfish from the local river and smoked salmon from next door.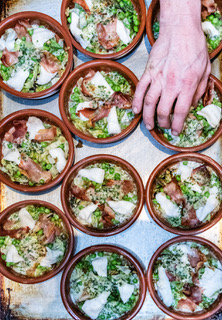 Tailored menus
The experience of the chefs, Sam and Jak, shows in what they serve, with 10 years working with Made by Bob in Circencester and now in their second year at Upton.
Normally they offer breakfast and lunch on Wednesdays to Sundays, pizza evenings on Wednesday nights and special events once a month.
Meanwhile they also hire the venue and services for weddings and private parties. The food can be completely tailored to the event and diets but it really suits a shared family style, buffets or banquets. Whilst their speciality is the BBQ they also offer food from all around the globe such as Thai, English, Moroccan, and Indian to name a few. They also have innovative ways to suit vegan and vegetarian diets including 7 different vegan salads that they prepare.
See sample menu below for special events.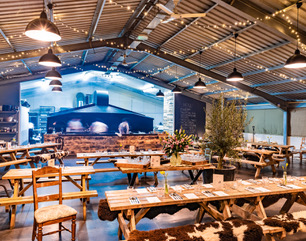 Chilled out blank canvas
The Upton Firehouse is a big space with lots of potential. It's a huge blank canvas which is best filled with lots of people for an amazing celebration (which obviously isn't possible under current guidelines right now). It can seat 150-200 people sat down.
In the warmer months, you can fling open the doors and extend the party to the courtyard and sit round fire pits. The next door Brewery is where the toilets are and can be used as an additional seating or a chill out area too.
The place is yours from 4.30pm to come in and set up (or the day before by prior arrangement) with the meal served at around 7pm. They have a licence until 12.30am (which can be extended to 2am if necessary) under normal circumstances.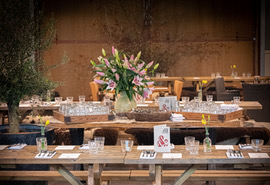 Friendly service
Obviously things are a bit different with hospitality at the moment but the venue is still offering outside catering but only for groups up to 6 people and weddings for up to 15 people. They also do food deliveries.
With regards to the restaurant at the Firehouse, the following rules currently apply:
Table serve only
Maximum of 6 per table
Tables can't be moved once seated
Wear a face mask at all times whilst walking around the restaurant
Hand sanitiser to be used when entering or leaving the building
QR code to scan to sign in
Summary
Delicious local food and drink served in a wonderful, relaxed party vibe location in stunning countryside surroundings. Well worth a visit socially in a small group or for any big special occasion (when we are allowed to celebrate in style again, in the hopefully not too distant future).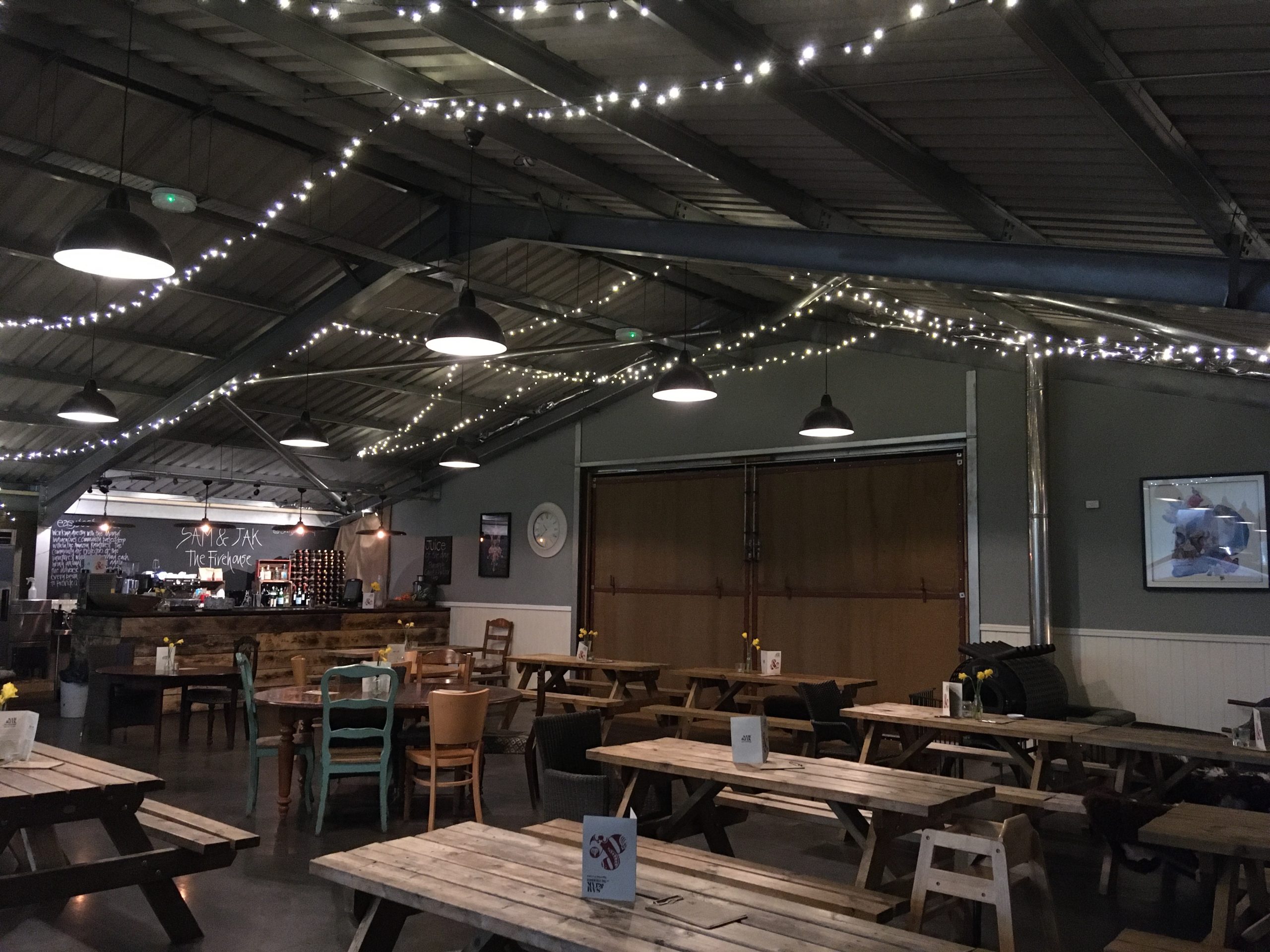 WEDDING VENUE FACTS
Type of venue: barn restaurant
Find out more: https://theuptonfirehouse.com/
Location: Upton Downs Farm, Burford OX18 4LY
Wedding season: year round
Guests: 150-200
Marquee option: n/a
Ceremony: not yet
Venue hire: £1500 year round price
Nearest church: Burford Church, Church Green, Burford OX18 4RY
Wedding breakfast: £19.50 per person (for 60 minimum)
Accommodation: Upton Downs Farmhouse via Stay Cotswold (sleeps 12)
Wedding fairs: n/a
Other things worth a mention: The best bit would be coming back to the Firehouse the next day after the wedding for lunch with your wedding party having stayed overnight at the cottage next door.

sample menu
Canapes
Thai vegetable fritters with tamarind dipping sauce
Miang of crab and sour fruits
Wild mushroom and gorgonzola arrancini with gorgonzola dip
Deep fried squid with pimento, harissa and basil dip
Tuna and avocado sushi rolls with pickled ginger and wasabi
Bread on oils on the table
Mains
Spiced Kofta with mint yoghurt
Smoked Salmon
Diary free Chicken dish
Pulled pork
Brisket with harissa
Hoisin duck
Salads x 3
Red cabbage slaw
Little roast potatoes with herbs
Dessert
Victoria Sponge fairy cakes with vanilla piped icing, decorated with berries
Plates of Chocolate Brownies – with jugs of cream
Cheese board for 30 people
4 x cheeses, biscuits, bread and chutney
Tea and coffee station for 40 people
Mini sausage 'butties' for 40 people
sign up to receive the latest posts straight to your inbox