I remember feeling quite anxious about the calendar flipping over to the year 2000. We weren't quite sure what would happen when it got to midnight on New Year's Eve. This didn't stop me partying like it was 1999 (Prince would've been proud of me) but I was relieved that nothing untoward happened when we joined not only a new decade, a new century, but also a new millennium.
Thankfully the Y2K computer worries didn't bring down massive worldwide infrastructures (and we hope that fixes are in place to avoid something similar in 2038 happening too).
weddings through the decades
My look back at weddings throughout the decades has continued and I am now taking a look at a real wedding nearly 16 years ago in 2005. Even in the recent past, we can still take inspiration which helps with wedding planning in the future.
Britain in 2005
In 2005, employment was at a record high with unemployment benefit claimants the lowest it had been for thirty years.
A general election saw The Labour Party returning to power, with Tony Blair as the longest-serving Labour Prime Minister. Meanwhile David Cameron, MP for Witney, was elected as Leader of the Conservative Party.
The  Gender Recognition Act 2004 came into effect, allowing transsexual people to have their reassigned gender legally recognised by law.
Sadly a series of terrorist bombings went off on three London Underground trains and a fourth bomb exploded on a bus later in Tavistock Square in July of 2005. Whilst British Airways grounded all flights due to a baggage handler strike.
In addition, the aftermath of a horrendous tsunami from the previous December (Boxing Day 2004) in the Indian Ocean was still affecting people.
inventions of 2005
The most notable advancement of the year was the introduction to chip and pin in our country, YouTube was founded in February and Reddit in June (with Facebook launching the year before).
Camera phones were just taking off, people could store things on USB flash drives, blue tooth was becoming more popular, along with BluRay discs, and we listened to music on ipods.
Whilst J. K. Rowling's novel Harry Potter and the Half-Blood Prince was taking the world by storm.
highlights of 2005
Ellen MacArthur sailed around the world; Prince William graduated from the University of St Andrews; the England cricket team won The Ashes; we celebrated 400 years since the Gunpowder Plot with Guy Fawkes; and pubs in England and Wales could now be open for 24 hours. 
Doctor Who was revived for the first time in 16 years, whilst Jamie Oliver battled against Turkey Twizzlers for school meals.
wedding trends in the 2005
At the end of 2005, The Civil Partnership Act 2004 came into force, which grants same-sex couples similar legal rights to those of married heterosexuals.
The Prince of Wales married Camilla Parker Bowles on Friday 8 April 2005 in a 20 minute civil ceremony at Windsor Guildhall followed by a blessing at St George's Chapel, Windsor Castle. Other celebrity weddings of 2005 included: Donald Trump and Melania Knauss; Heidi Klum and Seal; Michael Owen and Louise; Katie Price and Peter Andre; Aston Kutcher and Demi Moore; and Ben Affleck and Jennifer Garner.
Previously in 2001, "Friends" fans finally got to see Monica and Chandler get married in the final episode of series 7. And the popularity of films about weddings continued, including The Wedding Crashers in 2005.
Millennium couples were spending more on their wedding celebrations at nearly 32 times the national weekly wage (of £532.34) with an average wedding costing around £17,000. They had probably saved for around 4 years to pay for their big day and they were more likely to have not received financial help with their wedding costs.
The average cost of a wedding dress was £825, and they were often strapless or sleeveless in the 2000s due to weddings being more secular and not under strict religious dress codes. Dresses were also shinier (in satin or taffeta) as well as adorned with lots of bling on bodices.
Couples would invite around 96 guests, with the family home being a typical location for the wedding reception. Disposable cameras were a popular wedding favour and the cupcake tower was a massive trend.
If you got married in the 2000s then you probably would've enjoyed a hog roast.
weddings in 2005
In 2005, there were 247,805 marriages in England and Wales (compared to 245,519 in 2015). There were 33.6 men marrying per 1,000 unmarried males and 31.1 females. The number of weddings has steadily declined over the years.
The average age of men getting married in 2005 was 36.22 and 33.5 for women (which continues to steadily rise).
35% of weddings took place in a religious ceremony in 2005 (which continues to decline).
real wedding from 2005
I am delighted to share another special day of an incredibly skilled local supplier, Susie Grist who married Mark on 10th September, 2005.
Susie recounts:
'It drizzled with rain in the morning that got heavier as the morning went on and by the time my car arrived at the church it was absolutely pouring. There was a river running along the curb. We had hired white golf umbrellas just in case and the Ushers made a tunnel with the umbrellas for me and my Dad to get into Trinity Church, Abingdon.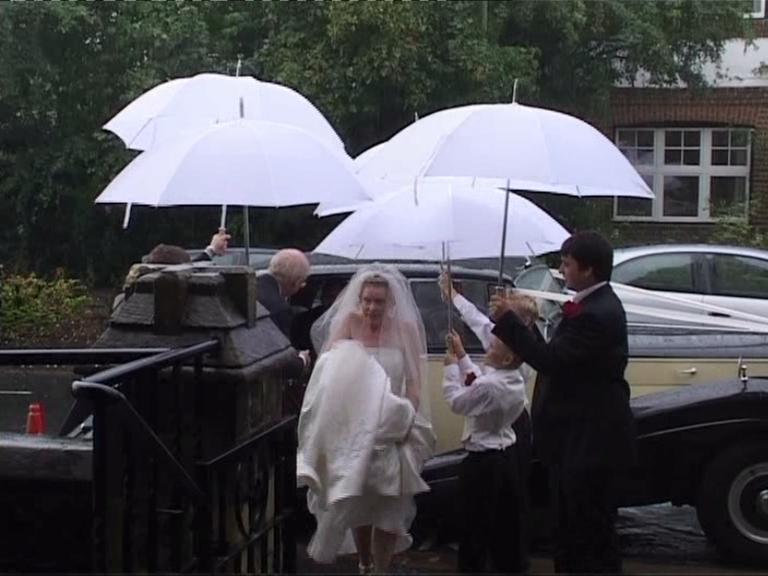 We had a church service with hymns 'Love divine, all loves excelling,' by Charles Wesley (1707 – 1788) and 'The grace of life is theirs' by Fred Pratt Green from 1970. A reading from 'Captain Corelli's Mandolin' was read by a good friend of Mark's and his Dad is a retired Methodist Minister who did the reading of 1 Corinthians 13. Due to the rain we ended up having photos taken in the church. Although it had stopped at this point the ground was very wet.
We arrived at Fallowfields Country House Hotel, Southmoor, the reception venue in sunshine to canapés and bucks fizz. We were able to have a few photos in the garden before the wedding breakfast was served.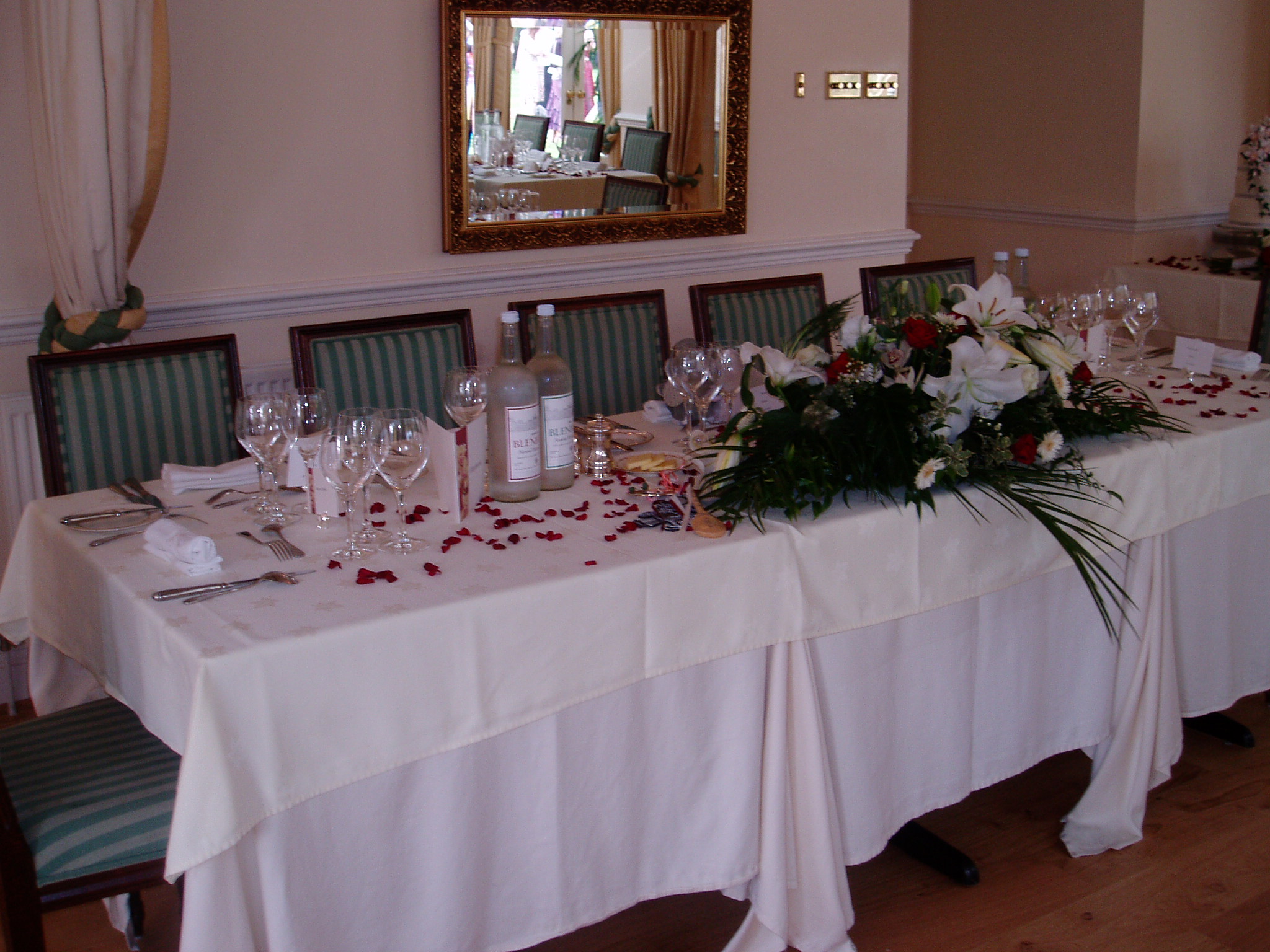 We had hoped to have a display by birds of prey but due to the weather being a bit stormy they were a bit on edge so we just had photos taken with one bird a peregrine falcon called Scarlet.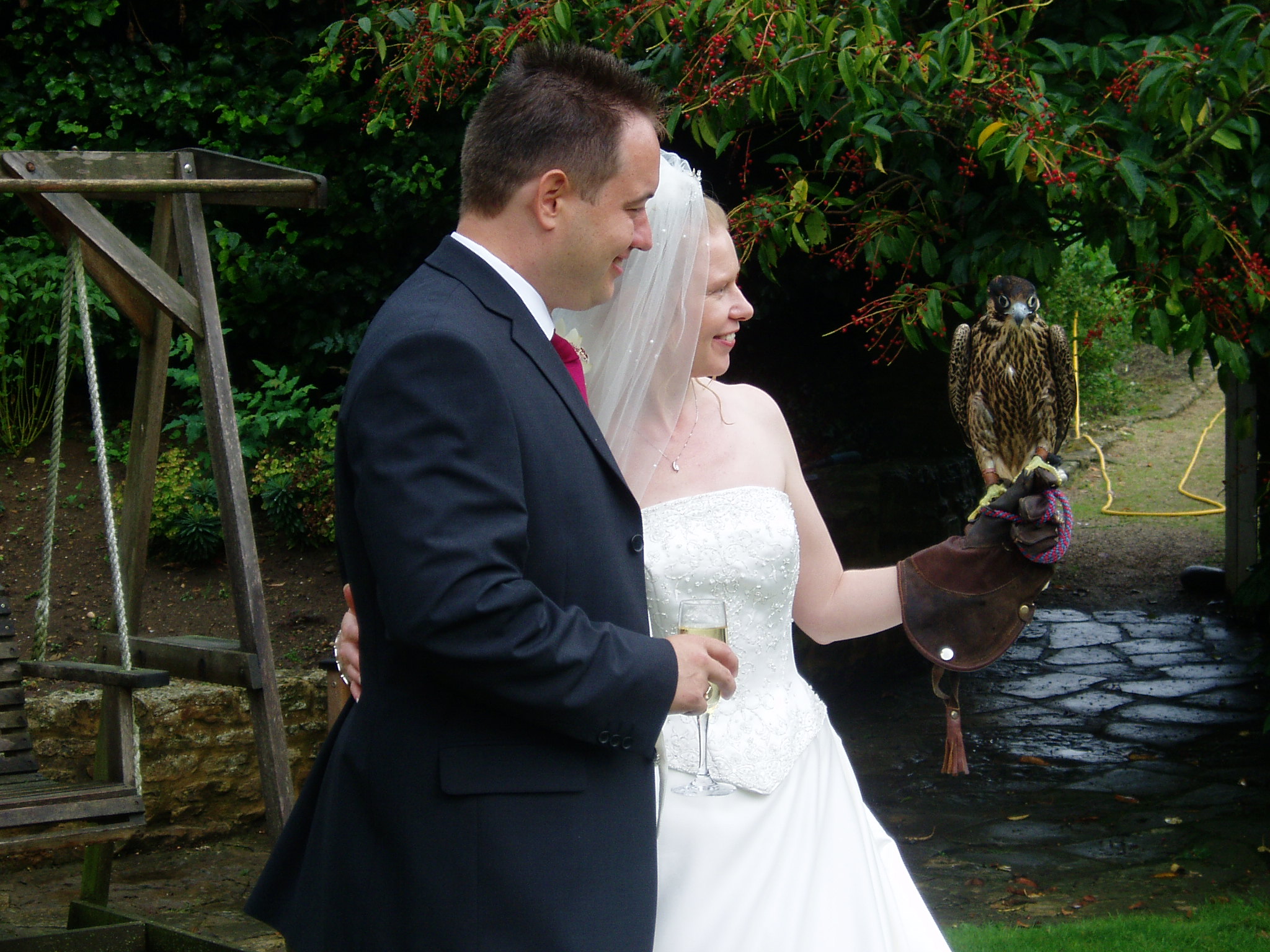 We cut the cake at 8pm to start off the evening celebrations with a disco. My Auntie made the three tier fruit cake with white icing and sugar flower decorations of cymbidium orchids, white stephanotis, white blossom and ivy.
She also made a second Victoria sponge cake with icing and two sugar figurines of me and Mark on the top.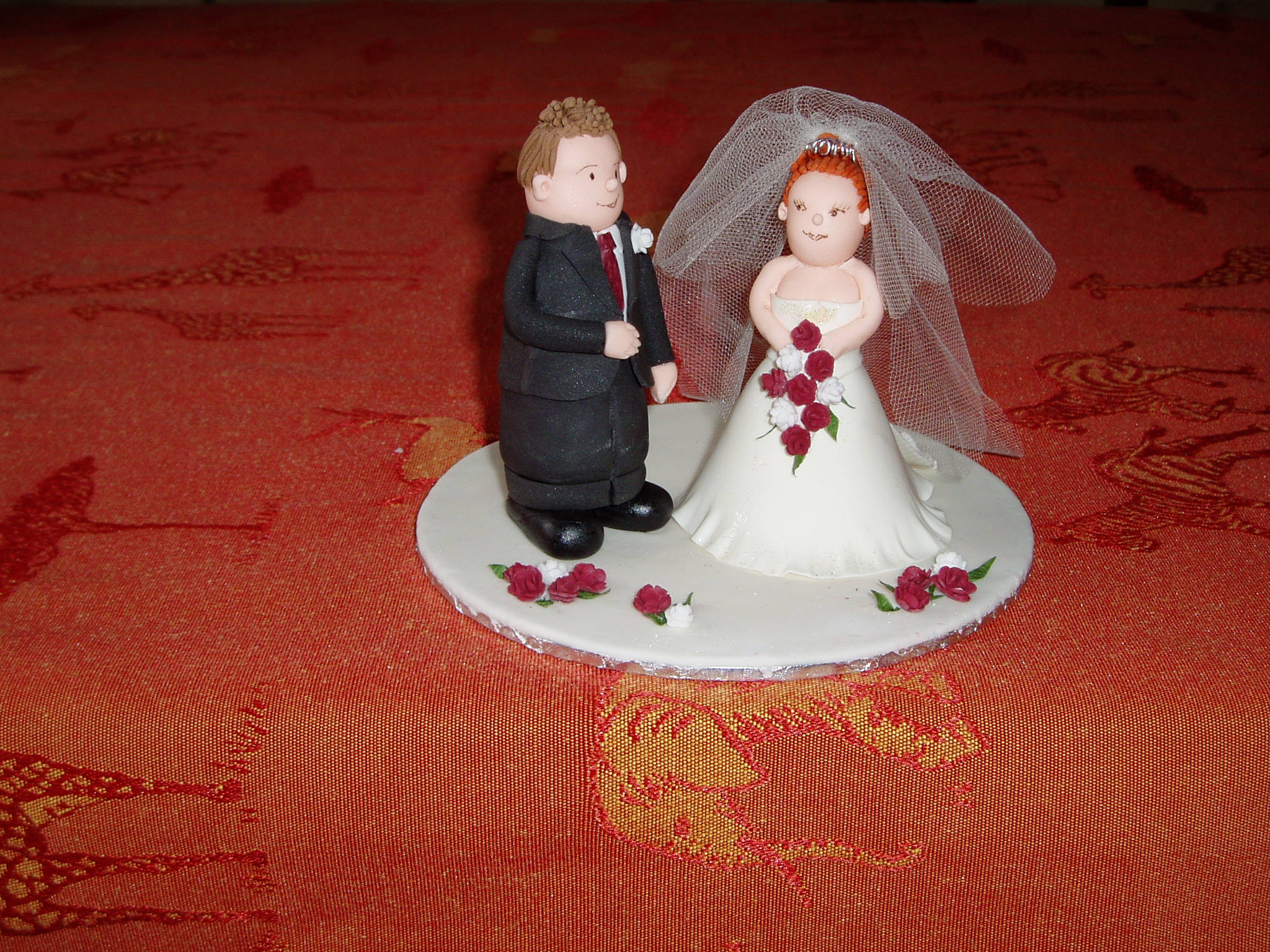 The venue did not require any decoration as it was a beautiful country house. It had a lot of ornaments and decorations of elephants and as I absolutely adore elephants it was the perfect venue.
We had 65 guests for a sit down wedding breakfast of:
STARTER
Cream of Giant Prague celeriac with Colston Basset blue Stilton soup (v)
Chilled greenhouse Blenheim orange melon with a soft berry compote (v)
Pink lamb fillet baked with rosemary and presented on a mixed salad coated in beetroot oil
MAIN
Pan seared fillet of salmon served on a bed of creamed potato with Samphire and herbs
Loin of Welsh Mountain Lamb sliced onto rosemary layered potato with glazed shallots
Roast breast of Gressingham duck served on a casserole of autumn vegetables
DESSERT
Hot plum and almond crumble served with vanilla sauce and prune ice cream
Summer fruit pudding served with a caramel basket of vanilla pod ice cream
Strawberries and vanilla pod ice cream
Then we had an extra 35 for the evening to total 100 guests who later all enjoyed a buffet and cake.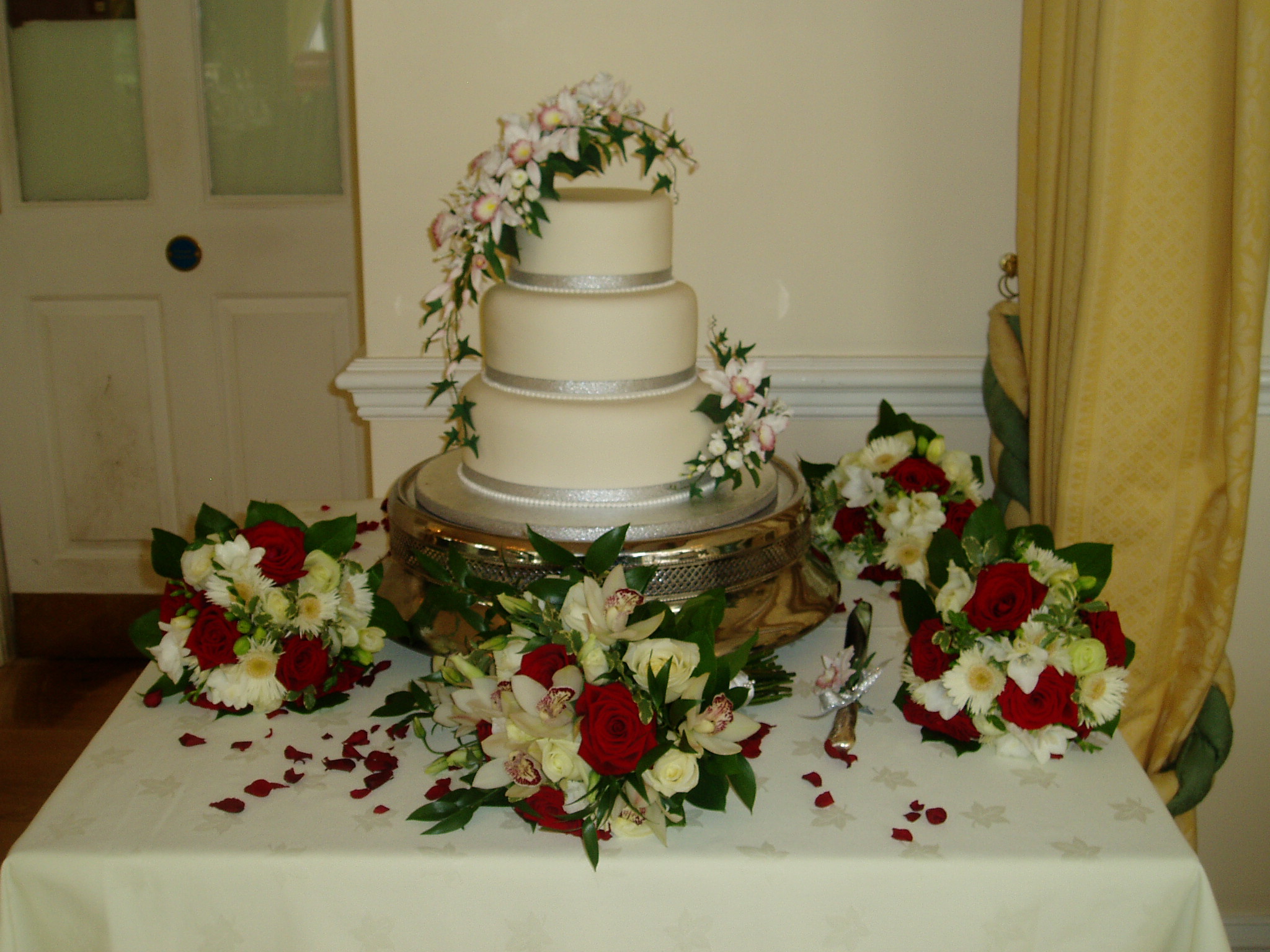 Tables were named after safari animals as we were going on safari in Botswana on Honeymoon and I am a big elephant lover:
Elephant (top table)
Antelope
Zebra
Rhinoceros
Giraffe
Hippopotamus
Leopard
My father worked for a printers so we designed our own invitations using a photo of a cymbidium orchid that we had taken with the bridesmaid dress fabric in the background. This image was used for all the stationery including place cards, table names and the seating plan.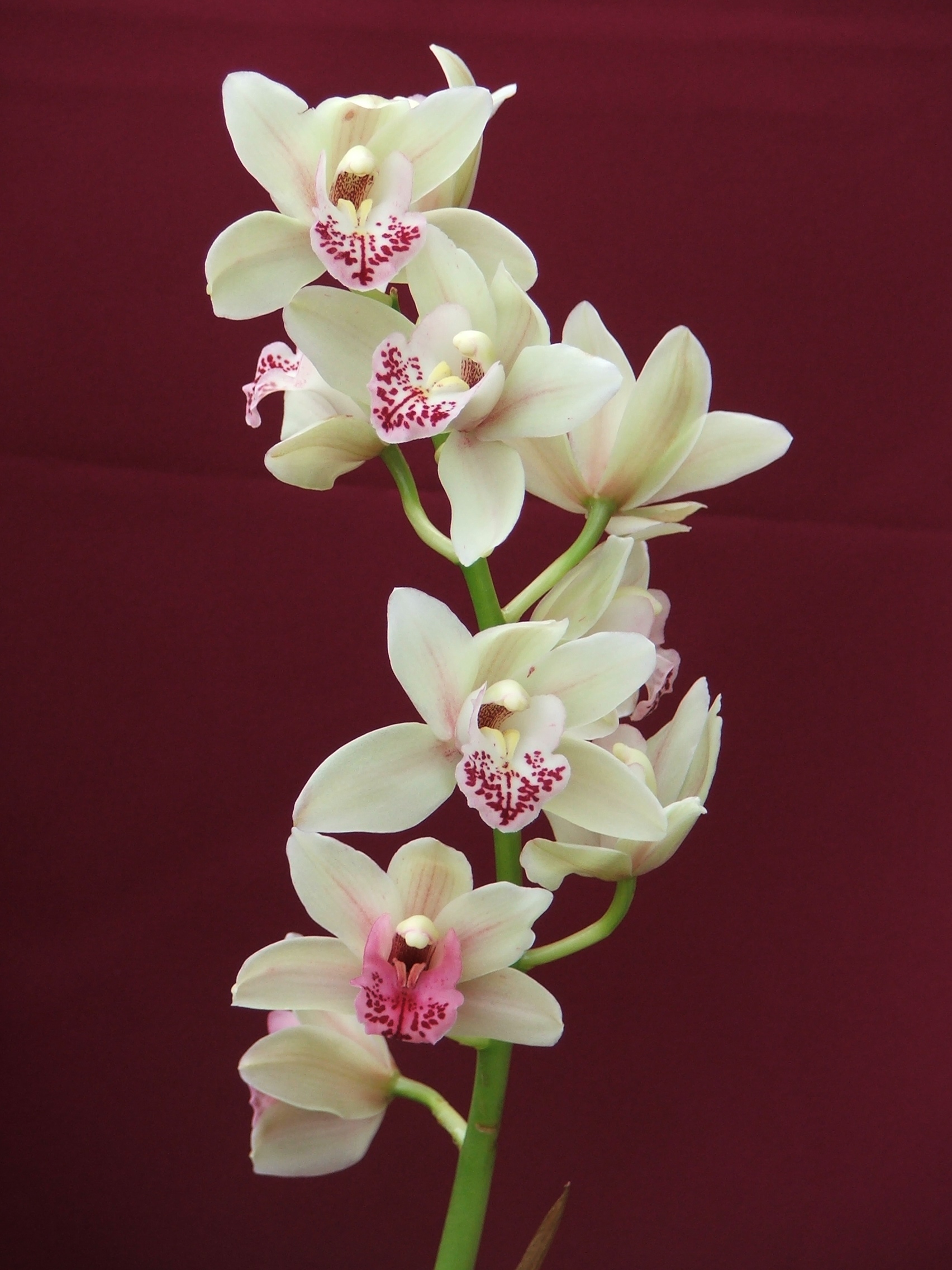 Our colour theme was burgundy and ivory, along with orchid flowers.
My bridal dress was bought from Fairytales in Witney (no longer trading). It was one of their own label dresses made by their seamstress. A strapless straight neckline bodice with a full A-line pleated skirt which looked like a separate bodice and skirt but was in fact one complete dress. The dress was embroidered and had a beaded design on the bodice and on the bottom of the front skirt and train. Plus covered buttons all the way down back from bodice to train.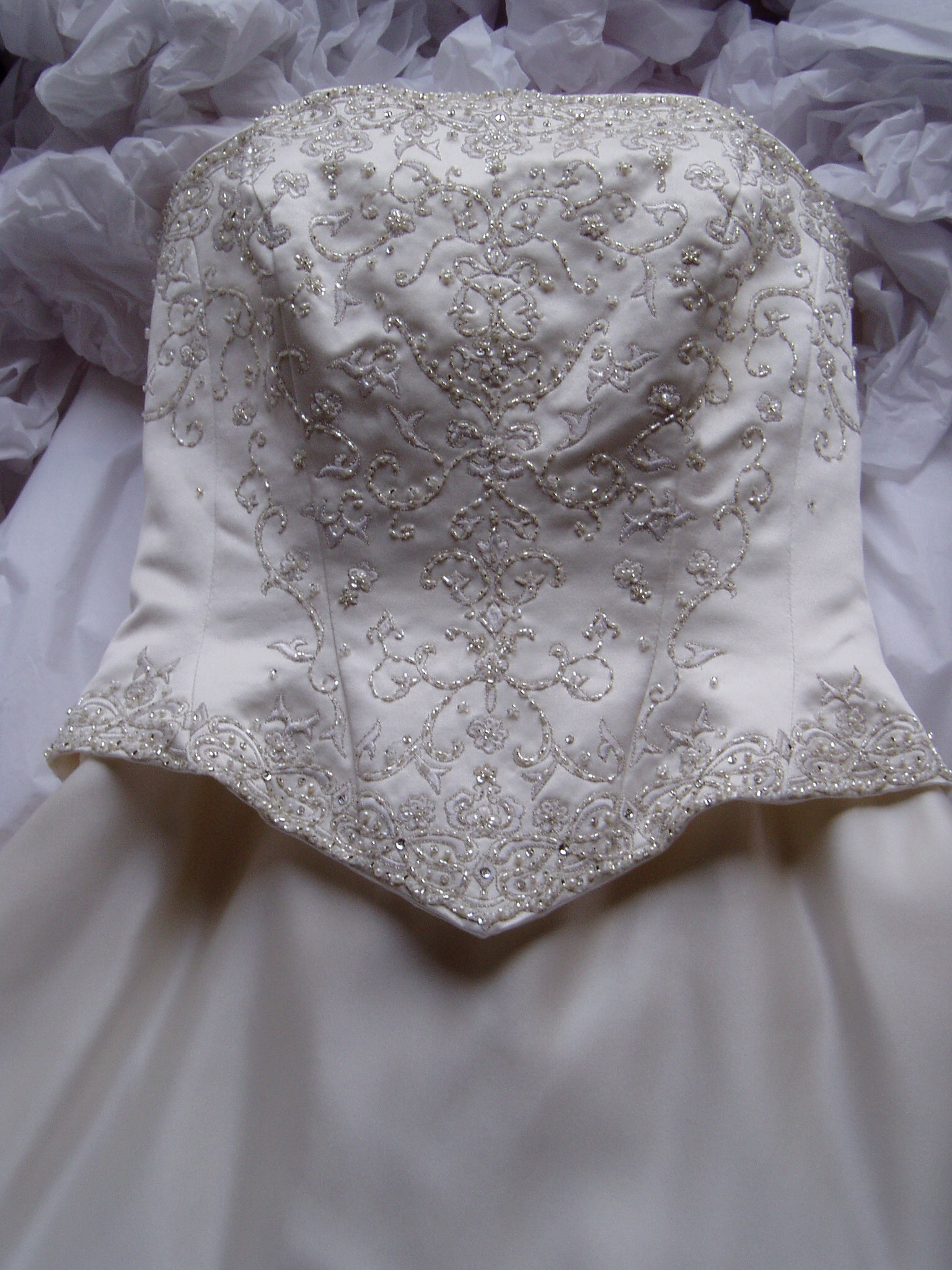 The three bridesmaids were my sister-in-law, best friend from school and the groom's niece. They wore Alfred Angelo Burgundy satin empire line dresses with an embroidered and beaded bodice.
The groom wore a grey lounge suit from Marks & Spencer, an ivory brocade waistcoat which I made and a burgundy tie to match the bridesmaids dresses also made by me. These matched the waistcoats and ties for the best man, fathers, page boys and ushers.
My tear drop shape bouquet contained orchids, red grand prix roses, white bianca roses, white lisianthus, ruscus and beargrass. The floral spray arrangement was supplied by Wendy Madley Flowers (no longer trading). The bridesmaids had hand tied bouquets with similar flowers and white freesias and gerberas. The button holes were orchids.
Plus tall vases on each table with ivory glitter stones in the bottom filled with white lilies and feather grass. These vases stood on mirror plates scattered with clear scatter crystals and the tables were scattered with red rose petals.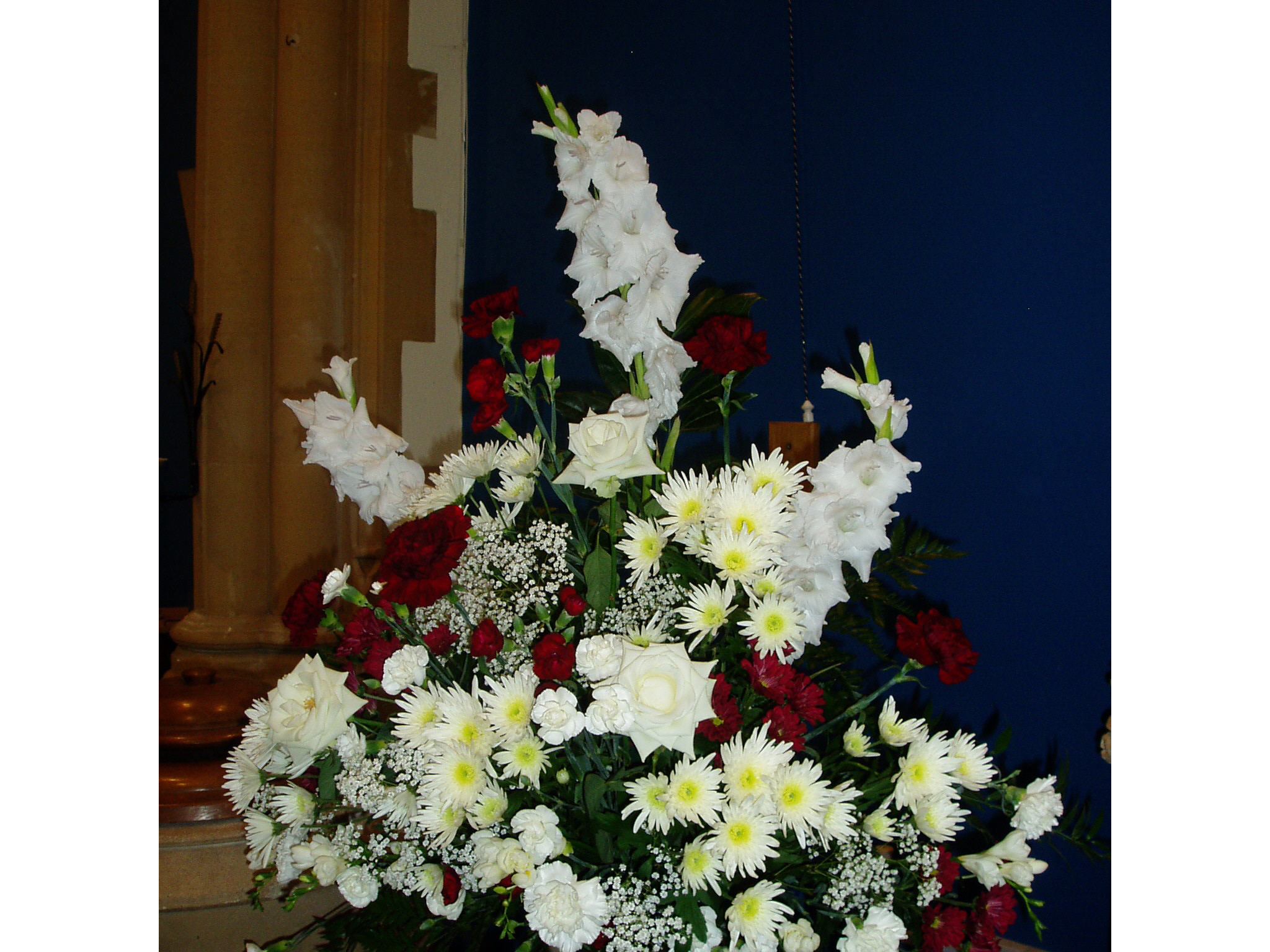 Me and and my father travelled to the church in a black and ivory 1955 'R' Type Bentley HJM supplied by Platinum Wedding Cars. Whilst my mother and bridesmaids travelled in a Rolls Royce Silver Shadow.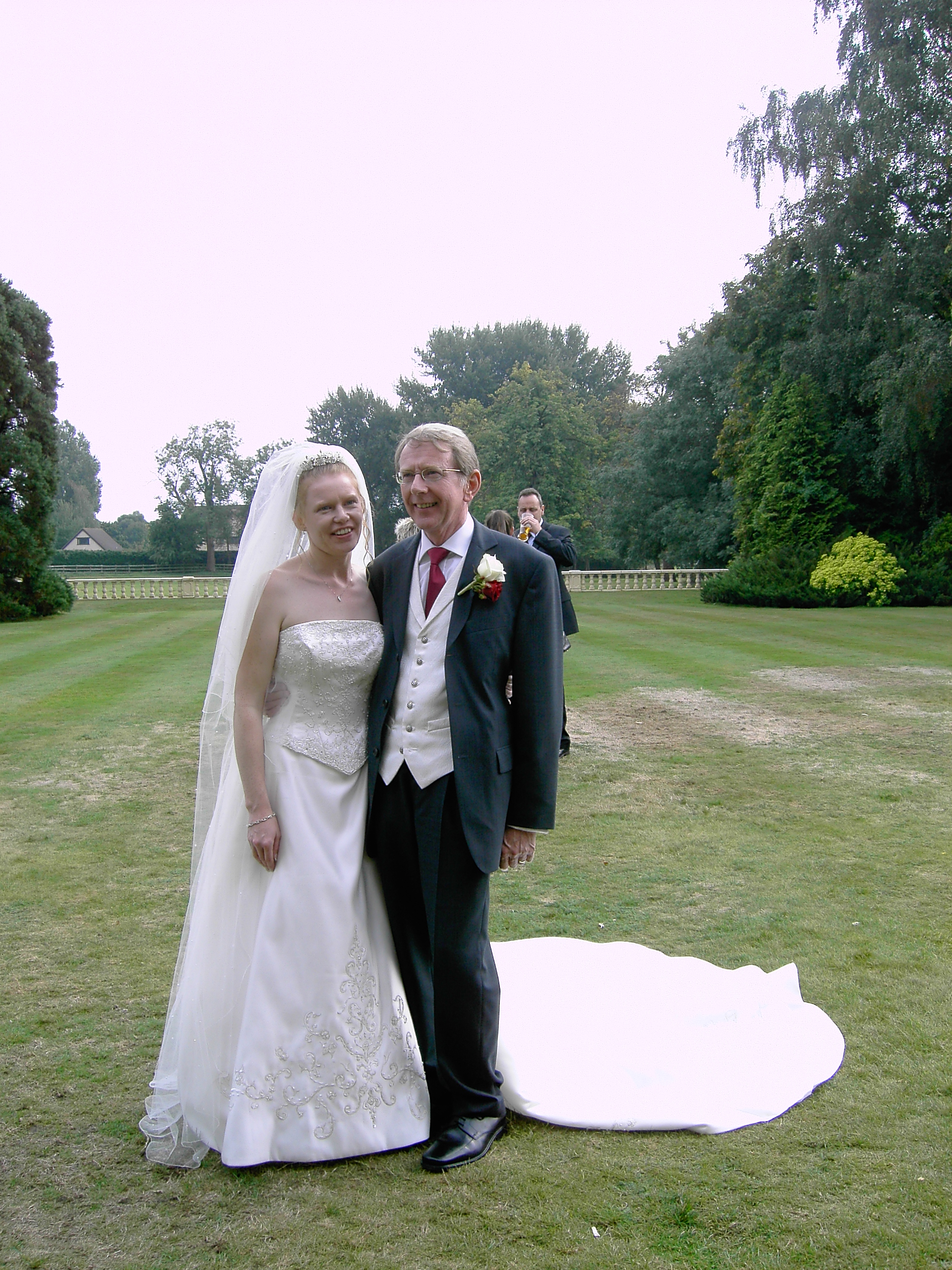 Entertainment was a disco in the evening by Regency Entertainment. We didn't have favours but we did provide the children with gift boxes containing games, toys and things to keep them amused from a company called Smiles.
Paul Viney Photography (no longer trading) was our photographer. It was still 35mm film in those days and he was a traditional group photographer so unfortunately didn't capture many details of the wedding. Some guests had digital cameras and took some extra photos for us. We also had a videographer, Howard's Video Service (who I'm not sure is still trading either).
For our honeymoon we went on safari in Botswana and then a beach holiday in Mauritius.'
About Susie Grist Couture
Susie Grist Couture specialises in designing and making individual bespoke wedding gowns. Based in Abingdon-On-Thames working from a home studio.
She has over 18 years of professional sewing experience and has been designing wedding dresses for nearly 6 years. She makes bridal gowns, bridesmaids and flower girl dresses and even outfits for mothers.

susiegrist

@susiegristcouture

@susiegristcouture
summary
The 2000s saw the era of shiny, embellished, and strapless dresses. Country house hotel receptions were completed with cupcake towers, disposable cameras and evening reception hog roasts. The cookie cutter approach to weddings was starting to dwindle as more personalised elements were creeping in and more couples were paying for their own weddings. Social media was just starting to become a part of our lives and influence weddings, whilst couples could now create their own playlists on ipods.