Winner at the UK Blog Awards 2018!
I am absolutely delighted (and still somewhat overwhelmed) to share the amazing news that my wedding blog has won the Individual Wedding and Events UK Blog Award this year! I am completely over the moon.
The news is only just sinking in and I'm feeling pretty darn chuffed to be brandishing this shiny badge!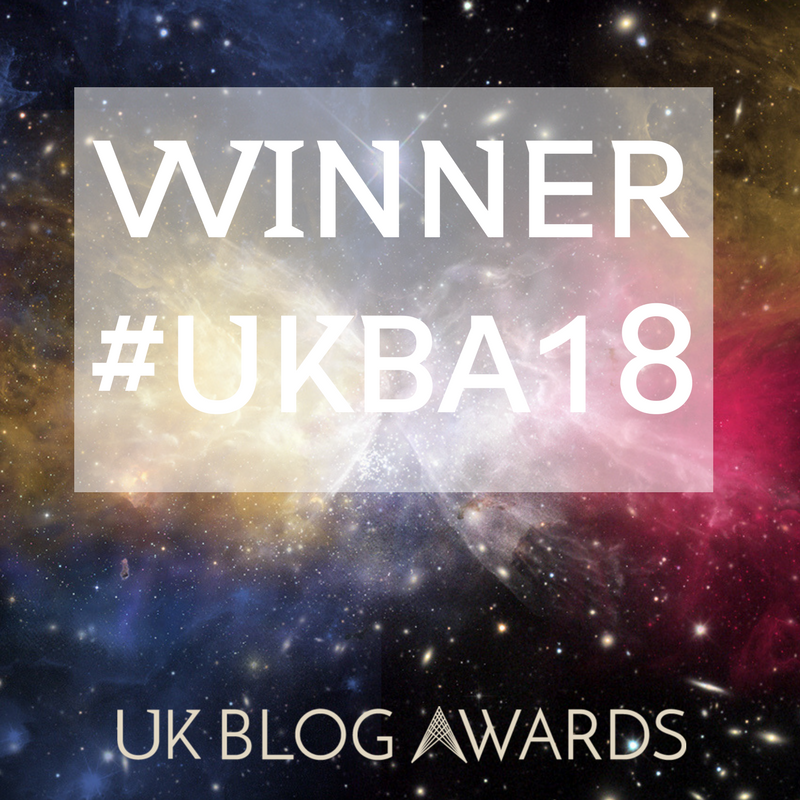 announcement of the UK Blog Award winners
Last month, one Friday evening, I sat down on my back step with the bifolds open, enjoying the warm evening air, hunched over my phone trying to follow the results from the UK Blog Awards 2018. Sadly I wasn't able to physically attend the award ceremony this year and, whilst I'm pleased to have avoided the big smoke of our capital city in the midst of a minor heat wave, I'm disappointed that I wasn't there for the announcement of the UK Blog Awards and to hear my company name be called out as a winner.
My wedding blog has come so far … from highly commended in 2016, to winning in 2018. I'm pleased that this time my company name was pronounced correctly at the ceremony, though a little disappointed that my big moment was marred by a glaring typo in my name on the big screen. Nevertheless, this doesn't take away from the fact that my wedding blog was chosen to be the individual winner this year.
Despite my best social media stalking, it was tricky to follow who was winning the awards on the night and they seemed to be whizzing through the categories. Then out of the blue, someone sent me a congratulations tweet. I wasn't quite sure what this meant. Had I got highly commended, had I actually won, or was it just a prank?
I spent ages trawling through twitter for confirmation. I felt that I couldn't get too excited until I knew for sure. Then a couple of other bloggers from my category very kindly tagged me in their Instagram stories and included shots of the big screen showing my name as the winner. It was the confirmation that I needed but then I was in shock!

why I entered the UK Blog Awards
My tutor, from my time studying with the UK Academy of Wedding & Event Planners, gave me some brilliant advice. She said to play to my strengths, enter competitions, have a niche and fit my business around my life.
Three years later and I'm combining my photo shoot experience and marketing background with my passion for weddings and supporting local businesses.
I've also entered the UK Blog Awards for the last 3 years and have been lucky enough to be a finalist each year. I was honoured to get a highly commended in the events category in 2016. However, against stiff competition, last year I returned home empty handed.
I guess I kind of fell out of love with blogging and twitter for a while after this knock. And this was wrong as I had forgotten to look at what I had done rather than what I hadn't achieved. I didn't take my own advice and 'look at the donut instead of the hole!'
It was whilst I was on holiday, that I took a step back and looked at where my strengths lie and what I am really good at. I stopped worrying and looking at what others were doing and concentrated on my own stuff and focused on what I do best – creating my own content.
So, last year I organised three wonderful styled wedding photo shoots. It is really important to me that my blog creates wedding inspiration in the beautiful Cotswolds. The uniqueness of the blog comes from showcasing my own beautiful and inspirational, trend-led styled wedding shoots, collaborating with local venues and innovative wedding suppliers.
That is why I'm so pleased to have won the UK Blog Awards in a year when I've been doing what I enjoy best – showcasing my own content and keeping it local.

what it means to be a winner at the UK Blog Awards 2018
Just being a finalist in the UK Blog Awards for a third year gave me a huge sense of achievement, it is great recognition and a wonderful testament to the level of support shown by my readers.
For full disclosure, I want you to know that I didn't pay to enter these awards. I nominated my own blog and then it was down to a public vote to get through to the finals. Out of 4,000 entries and nominations I was one of only 6 bloggers in my category. So I was pretty chuffed and honoured to even be considered alongside the calibre of my fellow finalists in the Individual Wedding and Events category.
Then a judge picked one winner and one highly commended blog from the 6 finalists in my category.
To win the category is most definitely the icing on the cake and I can't wait to see where this recognition will take the blog.  You can see all the winners and highly commended blogs from the night at the UK Blog Awards website.
It is great to have another reason to shout about my business and to connect with other professionals in the blogging world, wedding industry and local businesses.
This added promotion not only gives my blog extra exposure, but I'm pleased it also showcases the stunning venues and highly talented wedding industry professionals from small, local and independent businesses, that my blog supports in the beautiful Oxfordshire countryside of the Cotswolds.

why I blog about weddings
In a nutshell, I love weddings! How wonderful to have all the people you care about, from different walks of your life, in the same room at the same time on your wedding day!
I get to combine my passion for weddings with my skills and experience of organising amazing styled photo shoots. In particular, I love the unique detail shots. After all, it's all the little details that bring any event to life.
My local Cotswold wedding blog compiles, creates and collates inspiration, providing couples with wedding planning tips, tools, trends and traditions to celebrate their personal milestones.
Since 2014, this blog has evolved (and continues to) wherever new opportunities and avenues take me. The possibilities are really exciting and my blog conveniently fits around my family commitments and lifestyle.
The beauty of blogging is that I can work anywhere, at any time and write about the things that really interest me. I'm a big fan of local wedding businesses and I support and promote them whenever I can.

thank you for your ongoing support
A massive thank you to everyone who reads and shares this blog. And thank you very much for your votes to get it to the finals in the UK Blog Awards again.
Thank you also to my incredible family and friends for their unending support.
A special thanks goes to my wonderful webmaster at Wondernet (and the best boss I've ever had) – his advice and teaching have played an important part throughout my whole career.

development of the blog
I'm still feeling fairly chuffed about the UK Blog Award win at the moment. More importantly I'm now spurred on to develop the blog further. Being alongside such amazing blogs has given me the chance to re-evaluate things again, providing an impetus to continue to improve it and a challenge to think about further evolution.

work with Hanami Dream
Now is also a great time to look forward to working with more local wedding professionals, services and venues. And I can't wait to produce more styled photo shoots and have opportunities to collaborate with local suppliers.
Please get in touch if you'd like to advertise on this award winning blog, submit your own wedding details, would like to collaborate on a shoot, write a guest post or need some marketing advice and guidance.
Many thanks for your support and here's to more exciting times ahead!