Here's a look behind the scenes of one of my recent styled shoots.
I was over the moon to be approached by a beautiful local venue last year (via a great photography partner) to style their wedding venue in order to show it off in a new light and provide all involved with wonderful lifestyle imagery.
It was wonderful to work alongside Steve from Squib Photography again (we previously worked on another styled bridal shoot last year). This time we were at Oxleaze Barn and we collaborated to produce an amazing bridal styled shoot inspired by Journey to the Centre of the Earth. It was also a privilege to be able to showcase some amazing products from some fantastic local suppliers.

Theme
I always have a number of ideas swilling around inside my head that are waiting for the right venue and season to utilise a certain theme. I'd had this particular theme in mind for a while and it had evolved and I had time to mull it over a long time before I'd even visited the venue for the first time. As soon as I saw Oxleaze Barn, I noticed all the blue accents around the 1700s barn and farm, so I knew that this theme would work perfectly there.
Journey to the Centre of the Earth by Jules Verne (published in 1864) features an expedition to Iceland and exploration through volcanic tunnels. (See some of my previous styled shoots based on other classic books.) The Icelandic edge took me to cold, icy places and this wintry theme seamlessly fitted a modern winter styled barn wedding. I especially wanted to emphasise that this wedding venue was available year round, thanks to their underfloor heating, and wanted the images to exude warmth and play on the hygge trend with a relaxed and intimate vibe. Plus it was great to have the opportunity to showcase the evergreen and expanse of their garden.
I also wanted to include nods to the book with the inclusion of volcanic rock themes through slick agate, intricate hollow geode or timeless marble.

Styled shoot
It is really important to me that my blog creates wedding inspiration in the beautiful Cotswolds. The uniqueness of the blog comes from showcasing my own beautiful and inspirational, trend-led styled wedding shoots, collaborating with local venues and innovative wedding suppliers.
Before starting Hanami Dream in 2014, I worked for over 6 years for an international clothing brand where I planned and managed photo shoots in some fabulous locations around the world. Now I get to combine my wonderful experience with my passion for weddings whilst supporting local businesses.
A styled shoot takes almost as much time and effort to produce as a wedding day and entails bringing together everything from many different suppliers.
For me the process always starts visually. Firstly on Pinterest where I collate my thoughts, then secondly on paper where I sketch out a floor plan, each scene and how every element will come together on a tablescape. Sometimes I have an idea of a product and I search for the best local supplier to provide that item. Other times, I see something that someone has created and I file it away for the most suitable shoot in the future.
The beauty of styled shoots (versus a real life wedding) is that it is a great opportunity to be a little more extravagant and really show off what you've always wanted to do. You can indulge your fantasies with new trends or products that couples may not have seen yet or something really unusual.
This styled shoot was a collaboration of like minded people that created great things together but perhaps didn't have the budget to produce this kind of work if they all worked independently.
And most importantly, the suppliers I used are all local to the venue. This means that for anyone planning their wedding at this venue, this look and feel is completely achievable and realistic. The images might be Pinterest worthy but they are not unattainable.
Whether it is a styled shoot or a real life wedding day, the key is that each event is personal and tailor made.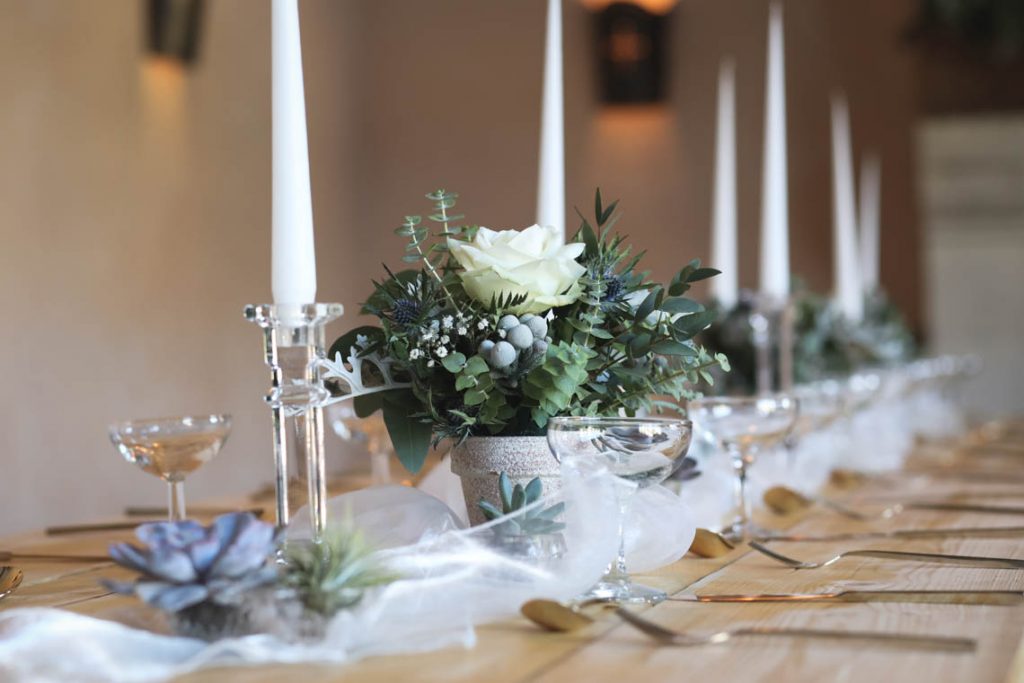 Brief
We are very lucky to live in a beautiful part of the UK and are surrounded by some seriously talented wedding venues, professionals and suppliers. It was brilliant that so many wanted to be involved in this shoot and they certainly didn't disappoint with the products that they provided.
They were all given the same brief of what I was trying to achieve:
volcanic rock elements to make a statement at this wintery wedding alongside grey, icy blue, gold and white accents coupled with acres of tulle and delicate airplants
I also provided them with my collated vision and ideas on my Pinterest board.
The themes I wanted to encapsulate included:
winter
modern
industrial
tactile
ethereal
delicate
hygge
The colour palette followed the Spring 2018 trend colours of grey, blue and lilac, alongside gold and white accents including:
Little Boy Blue
Pink Lavender
Ultra Violet
Almost Mauve
Alongside neutrals of:
Sailor Blue
Harbor Mist
Coconut Milk
Designs
The creative suppliers worked wonders in transforming my overflowing pot of ideas and pairing it down in to realistic and achievable products for us to showcase.
Usually each shoot starts with a muse or product that sparks the theme and everything flows from that element. For this shoot, it was some marbled concrete pots, concrete coasters, concrete letters, and concrete table numbers. Unfortunately due to ill health, the supplier wasn't able to provide these items in the end for the shoot. However this marble look and feel was present on other elements.
Suppliers
It's the little details that bring any event to life and this was made possible by the wonderful local suppliers who provided their time, services, venue and products for free. Together we showcased the amazing talent that our part of the UK has to offer the wedding industry.
Despite the snow machine not materialising and a last minute change of models, the finished result was well worth the effort again.
Dress – From the outset, I wanted to include a blue dress in this shoot. Ideally I wanted a bridal separate like the Sweet Caroline Norma J separates but these aren't readily stocked in local dress supplier shops. However thanks to Fairytale Occasions we were able to demonstrate a blue dress alongside a full tactile tulle white dress.
Lighting – Oakwood Events are an absolutely amazing company – friendly, reliable and highly sought after. Despite their really busy schedule, I was fortunate enough to involve their services again and showcase a brand new addition to their portfolio (which they sped through the design process especially for this shoot). It's like they can read my mind! And luckily they don't think my ideas are too crazy! I love that these displays give an industrial feel which is a great contrast with the relaxed vibe in the room.
Take a look at all the fabulous suppliers that were involved in this styled shoot – Keeping it local with suppliers for the Journey to the Centre of the Earth shoot
And see more about the Journey to the Centre of the Earth shoot – Inspiration: Journey to the Centre of the Earth wedding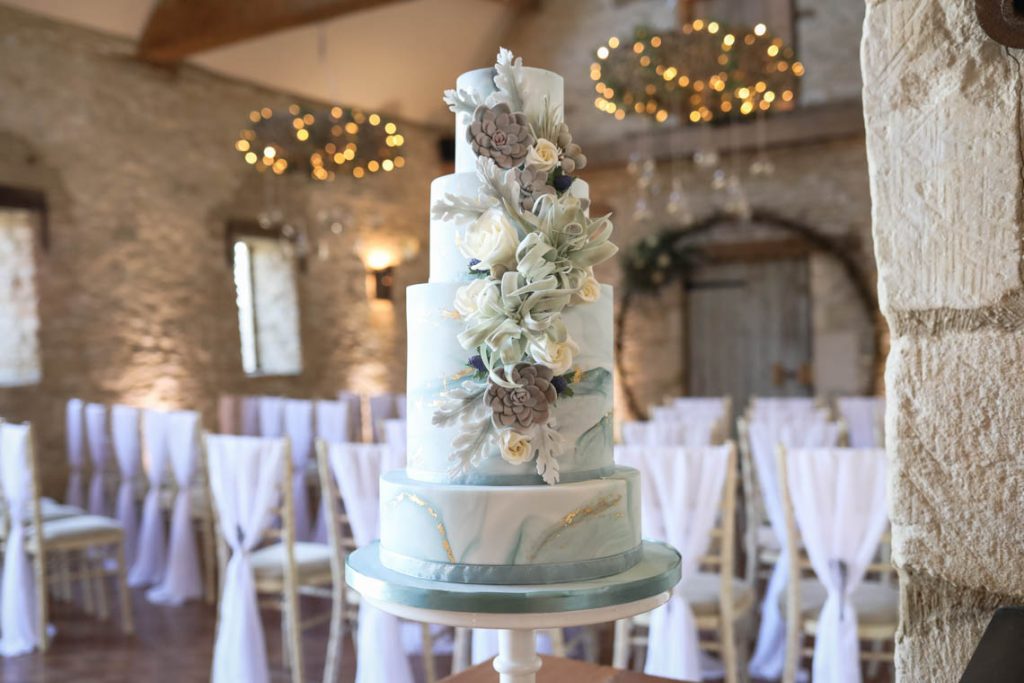 Please do get in touch, if you are a local venue, wedding supplier or photographer and are looking to collaborate on a styled bridal shoot in the future.
#keepitlocal