We decided to follow the yellow brick road as the next theme in our series of joint ventures to bring to life some inspirational themes for special occasions. These are to showcase how you can use a theme to enhance your milestone events, whatever the age of the guest.
1. red – follow your heart
Our inspiration was sparked this time with the build up to the 75th anniversary of the film release of the Wizard of Oz. We also learnt that apparently L. Frank Braum (who wrote the Wonderful Wizard of Oz book in 1900) was inspired by Lewis Caroll's Alice's Adventures in Wonderland so it seemed like a natural progression in our journey.
We loved the idea of lots of fun, friendship and camaraderie in our event and as we were using children as our models again we wanted to ensure we had lots of things to entertain them and keep their attention. Plus we wanted to capture a sunny summer vibe with bright on trend rainbow colours and we wanted to include sunflowers, balloons and emerald city inspired décor.
Other things that inspired this shoot included: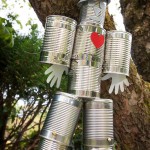 • Tin cans – it seems that my obsession with all the things you can do with tin cans has led my husband to worry that I'll soon appear on the Hoarder Next Door programme on television. Yes, I saved A LOT of used tin cans in the build up to this event. But they are so versatile and really add to any rustic décor scheme – as lanterns, flower pots, adorned with tassels, with holes punched in or painted to suit any colour palette.
• Posters – we've recently been decorating our son's bedroom and spotted a poster of a lion that we loved in a home decorating magazine. We searched high and low and eventually found the exact one from The Kid Who. So our son is now the proud owner of the lion poster by Ingela P Arrhenius, a great Swedish graphic designer and illustrator, and we are trying to decide what our next lovely purchase will be by Ingela.
• Strawberries – you might wonder how strawberries inspired this shoot. Well, it was actually in the act of trying to protect our strawberries from naughty birds scrumping our lovely fruit in the early summer. We were searching for netting to buy to put over the strawberries and came across various sizes of smiling scarecrows to buy. Hope we have more success protecting the blueberries from the predators this month!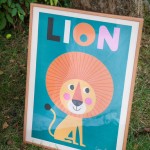 • Paint – I'm currently in love with the chalk coloured paints by Annie Sloane (who incidentally resides in our part of the country). Some beautifully painted stools in the Old Pill Factory, in Witney, ignited my fascination with rainbow colours.
• Vogue – another fabulous shoot by Annie Leibovitz in Vogue in 2005 featured Keira Knightley as Dorothy and shows how subtle theming of the characters can still give a great affect.
• Scottie Dogs – okay so the dog in the film version of the Wizard of Oz was a Cairn Terrier, but how could we not love the dogs used in the recent Commonwealth Games opening ceremony in Glasgow and wish there was a way to use them in this shoot?
• Old fashioned sweet shops – the Shake Shop in Witney is an awesome place to visit and, as well as shakes and smoothies, has loads of great sweets to chose from like giant rainbow lolly pops.
• Cakes – these are never far from my thoughts at the best of times but recently I've loved all the cake pops that are so popular and amazing rainbow layer cakes. We had a slice at a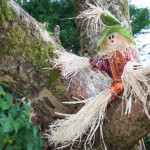 recent christening and were fascinated by the time and effort gone in to making a wonderfully impressive cake.
• Emerald green – this was Pantone colour of the year in 2013 and still seems to be everywhere (or is it just because we're thinking about the Emerald City that we're seeing it more?!) and we really liked the emerald furniture in the Relics of Witney recently.
We also read the Wonderful Wizard of Oz book by L. Frank Braum and realised how many differences there were between the book and the 1939 film adaption. This made us realise that whatever the theme, we could adjust it to suit our occasion anyway.
You can see more of our inspiration for this party and follow Hanami Dream's Wizard of Oz board on Pinterest.
2. orange – good communication
For this event we also involved a great team of local suppliers to showcase their products and enhance our theme further. So as well as partnering with the wonderful Farrow Photography, we also shared our vision to go somewhere over the rainbow with 8 other suppliers each offering different products.
Our partners for this shoot were:

Caked In It – who supplied the rainbow layer cake and rainbow push pops
www.facebook.com/pages/Caked-In-It/159983567354526
@cakeditin

Cotswold Kids – who provided the ruby red sequin shoes worn by Dorothy
www.facebook.com/cotswold.kids
@cotswoldkids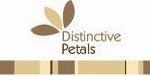 Distinctive Petals – who gave the flowers in a sunflower bouquet, on the table, hanging in trees and in the hot air balloon basket
www.facebook.com/#!/distinctivepetals.florist
@D_Petals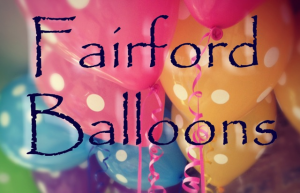 Fairford Balloons – who offered the bunches of latex balloons, rainbow balloon arch and the hot air balloon
www.facebook.com/fairfordballoons
@fairfordballoon
Mrs W Tutus – who made the white tutu and blue gingham apron that Dorothy wore
www.facebook.com/pages/Mrs-W-Tutus/199071030217068
@MrsWTutus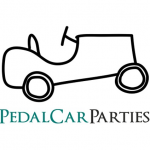 Pedal Car Parties – who lent the vintage pedal tractor for the Kansas farm scene
www.facebook.com/PedalCarParties
@pedalcarparties
Teddy Bears of Witney – who loaned us the Toto and Mini Dorothy Steiff bears
http://www.teddybears.co.uk/
www.facebook.com/pages/Teddy-Bears-of-Witney/107426666094204
New stationery company launching soon – who produced the name place cards
Contact Hanami Dream for more details.
We love the opportunity to be able to support local independent companies and have some amazing ones right on our doorstep in and around the Cotswolds.  #indieretail
For more information on the suppliers that supported this shoot and showcased their products, take a look at our No Place Like Home blog post too.
3. yellow – have courage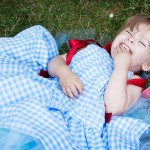 We had to make some tough decisions whilst planning the shoot and had to be realistic with what we could deliver in the time and budget. In addition, whilst not an ideal time of year, we had chosen to do it during the peak summer months when everyone is busy with lots of events. So this meant that some suppliers were not available or couldn't sadly commit to this project. Plus, with any event that you want to hold outside, we were once again at the mercy of the elements. Despite a glorious few weeks of amazing sunny and hot weather, the week of our shoot was when things looked like breaking. We knew that we could postpone the shoot by a few days but some of the suppliers' products would start to fade if we couldn't use them when we planned. We were brave and continued with our plan of shooting one Friday morning and the weather was brilliant until lunchtime. Thankfully by this time we had luckily finished and packed everything away.
4. green – be resourceful
As well as having some amazing products supplied by our partners for this shoot, we also produced a number of the props and decorations ourselves. Funds, availability and suitability often mean that making things yourself (or having them commissioned) will ensure that they match and are completely tailored to your occasion.
The things we made included: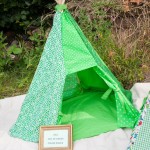 • Green teepees for the Emerald City – triangles of different material sewn together with a heavier duty material hexagon base, held up by inserting and tying dowels, then finished off with doors with material tie backs.
• Gingham bunting – my mum has an amazing stash of material including the blue gingham that I used to sew the bunting. This was from the remnants from my primary school summer uniform that she'd made for me!
• Pin wheels – made from card in the seven different colours of the rainbow. Relatively easy to construct with squares of card, scissors and split pins. Then hung in rainbow order for lots of impact.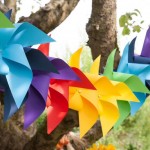 • Tin man – lots of sweet corn, chickpeas and tinned tomatoes were consumed to leave some different sized empty tins held together with wire and split pins to make the tin man. Finished off with a silver hat made from a circle of card and a red card heart.
• Painted tins – whilst I had a grasp on how to mix colours to achieve 6 of the 7 colours of the rainbow, I had to do research to discover the proportions for making indigo! I used a one coat, all surface paint suitable to go on a number of materials without a base coat.
• Crows – these were made with some simple origami skills of twirling birds from black card for the scarecrow to chase away.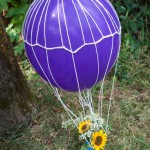 • Net for hot air balloon – we plaited some wool together and tied it around the big 16″ balloon (supplied by Fairford Balloons) at the top, middle and bottom. Then tied long strands from the top band, through the middle band and to the bottom band and then attached them to a painted tin can full of flowers (provided by Distinctive Petals).
5. blue – use support
Most of our band of party goers were dressed in clothing to give a subtle hint of the theme, apart from Dorothy who had an amazing outfit.
The costumes consisted of:
• Dorothy Gale – white full length tutu with blue gingham apron and red ribbons (made by Mrs W Tutus), red ruby sequin shoes (provided by Cotswold Kids), blue gingham ribbons for plaited hair, wicker basket and Toto Steiff teddy bear (borrowed from Teddy Bears of Witney).
• Tin Woodman – grey cords (from H&M), light grey t-shirt (from Next) with red felt heart sewn to pocket and silver card pointy hat with red card heart.
• Cowardly Lion – brown cords, yellow t-shirt and ribbon 'medal' badge.
• Scarecrow – denim dungarees, check shirt (from Baby Bird at Mothercare), straw hat (from Fat Face) and prefect's badge.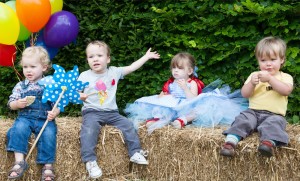 6. indigo – trust your head
So with our party visualised it was then just a case of bringing everything together and coordinating all the products coming from different suppliers and sources:
• Collected shoes, teddy bears, name place cards, balloons and flowers from suppliers
• Received deliveries of the tutu, cakes and vintage pedal tractor from suppliers
• Borrowed straw bails, prefect badges and table from friends
• Made tin man, sign for Emerald City, table runners, gingham bunting, costume accessories, pin wheel decorations, black crows and hot air balloon netting
• Collated all other props and costumes
• Ironed linen (why is it I find myself doing more ironing for work than I ever do in real life?!)
• Prepared and pruned garden
• Dressed the scenes by stringing up pin wheels, flowers in tins and crows, setting the table, tying rainbow ribbons round cutlery and the most important job of creating the yellow brick road with yellow chalk on a garden path.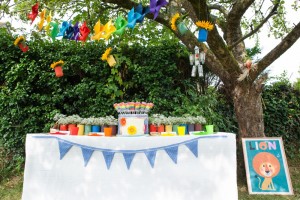 7. violet – enjoy your creation
With everything set up, it was time for our party to begin. Dorothy, the Tin Woodman, the Cowardly Lion and the Scarecrow enjoyed playing in the following scenes:
a. No place like home – the farm in Kansas consisted of:
• Straw bails
• Wooden toy farm
• Hanging black crows
• Vintage pedal tractor (provided by Pedal Car Parties)
• Bunches of balloons (supplied by Fairford Balloons)
b. The Witch is dead! – the Wicked Witch of the East got crushed 'under the house' and all that could be seen of her was her:
• Black and white tights and
• Shiny red shoes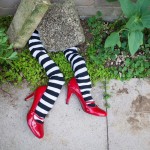 c. Follow the yellow brick road – off to see the wizard and along the way the friends played with:
• Chalk on the yellow brick road
• Pinwheels in the ground (from Cargo)
• Basket
• Dorothy and Toto teddy bears (borrowed from Teddy Bears of Witney)
• Rainbow balloon arch (supplied by Fairford Balloons)
d. Emerald city
• Two green teepees complete with 'bell not working' sign at the end of the yellow brick road.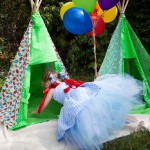 e. Somewhere over the rainbow
• The party table consisted of:
○ Rainbow cups, cutlery and crockery
○ Table runner of burlap material, 'yellow brick road' and rainbow painted tin cans filled with gypsophila (flowers provided by Distinctive Petals)
○ Name place cards
○ Rainbow layer cake (created by Caked In It)
○ Rainbow cake push pops (created by Caked In It)
○ Heart, medal and prefect's badge
○ Toto teddy bear (borrowed from Teddy Bears of Witney)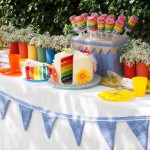 • The other décor included:
○ Pin wheel bunting
○ Tin man out of cans in tree
○ Lion poster
○ Scarecrow in tree
○ Hot air balloon (balloon supplied by Fairford Balloons and flowers provided by Distinctive Petals)
○ Tin cans filled with sunflowers (flowers provided by Distinctive Petals).
Then it was time to enjoy and capture our party somewhere over the rainbow.
To see all the photos from the shoot please go to www.hanamidream.co.uk/wizard-of-oz/