Take a break from tradition with this handy guide to modern alternatives to personalise your wedding.
DRESS IN WHITE: Will your dress be white/ivory or will you break with tradition?
MATCHING BRIDESMAIDS DRESSES: Will your bridesmaids have matching dresses or will you mismatch styles or colours?
UNLUCKY TO SEE BRIDE BEFORE THE WEDDING: Will you opt to capture a 'first look' shot instead of following this tradition?
THROWING THE BOUQUET: Will you throw your flowers or give them to longest married guests after anniversary dance?
TOP TABLE: Will you sit your parents, best man and chief bridesmaid at the front or have your own table to yourself?
WEDDING GIFTS: Will you ask for things for the home or experiences  or honeymoon vouchers?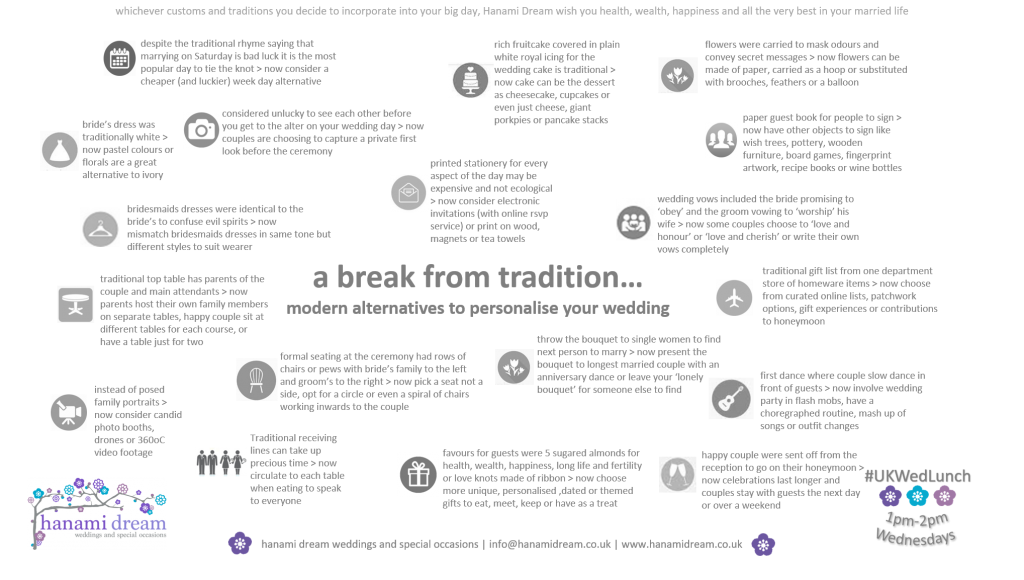 Whichever customs and traditions you decide to incorporate into your big day, Hanami Dream wish you health, wealth, happiness and all the very best in your married life.
After you've decided when your special day will be and sorted the major elements of your guest list, venue and budget (or the who, where and how much of what I term the 'holy trinity of wedding planning') then you're in to the nitty gritty of things.
Sign up to receive the latest wedding planning tips, tools, trends and traditions straight to your inbox.