Huge congratulations if you're currently planning your forthcoming wedding (or another milestone occasion). I hope that you're enjoying the wedding planning process so far. Take a look at this handy wedding planning timeline and other tips to help you get started.
JUST ENGAGED: Set the budget, date & guest list so you can pick a venue and planner
11-12 MONTHS TO GO: Book photographer, florist and caterer, pick your attendants, get insurance & think about decor
8-10 MONTHS TO GO: Book officiant and band, register for gifts, book honeymoon, buy dress & pick stationery
6-7 MONTHS TO GO: Pick cake, buy bridesmaids dresses, send save the date, trial hair and make up & taste menu
3-5 MONTHS TO GO: Book transport, hire suits, pick accessories, buy rings, order favours and decide on decor
1-2 MONTHS TO GO: Send invitations, finalise menu, write vows, confirm numbers, create seating plan & complete schedule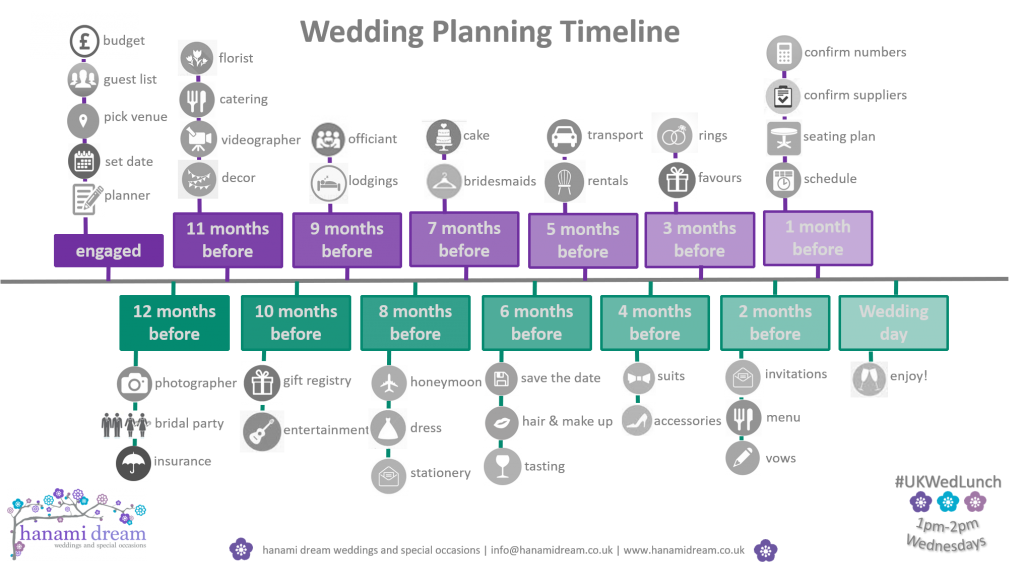 After you've decided when your special day will be and sorted the major elements of your guest list, venue and budget (or the who, where and how much of what I term the 'holy trinity of wedding planning') then you're in to the nitty gritty of things.
Sign up to receive the latest wedding planning tips, tools, trends and traditions straight to your inbox.