The current guidelines for weddings are making couples re-evaluate what is important to them for their wedding. In some ways, it is stripping the wedding back to just the ceremony and the legality about becoming married. It has actually made me consider whether there is maybe too many extra frills added to weddings in this day and age. Are couples putting too much Instagram-ready stress and Pinterest-perfect pressure (both physically and financially) on themselves to have the 'dream' wedding day? Maybe stripping back the wedding will bring things back to basics and focus on what really matters.
weddings through the decades
During lock down I've felt quite reminiscent. It has certainly been a time to look back and reflect. So whilst weddings are going through a transformation, I am taking a look at some real weddings over the decades to see if there are some things that we can take inspiration from and use to help with wedding planning in the future.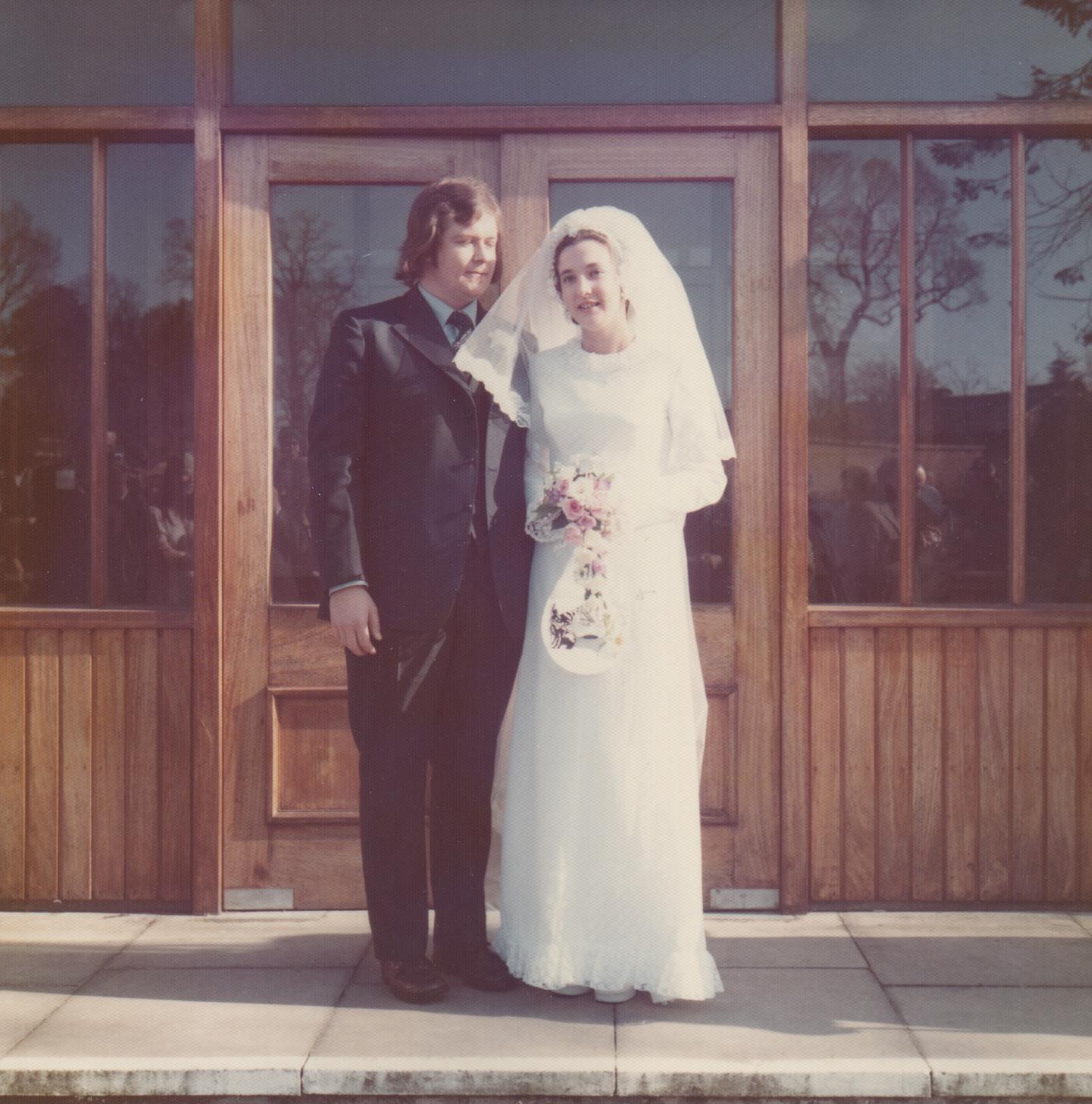 Rewind over 40 years ago to my parents wedding in 1974 and it wasn't the norm to have a big wedding reception. The ceremony was the main event. There's more than a few other similarities between then and now to take note of too:
Britain in 1974
Seems like times were tough in 1974 too, in some ways like what we are facing this year. Britain was in its first post-war recession; they faced months of the Three-Day Week; two general elections and major government reorganisation; a state of emergency in Northern Ireland; many IRA bombings; lots of large companies struggling; plus oil shortages.
My Mum often speaks about the fact that during the 3 day weeks they were finally allowed to wear trousers to work as it was so cold when this ran between January to March. These measures were introduced to conserve electricity, due to the oil crisis and industrial action by coal miners. Aside from key services, people were limited to three days in a row of consumption each week and were not allowed to work longer hours on those days. TV stopped broadcasting at 10.30pm to conserve electricity. It was finally lifted on 7 March 1974.
In addition, new speed limits were brought in to help to curb fuel usage.
Bombings in Britain included the Houses of Parliament, the Tower of London, Birmingham pubs, M62 coach, and even the former prime minister's London home. It was scary and uncertain times.
When my parents got married, Harold Wilson had just taken over as Prime Minister on 4 March, a labour leader of a minority government, from Edward Heath (Conservative). There was another election again later in the year. It was a time of huge change and turmoil.
highlights of 1974
Meanwhile, excitedly the Eurovision song contest was held in Brighton in 1974, the one when Abba won with the song 'Waterloo'. Liverpool won the FA Cup adding to their trophy cabinet, a bit like this year.
Ceefax started, though I wonder how many people planned their wedding or booked a honeymoon using this sure predecessor to the internet. And McDonalds opened their first restaurant in Woolwich.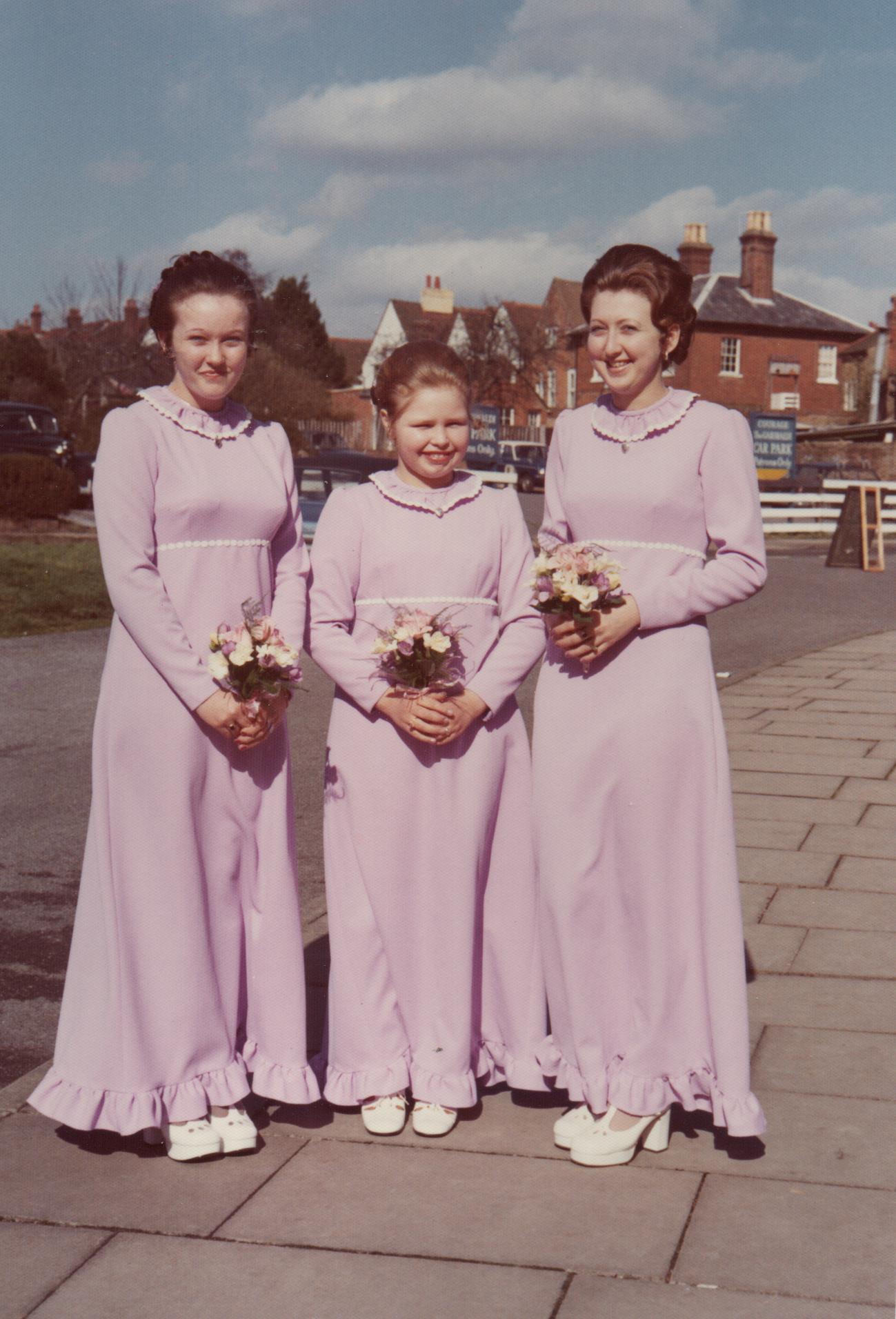 Princess Anne's first wedding
Whilst a dramatic kidnap attempt on Princess Anne was the focus in 1974, her wedding at the end of the previous year had brought royal wedding fever to the country, albeit a bit more subdued compared to more recent ones. The wedding of Princess Anne and Mark Phillips took place at Westminster Abbey in London in November 1973. She wore a high necked, high-waisted, embroidered Tudor-style wedding dress, with a high collar and medieval-influenced sleeves. Anne had her trade marked beehive up-do.
I'm not sure that Anne's wedding had the same impact as the modern royal weddings of William or Harry. However, she was the first of the Queen's children to wed and the event was televised. Much of my parent's wedding had been already organised by the time of Anne's but there are still some influences in hair and dress styles that can been seen.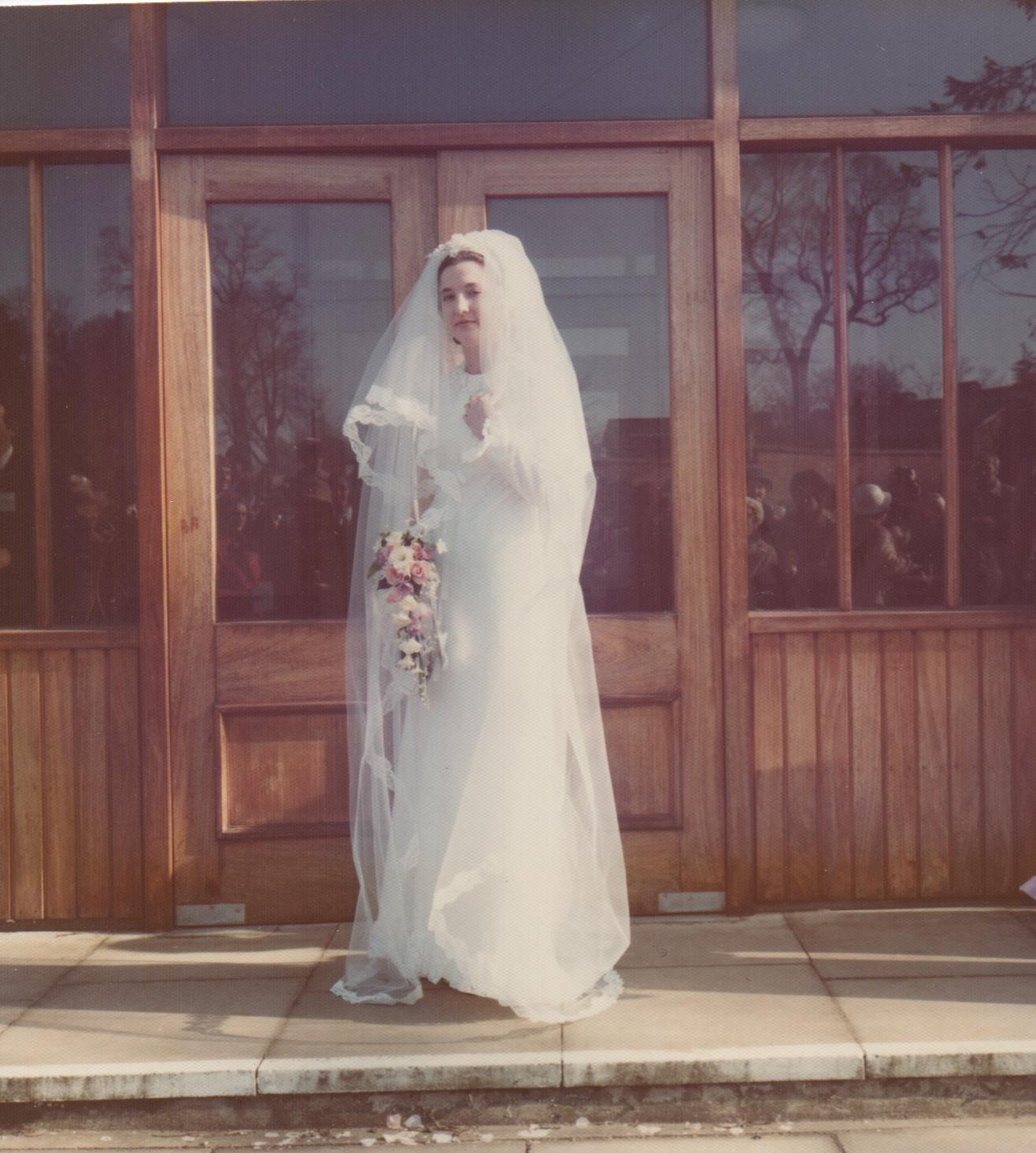 wedding trends in the 1970s
Regardless of the decade, every wedding photo is a time capsule for dresses (material, styles, length and colours) along with bouquets, veils and hair styles. They are an exaggerated example of fashion trends of their day and epitomise moments in time.
Some decades certainly have common trends. In the 1970s, this could be seen with two distinct looks: hippy style, long sleeved, high necked, longer length dresses. Or trouser suits with big floppy hats. First and foremost, the bridesmaids never outshone the bride.
Weddings were intimate and not frivolous or extravagant, often with the reception held down the pub. Typical food could have included prawn cocktail, fondue, vol au vents, pineapple and cheese on sticks, chicken kiev, or steak Diane and chips if you were splashing out. With arctic roll or black forest gateaux for dessert.
But money was tight, with an average weekly wage of only £34.64. Families helped couples pay for their big day and a wedding in the 1970s cost just £1,850 on average. (Compared with an average spend now around £27,000 on a wedding before lockdown).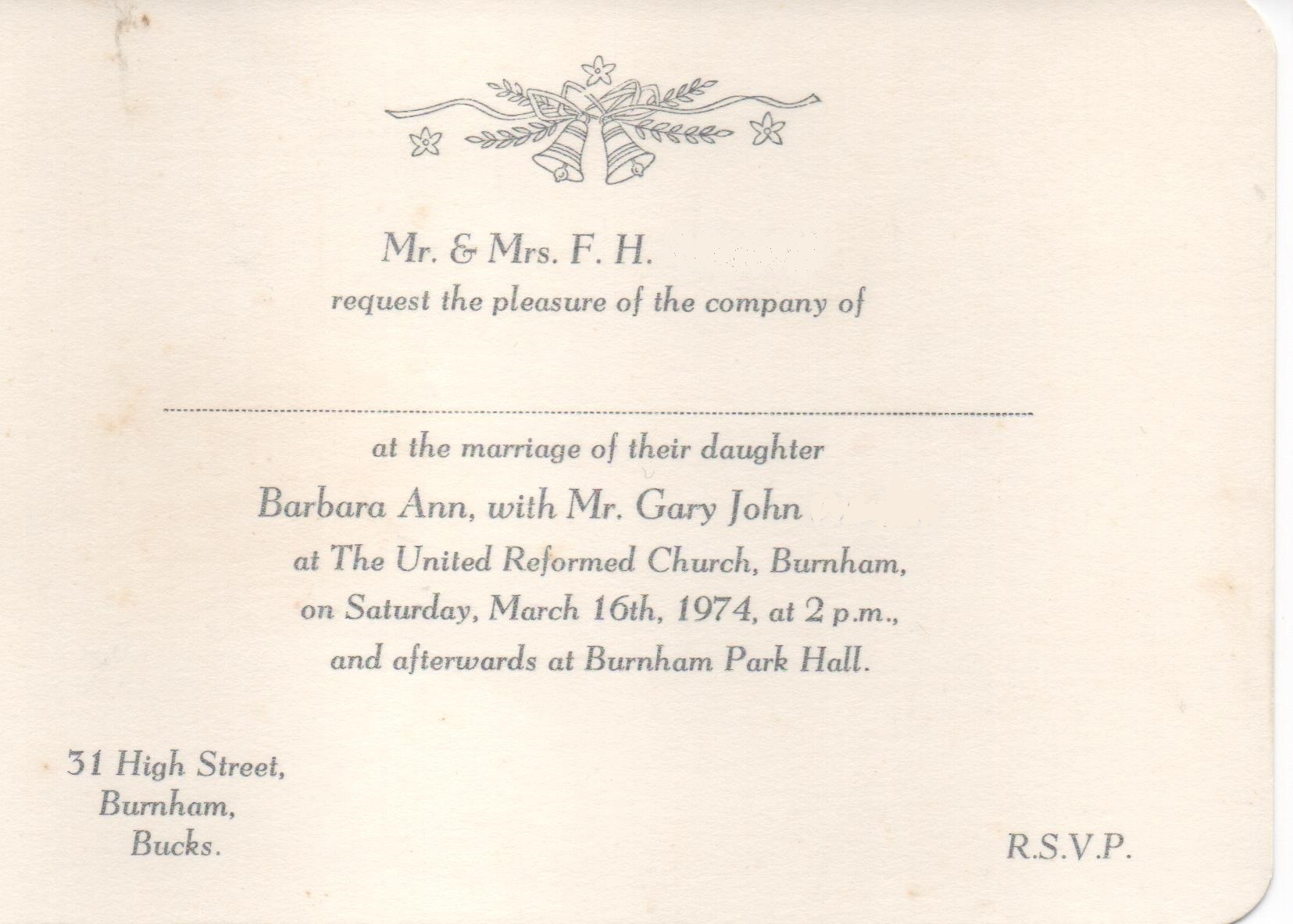 weddings in 1974
In 1974, there were 384,389 marriages in England and Wales (compared to 40 years later of 252,222 in 2014). In 1974, there were 69 men marrying per 1,000 unmarried males and 53.7 females, compared to 23.0 and 20.9 in 2014. The number of weddings has steadily declined over the years.
The average age of men getting married in 1974 was 28.8 and 26.2 for women (compared to 37.0 and 34.6 respectively in 2014).
53% of weddings took place in a religious ceremony in 1974 versus 27% in 2014.

real wedding from 1974
My parents, Barbara and Gary, married on Saturday 16th March 1974, over 46 years ago.
To quote my mother, weddings were not so 'flashy' back then, without extras 'like today'. There wasn't any money then – they didn't have any and neither did their parents. The groom even had to borrow money from his father in order to buy the engagement ring.
Weddings were very traditional, almost following a formula or cookie cutter approach.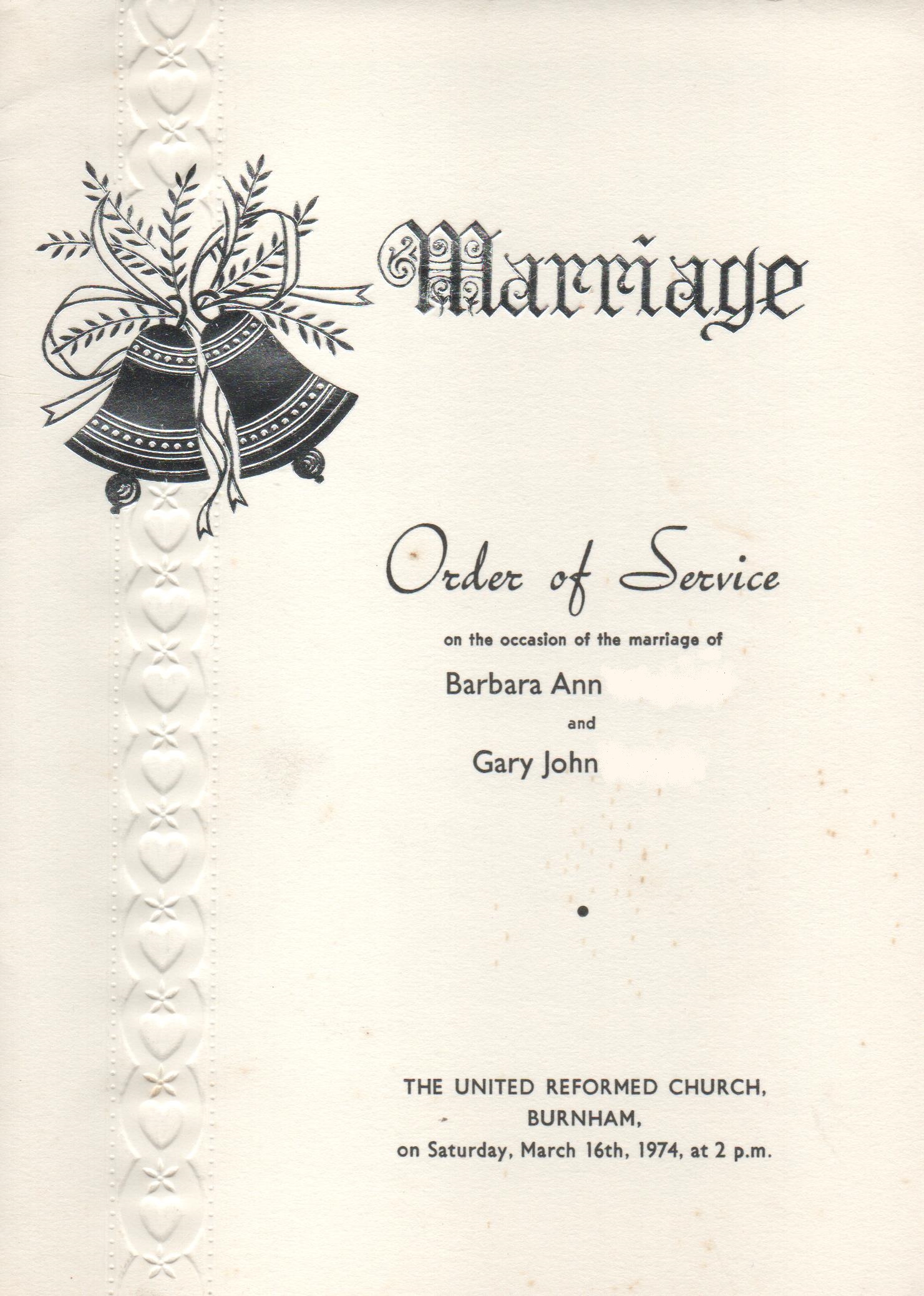 formal invitations
My parent's wedding invitations were very formal and sent from the bride's parents. They were simple, classic and from a stock suite including silver embossed bells. The same style was used for the Order of Service too.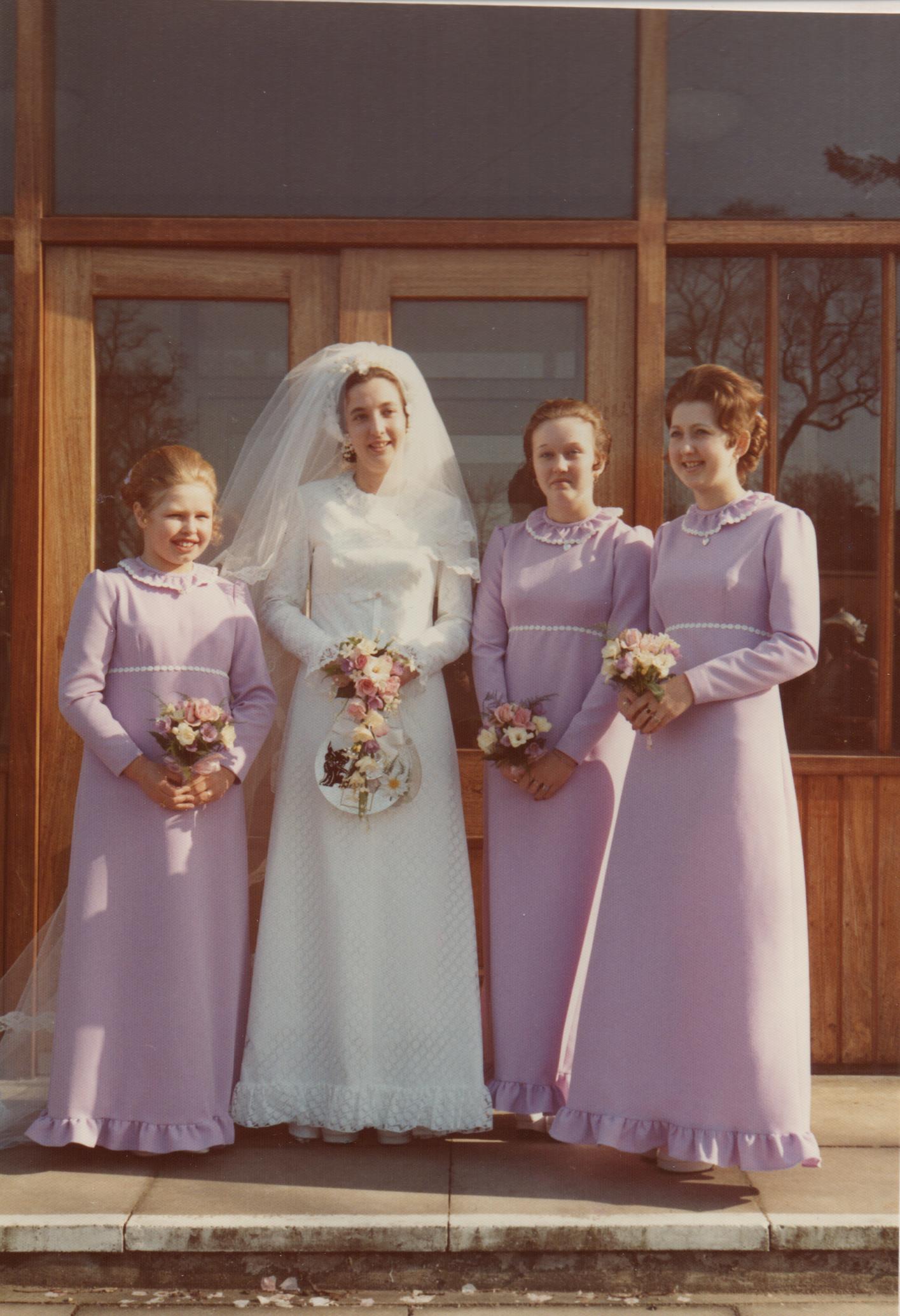 full length attire
The bride wore a Pronuptia A line dress with high neck and long sleeves and a long veil, along with some white platform shoes. She carried a bouquet of freesias (her favourite flower) and roses.
Whilst there wasn't a specific colour scheme or theme that went throughout the wedding, the 3 bridesmaids all wore lilac coloured dresses (which was a copy of the bride's dress) that matched the flowers. They all had their hair the same – up like Princess Anne – and the bridesmaids had lilac flowers in their hair.
Meanwhile the groom and best man just wore their own best suits and wore carnations as buttonholes.
The bride was driven in a car hired from a local firm, whilst the bridesmaids were just driven by a friend of the family in his own car.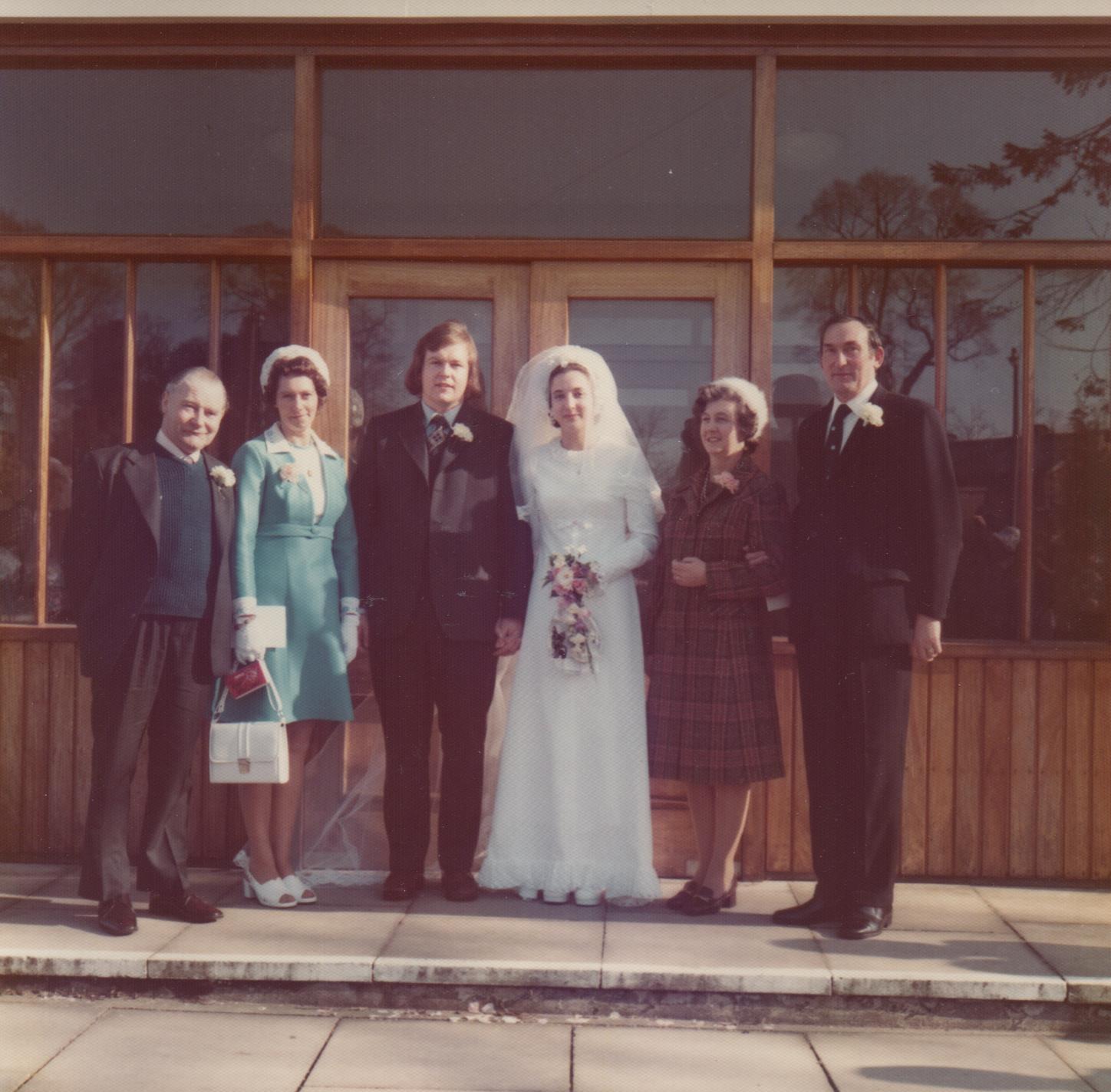 local ceremony and reception
As with the majority of weddings in the 1970s, they had a church service at Burnham United Reformed Church starting at 2pm. Afterwards, they had their reception at a simple village hall, Burnham Park Hall, that cost them £8.80 to hire the hall and kitchen from 10.30am – 6pm. After the meal, the speeches followed the usual order and focused on the father of bride, best man, plus the groom.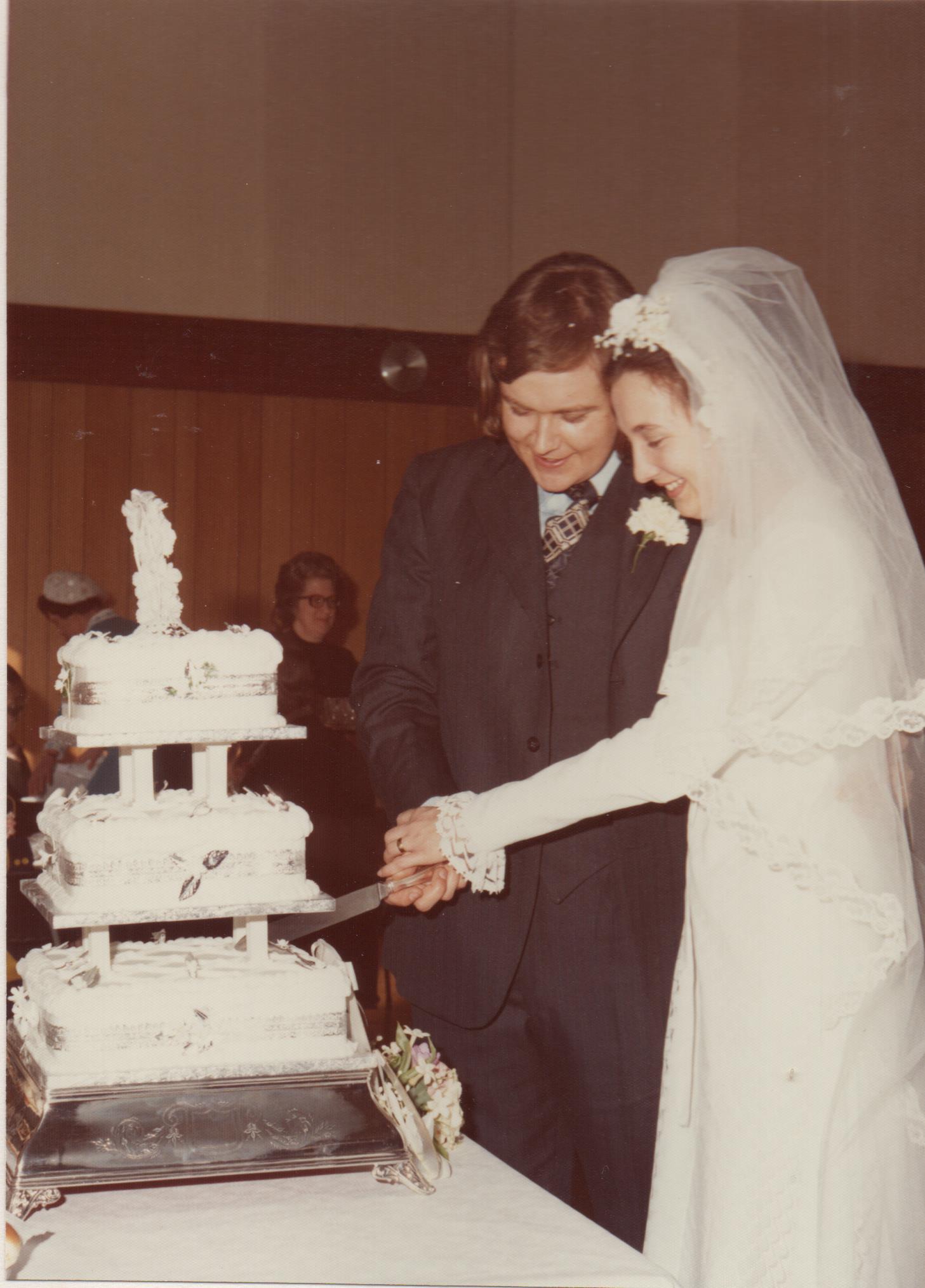 minimal decor
They didn't decorate the hall. There were only tables with white tablecloths on them. But the curtain material in the background of photographs gives away the era completely. It would have been hard to compliment them with many colour schemes!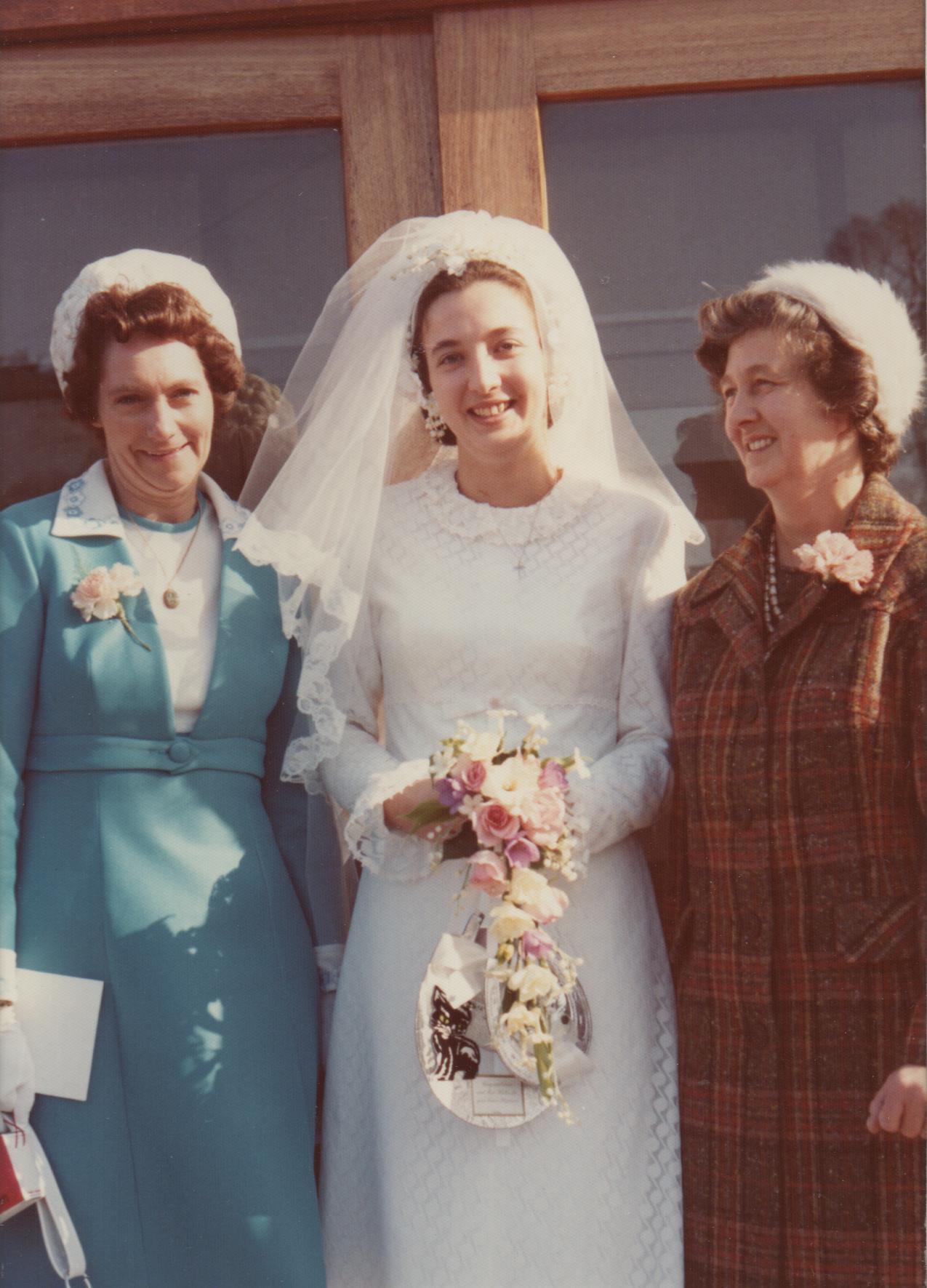 cost efficient food
The guests ate a buffet by The Barn Restaurant, Salt Hill Park, Slough. It may have been a beige buffet typical of the time although it obviously wasn't too memorable as my mother isn't sure what they picked. The accountant in her can remember that the prices started at a mere £0.85 per person. And their drinks bill cost £29.61.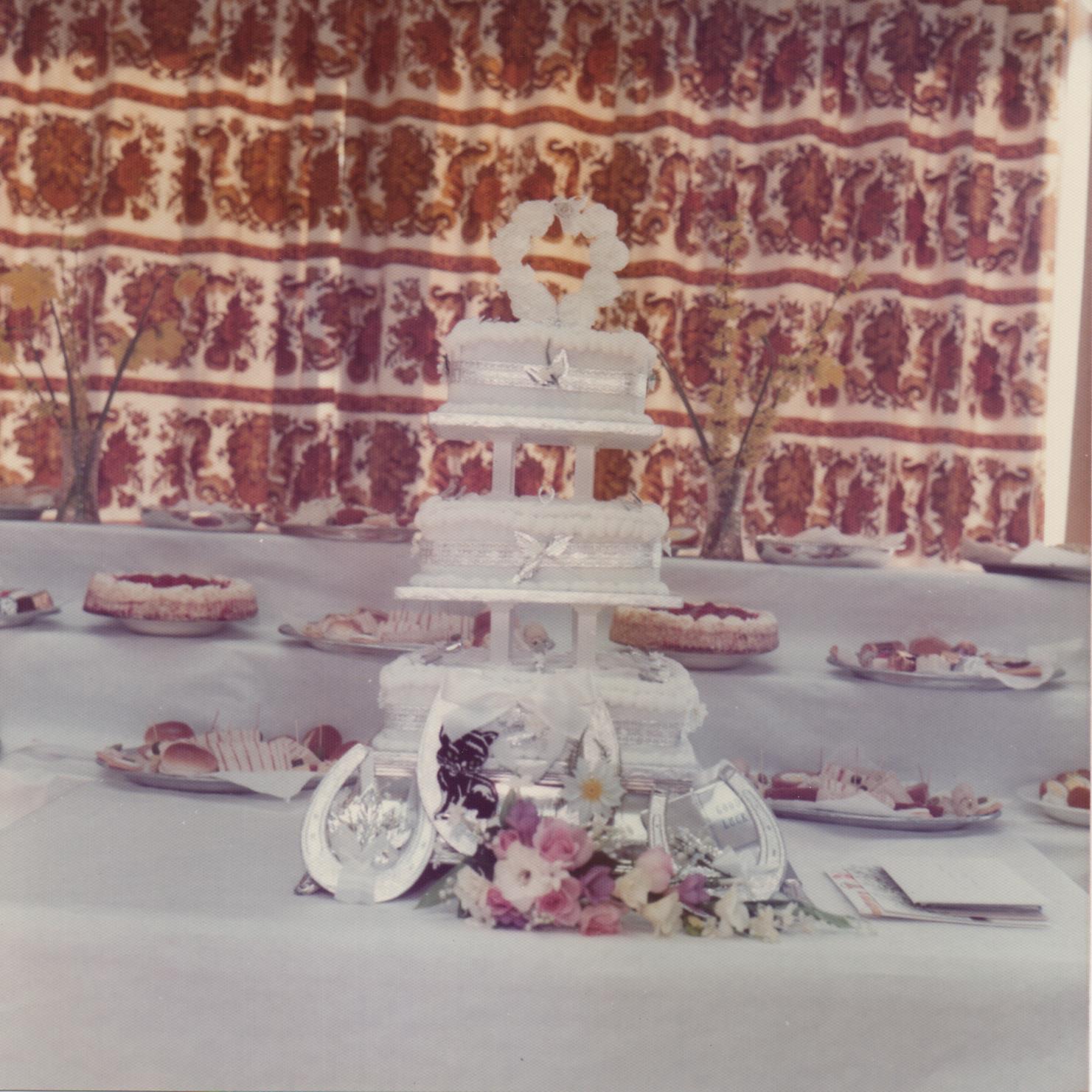 traditional cake
The wedding cake was an incredibly traditional square 3 tier fruit cake made by a family friend. There weren't any added extras like favours at the wedding.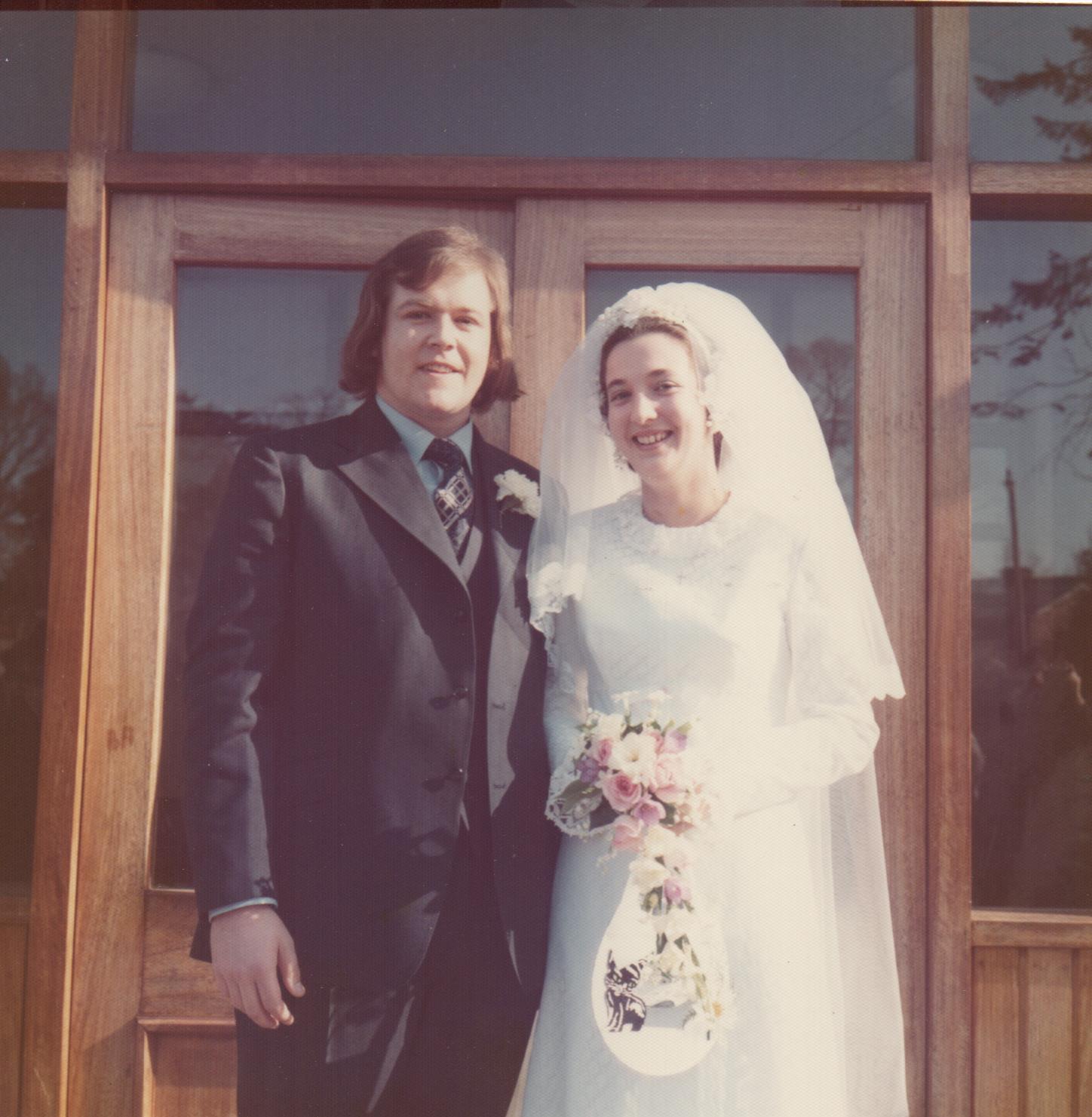 shared entertainment
My parents didn't have any entertainment or music at their wedding. However, there were 2 other couples from the same village as my father who also got married on the same day as them. So they all had a joint disco in the evening but it was not the norm to have anything other than a reception after the service.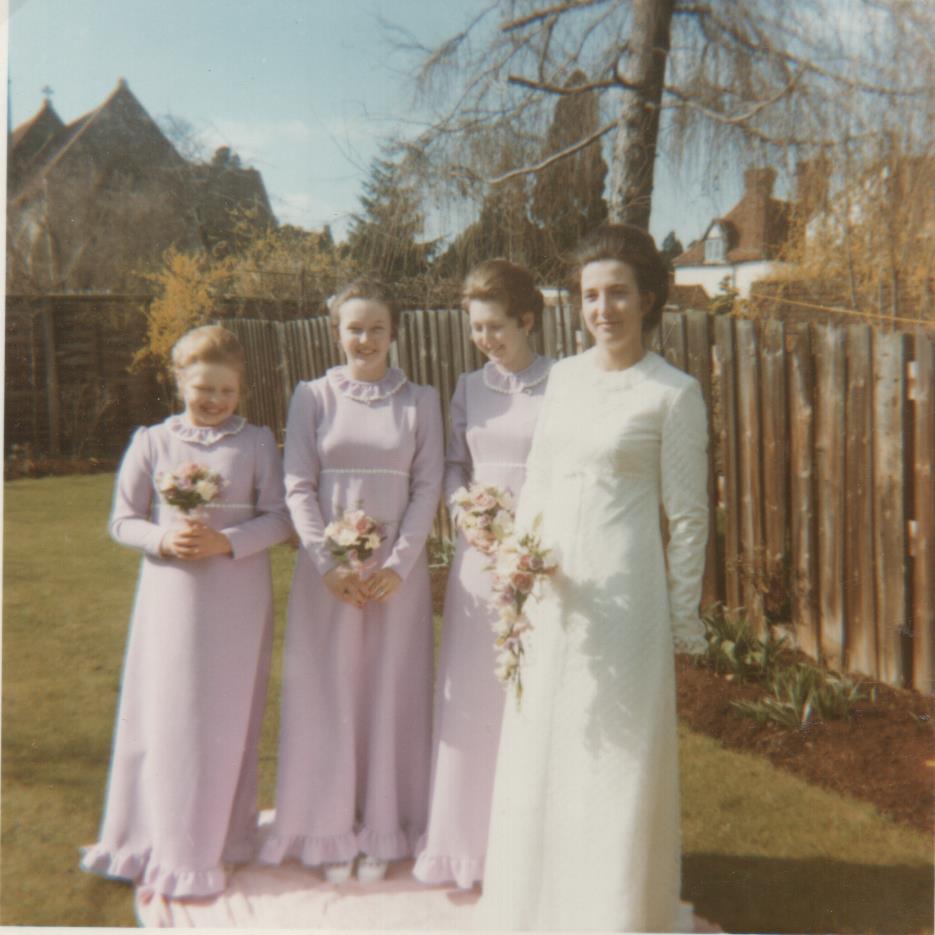 summary
These pictures have been both wonderful to look through and also rather poignant, as my parents' marriage sadly ended. However it is lovely to see how happy and carefree my mother is in these photographs. And I raise a toast to absent friends who we have unfortunately lost since this happy day.
There's certainly many things couples of today's circumstances can take from the weddings of the 1970s. If our parents/grandparents can make it through tough times, then I'm sure we can get through the craziness we're experiencing right now. It might mean tightening our belts or reevualting plans but going back to basics may not be a bad thing. 
sign up to receive the latest posts straight to your inbox