1. Pick a theme
We've found inspiration in many different areas (isn't Pinterest great for sparking the imagination and losing a few hours in the making?!) but lots of things kept leading us back to Alice's Adventures in Wonderland. So this is the theme we picked for our first joint venture. (By the way, you can see more of our inspiration on our Pinterest board.)
We are from beautiful Oxfordshire and Alice's story has lots of connection with Oxford. There's an Alice's Shop in Oxford and for one day every year, the Story Museum turns Oxford into Wonderland to celebrate the first telling of the story. Alice Pleasance Liddell and her sisters enjoyed listening to Charles Lutwidge Dodgson (better known as Lewis Carroll), when she asked him to tell her a story on a boating trip in Oxford on 4th July 1862. So it's not just the Americans who get to celebrate a special occasion on the 4th July! Other things that inspired this shoot were:
A fantastic installation at Burford Garden Company. One day their tea shop had lots of teacups hanging from a tree and it looked like a perfect backdrop to a mad hatter's tea party. I just hope they had enough teacups left over for all their thirsty customers!
Tim Burton's gothic inspired Alice story. We liked that this was a different take on the usual Disney cartoon images that usually spring to mind.
Once Upon a Time in Wonderland, a recent short lived US spin off show that featured modern day fairy tale characters based around the Alice story. Okay, we're not necessarily all over the cheesier aspects of this but liked a modern day twist on the classic tale.
Annie Leibovitz did an Alice shoot for US Vogue in 2010 which absolutely rocks – not a stereotypical Disney character in sight!
US stylist Alexandria LaNier also did a wonderful shoot.
Ruby & Stardust do amazing inspirational wedding photo shoots to help couples visualise the day of their dreams. We love their extravagant attention to detail.
Whittards currently have a lovely Alice collection that attracted our attention too – it's all about Alice right now!
The Old Pill Factory in Witney always has brilliant visual merchandising and we love the eclectic mix of vintage products on display. Recently we were inspired by an old kid's top hat that we saw with some tweed jackets. So we wanted to mention it as we love this place and are big supporters of local independent retailers (especially as this month is Independent Retailer Month).
However most of the imagery that inspired us featured adult models and we wanted to do something with young children.
2. Set the time, place and location
We decided we wanted to be able to share our inspirational shoot with the world to coincide with Alice in Wonderland Day on the 4th July. It's when people are celebrating th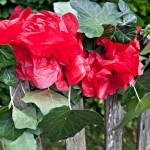 e day when the story was first told. If everyone is talking about Alice on that day then we want to be too! So our shoot was planned for the week before Alice's Day and we held it outside in a residential garden so we could maximise the wonderful green lushness that's around at this time of year. We let the lawn grow so all the pretty daisies came through, after all Alice did debate at the beginning of the story whether to make a daisy chain or not before she saw the white rabbit. We watched as the garden changed on a daily basis praying that the red peonies would bloom in time. Annoyingly the red ones came and went and then we were stuck with only pink ones but even these had gone over by the day of the shoot. And sadly no sign of any roses in time. Not even any white ones that we could paint! But luckily we found a post on Let's Eat Grandpa about how to make really realistic looking tissue paper flowers so our production crew sprung in to action instead.
3. Make a guest list and send out invitations
As mums of little ones ourselves, we know how much fun children are but we also know how quickly they can flag and their attention dwindles. So we decided on a small ensemble to encapsulate some of the most well know characters from the Alice's Adventures in Wonderland story. We had 5 brilliant models who thoroughly got in to their roles and all enjoyed pouring pretend tea (like most children seem to). So we invited:
Alice
Queen of Hearts
Mad Hatter
White Rabbit (at one point we even considered borrowing a real life white rabbit!)
Cheshire Cat
4. Source suppliers for decorations, party favours & music
For this shoot, we begged, borrowed and made a lot of our own props. However, the first of these I already had – an old vintage tea set that my Mad Nan gave to me (yes, this is the name that she has titled herself!) She bought it years ago when she first got a credit card and got a bit carried away at an auction. She hid it under her bed and never told my Grampy about it as she didn't want to tell him how much she spent on it. So when he passed away a few years ago, I inherited the tea set. Not being a tea drinker myself, it sat unused in a box in the shed. So I was pleased that it could take pride of place in this Alice shoot.
Here some other behind the scenes snippets of how we made or sourced some of the props:
Miniature door – this was one of the first things that I made for the shoot. I saw these fairy doors on Roots Nursery and knew they would look great amongst the ivy at the base of one of the tree stumps in the garden for Alice to peer through.
What tea party would be complete without teacups? Along with my Mad Nan's vintage cups, we also made some paper teacups to really enhance the whole décor. We found an ingenious and really stunning template and tutorial by Next to nicx and we hear that they're also in the process of setting up a store so you'll soon be able to buy these nifty tea cups in kit form too.
My in-laws sourced the next prop when they were enjoying afternoon tea in the Mad Hatters Tea Shop in Longton, Lancastershire. (Actually this theme was perfect for them as I think they spend quite a bit of time researching this pastime!) They found a beautiful paper teapot decoration in rose by Miss Etoile.
Other things that we made included:

Chequered floor – we bought some checked flooring tiles and stuck them to a bit of ply wood
Hearts bunting – we stuck lots of red hearts on to fishing line (and got them tangled up too many times!)
Big clocks – just some cardboard and cut out printed numbers (the roman numerals really tested our GCSE maths skills!) which were perfect for the background to dress the scene
Various sizes of playing cards including two big ones made into a tunnel for the children to run through – again just painted cardboard and then we stuck hearts/spades on to them
Playing cards garland – hope that no one in our house wants to play cards any time soon as I stripped out all the hearts suits from a couple of packs to string these on fishing line
Queen of Hearts wand – bought a wicker looking heart from Sainsburys and painted the top red to finish off her outfit

Other paper decorations and lanterns were bought from Cargo out of their last year's stock. I'm loving all the honeycomb paper décor around at the moment though.
The final significant prop that we used was the brass key the White Rabbit and Alice hold. This was a gift to my late father on his 21st birthday which he gave to me when I also hit that milestone age. It's engraved with the dates when we both reached 21 so it was special to feature this in the shoot.
Friends and family also have to be thanked for lending us other props such as: the old clock, carriage clocks, pocket watches (we were stunned by how many of our friends owned one of these!), various cuddly animals (such as rabbits and mice), croquet set and a treasure chest.
5. Plan party games and entertainment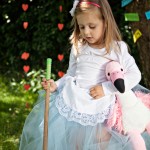 With small children you need to have lots of things to entertain them lined up as their concentration doesn't last too long for each activity. We had lots of bubbles to hand, a croquet set to play (complete with flamingos), lots of dancing, endless fun pouring glitter into teacups, running through playing card tunnels, hiding the dormouse in the teapot and eating all the lovely sweets. 
6. Make the food and a cake
We didn't put on a full spread for this special occasion but no Alice party would be complete without some jam tarts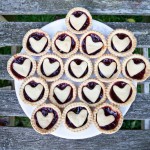 . The hearts theme continued with Love Heart sweets and some real fruit juice heart sweets from The Fruit Factory. They're made from concentrated fruit juice so we thought they'd be better for our sugar deprived kids!!!
7. Set the table & decorate your venue
The only thing we couldn't organise for the day was the weather. We should've guessed that anything set around the time of Wimbledon would have a chance of rain closing play. With the power of 10 day weather forecasts we could see that the weather might not be on our side and finally made a last minute decision to postpone by a day. It was a good call, as the day we'd planned had really heavy downpours but we had glorious sunshine for the actually day of our shoot. Everyone needs a good back up plan and thanks to all cast and crew for being so accommodating to change the day.
It was actually good that it rained before the shoot as it watered the garden and made it much greener again after all the beautiful sunny days we've been having. So all that was left was to:
cover the chairs and the rose arch with ivy and our home made flowers
hang all the tea cups and other decorations
dress the table with cups, saucers, teapots, clocks, hearts, flowers, cake tins, pearls, sweets, tiny playing cards, stuffed animals and glitter
hang playing card bunting in rose arch and heart bunting in Cheshire Cat's tree
pin up signs
hide fairy door
set up the Queen's palace
get Alice's rocking chair in place
arrange all props and toys for entertainment
8. Dress the part
As our models arrived, they each got dressed in their costumes for the day. We'd been inspired by some Handpicked Handmade girls dresses which are so sumptuous and voluminous that we had to make some similar for our Alice, Queen and Cat. We went for a no sewing route (like the Hair Bow Company ones) and simply tied strips of tulle netting around ribbons to create wonderful skirts.
The costumes consisted of:
Alice – daisy headband, white t-shirt, blue handmade tulle skirt, white apron
Queen of Hearts – gold crown (from H&M), black t-shirt, white handmade tulle skirt complete with felt hearts, red shoes, heart wand
Mad Hatter – top hat with 10/6 sign (actually it was really hard to source a top hat as we were getting costumes together around the time of Ascot but found a great one on Oxfam's online store), grey waistcoat and trousers (from Florence and Fred at Tesco), check shirt, cravat
White Rabbit – rabbit ears (from Claire's Accessories but these didn't stay on for long!), cream waistcoat and trousers (from M&S), white shirt, pocket watch, white rabbit toy (from JellyCat)
Cheshire Cat – cat ears (also from H&M), purple t-shirt, pink and purple handmade tulle skirt, purple shoes
And no one is fully dressed without a smile, so we also made some Cheshire Cat smiles on sticks for everyone to hold although everyone seemed to be full of smiles anyway.  
9. Make the tea when your guests arrive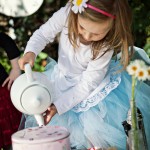 Obviously we didn't have real tea for the children to pour at our party but they still had loads of fun pouring 'tea' for each other.
10. Serve the food and enjoy spending time with your guests
As you can see our tea party was lots of fun. To see all the photos from the shoot please go to www.hanamidream.co.uk/alice-in-wonderland/