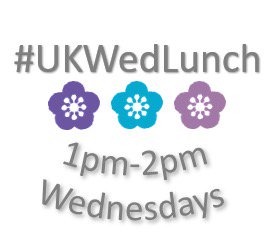 Hanami Dream host #UKWedLunch every Wednesday 1-2pm on Twitter.
#UKWedLunch is great for wedding planning in your lunch break with other brides to be, grooms to be and wedding professionals in the UK. We don't need any excuse to talk about weddings on an already exciting #WeddingWednesday!
Whether you're a wedding dreamer or in the last minute build up, you can tweet your wedding planning questions to #UKWedLunch. Whatever stage you're at in the wedding planning process, use this Twitter hour to source products, find new suppliers, ask advice or chat with other couples about the things they're struggling with and what they're really proud of organising.
Just follow the live feed of the hashtag and remember to use #UKWedLunch whenever you tweet @UKWedLunch.
As well as general wedding planning chat, each week of the month has a different theme
1st week of the month = recommendations (pass the baton)

2nd & 3rd week of the month = top tips on a different theme each week

4th week of the month = networking

5th week of the month (if there is one) = local wedding fairs
See previous top tips from the #UKWedLunch networking hours.
JOIN US EVERY WEDNESDAY! on Twitter between 1-2pm GMT