Wedding days are amongst the most special events of our lives. We enjoy every minute, and want to ensure that our amazing memories are captured to last a life time and even for generations to come.
What a picture, what a photograph
It's hard to imagine a wedding without photographs and videos. There are many ways to use your photos other than simply putting them in an album. Some people frame or print their wedding photos on canvas, or you can use your photos to make a calendar for next year. You can design your own photo book and have it printed. (Take a look at these top tips on getting your wedding photographs picture perfect).
But if you are looking for something less traditional and creative, then take a look at these more unusual ways to make your wedding day memories last from Wedding Sketcher.

Framed bouquets
One of the most popular item to preserve is the bridal bouquet or flowers. There are a number of options including getting it dried and framed, getting the flowers preserved in jewellery, Christmas baubles or a paperweight, turning it in to pot pourri, or using dried flowers to dye fabric or clothing. (And take a look at these alternative wedding bouquet ideas using much more than just flowers that will make wonderful wedding keep sakes.)

Flower preservation in resin
Another beautiful way of preserving flowers from your bouquet or wedding decorations is having them set in resin. The flowers are dried, arranged and cast in the resin creating a beautiful piece of art that will last for ages. You can chose various shapes and sizes, such as wall piece, heart, freestanding square, necklace, beads, letters and many more. Such as flower preservation by Sophie May Floral.

Shadow box
If you are creative, you could have a lot of fun with creating a memory collage, putting in items like flower petals, confetti, something old, new, borrowed, and blue. You can include one or two photos; your wedding vows; you can print and cut out your names, writing, scrabble letters, parts of your wedding invitation, and so much more. Your special objects will be protected from dust and damage in a beautiful shadow box on your wall. Or you could create a wedding scrapbook using any of these items as well.
Wedding messages
Having a guest book for your guests to write in is not unusual, but what about having your friends and family sign Jenga game pieces. They could use a gold or silver metal sharpie to sign a bottle, glass or ceramic items. Your guests could write their signatures on little paper hearts or butterflies that you can use to create a piece of wall art with (the shadow box is ideal for this). Your guests could write their messages and seal them in an envelope, so you could open one (or a few) on each of your anniversaries. And take a look at these other alternatives to wedding guest book ideas.
Wedding sketching
A very creative and novel way of capturing your memories is wedding sketching. All drawings are created live, during the event, depicting various parts of the day. After the wedding the sketches are bound into a hand made, personalised hard cover album, matching your wedding colour scheme. Items from your wedding can also be used to personalise the cover to make it even more special. It can be made with various types of fabric or hand made paper.
The sketches are not meant to replace your photos and videos, but to complement them. It's like having your own, fun, illustrated book of your wedding. They capture the essence, the feel, energy and atmosphere of what is happening, rather than just recording a particular split of a second. And as a bonus, your guests will enjoy seeing the artist at work.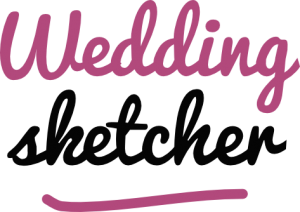 about Wedding Sketcher
Jana grew up in Prague, Czech Republic, but has lived in the UK since 2013.
"I love sketching people. There is something about capturing the movement, the characteristic of a person with just a few lines and adding a splash of colour that brings it to life. I always prefer to draw on location, sketching from photos would defeat the point, it's missing the spontaneity and energy of the occasion. I capture the very essence of what's happening.
I have studied book binding/restoring for 4 years full time. I make sure the album I create for you is of the best quality, done on a professional level and if handled well it should last for many decades.
Wedding sketching has all the ingredients I like and I love the thought my sketches will bring happy memories to people years down the road."


@wedding_sketching
Sign up to receive the latest wedding planning tips, tools, trends and traditions straight to your inbox.
sign up to receive the latest posts straight to your inbox