Everyone has a different sized budget which varies based on what you choose for your day.
As with most elements of the wedding day, each component can be prioritised in order to put the focus where you want it to go. Bear in mind that within each category of your budget you have a range of price points you could choose depending on the quality (ie you could pick caviar or chips for your food! You could arrive by helicopter or have your mate's dad drop you off in his car.)
Overall wedding budgets are on the rise. The average cost of a wedding in the UK (outside of London) is currently £27,000. The largest part of the wedding budget is spent on catering, the venue, photography, the wedding dress and entertainment – in that order.
As a guide, I tend to suggest to couples that they allocate around 35% of their overall wedding budget (£9,450 of a £27,000 budget) to cover all aspects of the reception (to include cake, décor, drink, favours, food, furniture and venue hire costs).
Other areas of the budget should include these categories:
Ceremony
Reception
Entertainment
Attire
Rings
Photography
Flowers
Stationery
Transport
Gifts
Hen/stag parties
Honeymoon (optional)
Take a look at an example of a wedding budget in percentage terms and please contact me if you'd like to see a further breakdown of costs.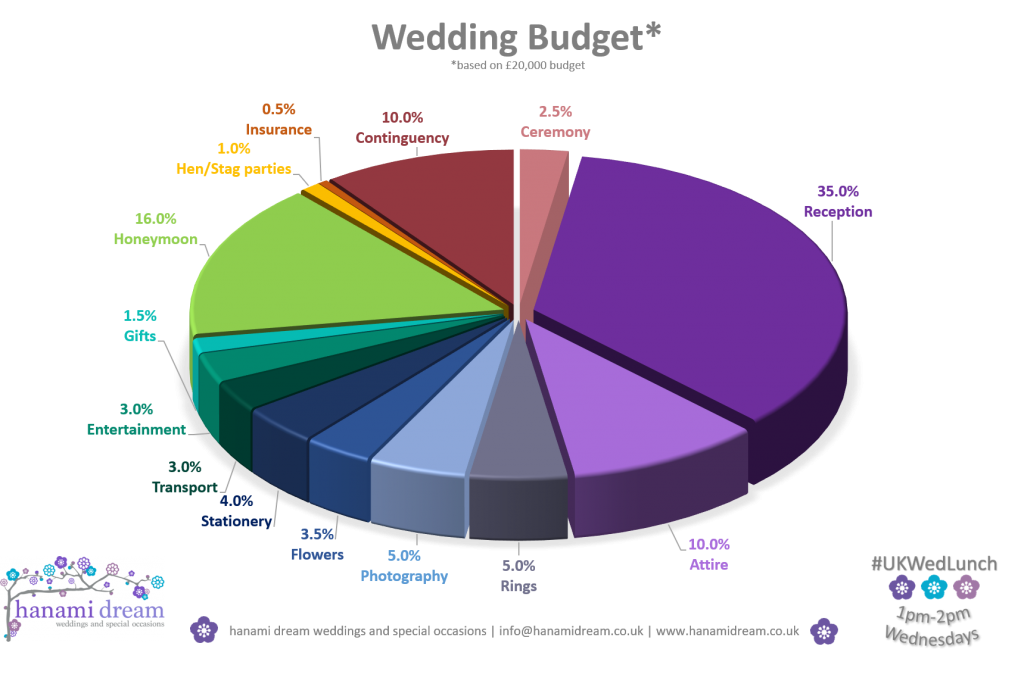 For more about the money side of things, take a look at the holy trinity of wedding planning: how much.
Sign up to receive the latest wedding planning tips, tools, trends and traditions straight to your inbox.