This festival wedding was a real break from tradition – full of alternative ideas for couples to get inspiration for their big day. It showcased an abundance of hanging greenery and was really tactile using different materials such as denim, macrame, paper, wood and terracotta details.
The colour palette had a 70s vibe full of Fall 2017 colours of a pale blue Bluebell, a soft Copper Tan coral, Navy Peony blue, brown and white. It was planned and designed by Hanami Dream and fantastically captured by Cat Stephens Photography.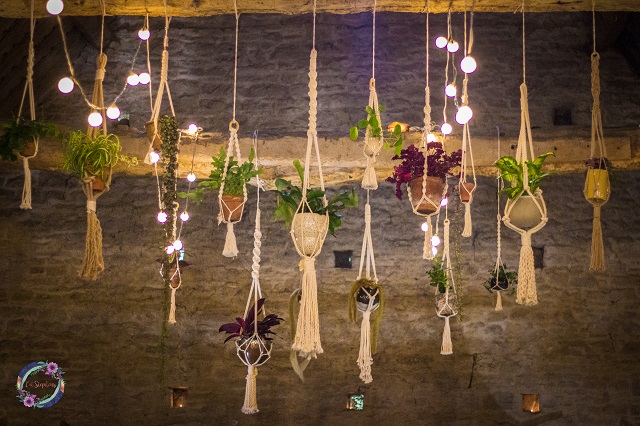 On Sunday 17th September 2017, Cogges Manor Farm held a festival styled Wedding Open Day that Hanami Dream helped to organise. But this was not a traditional wedding fair – the Barn was dressed as if it were a real wedding.
Think dream catcher favours, festoon and ribbon drape lighting, oversized letter lighting, paper flowers, food van, chill out area and fire bowl. It was a different take from the norm to provide options and open people's eyes to the huge spectrum of ideas to bring their dream to life.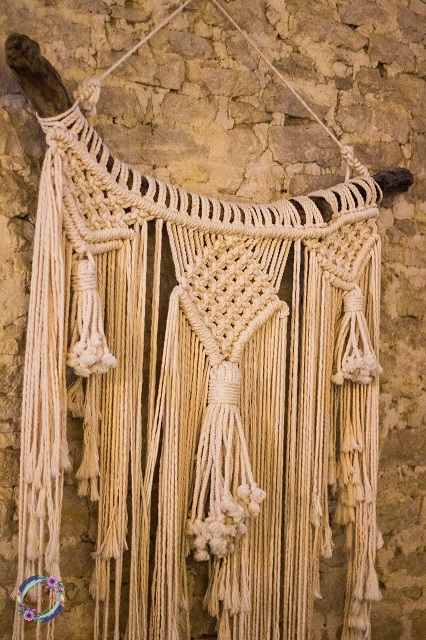 For example, there weren't any real flowers at this wedding. They were either paper flowers or house plants showing couples that they can achieve this look by making (or borrowing) things themselves – this is great for any diy wedding couples.
Plus, all the stationery was embroidered on to denim rather than traditional paper – menus were on the napkins, name places were sleeves around the milk bottle glasses, table plan labels were hung on Portuguese laurels plants.
It was a relaxed and informal open day showcasing a truly personal wedding option – not a cookie cutter approach at all. Take a look at some of the testimonials from the day.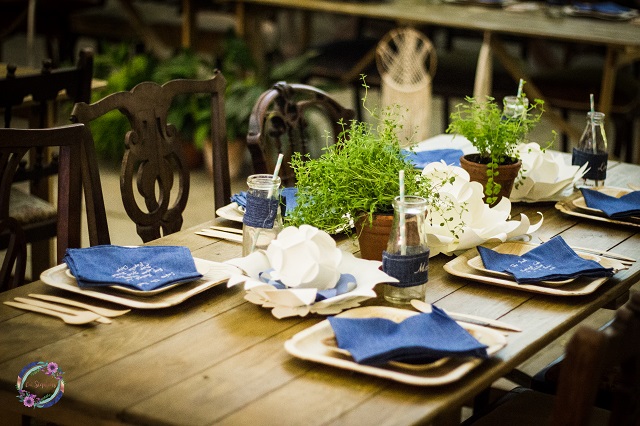 Cogges Manor Farm was the ideal location for this wedding as it offers the perfect blank canvas to add personalised details. It is nestled in the lovely market town of Witney and offers two stunning seventeenth century barns as well as a beautiful walled garden, stunning grounds and an impressive Manor House as a remarkable backdrop.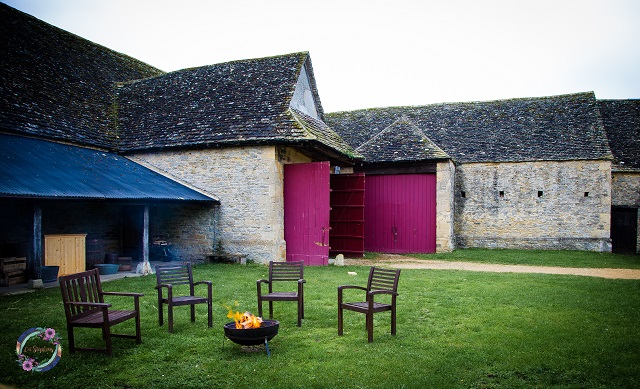 The festival vibe was hailed from the entrance with impressive towering festival flags (from Event Flag Hire) – signalling the way to the party.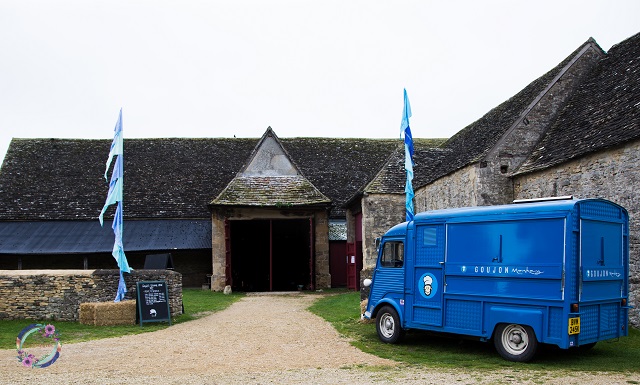 Couples walked in to the Wheat Barn down a tree lined aisle. The vintage mismatched chairs (courtesy of Linda's Vintage Hire) were beautifully decorated with macramé chair coverings (from MacrAmy's Macrame) and the Portuguese Laurels (kindly provided by Bampton Garden Plants) guided the way right to where the ceremony would take place under a stunning macramé backdrop (wonderfully created by MacrAmy's Macrame) and framed by two beautiful olive trees (also from Bampton Garden Plants).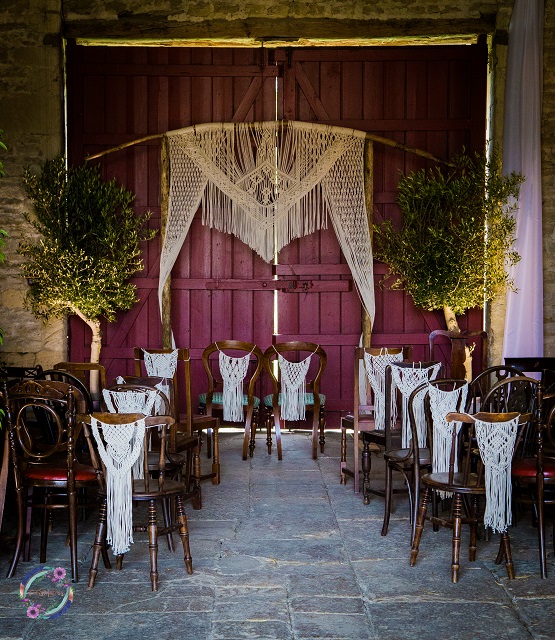 One side of the barn was decorated as a seating area to enjoy a sumptuous wedding breakfast. The vintage tables and chairs (from Linda's Vintage Hire) were laid out below an impressive array of trailing plants in spectacular hanging macramé holders (from MacrAmy's Macrame) and under spectacular festoon lighting (from Oakwood Events).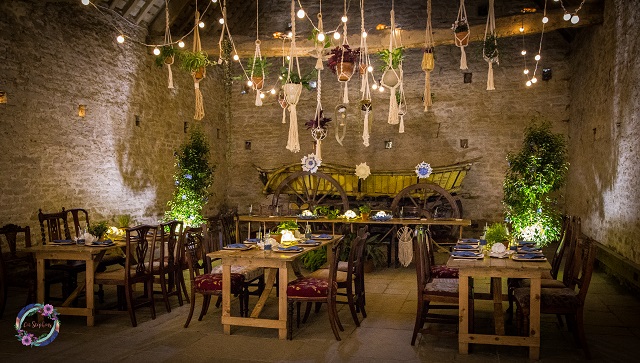 They were set with denim napkins (gorgeously embroidered by Little Pickle Creations) containing the menu, mini macramé favours (from MacrAmy's Macrame), milk bottles (from Mabel & Rose) acting as drinking glasses with an embroidered denim name place (by Little Pickle Creations), placed inside were stripy straws (from Little Cherry), plus amazing natural biodegradable tableware (also from Little Cherry) – a perfect accompaniment to our street food reception.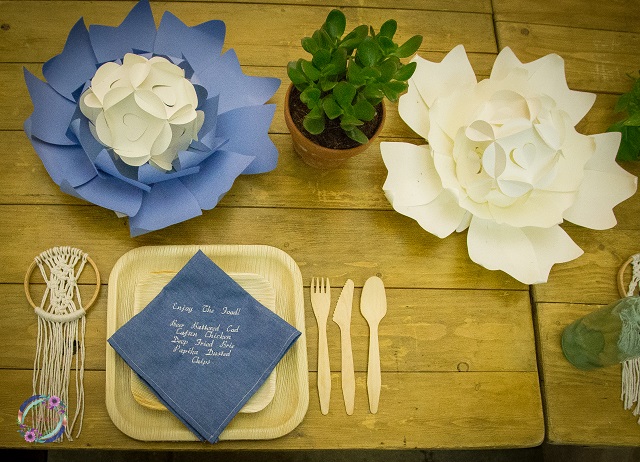 The tables were also decorated with more terracotta pot plants and impressive paper flowers (from Pretty Big Flowers) that lit up for an incredible atmosphere.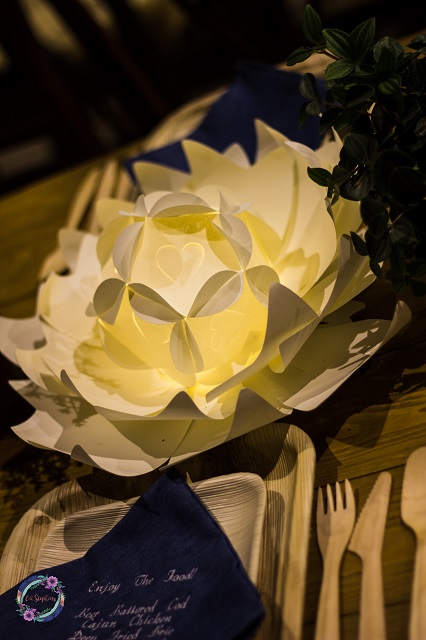 The delicious ombre ruffle cake (by The Cake Element Bakery) echoed the colours of the denim stationery and sat beautiful on a vintage barrel (from Mabel & Rose) and amongst a display of framed absent friend photographs, crates and potted plants. The wonderful props from Mabel & Rose really brought the place to life and were dotted around adding features to every area including the bar which had a vintage tin bath and giant wooden barrels.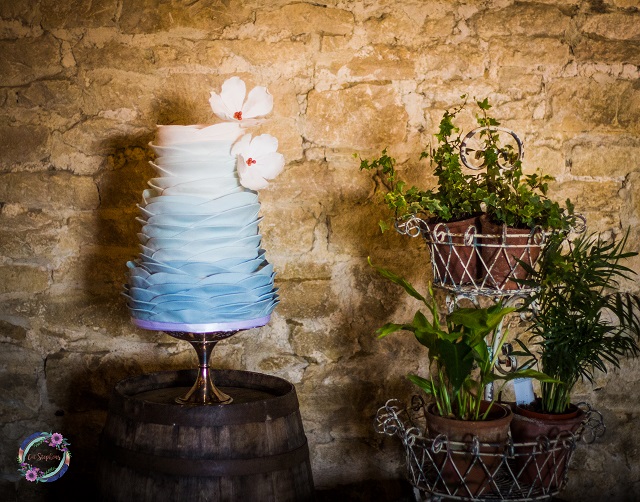 The other half of the barn was dedicated to the entertainment and dance floor – lit to accompany a party – including an impressive 7 square metre lit paper flower wall (constructed by Pretty Big Flowers).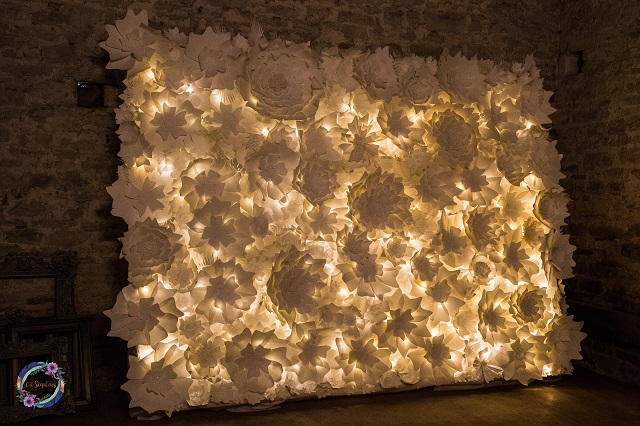 Over the dance floor hung a white chandelier adorned with coral and denim ribbons and a 4-point drape star that flowed to the dance floor (from Oakwood Events), along with 4ft tall light up LOVE letters (wonderfully contributed by Gilt Edge Events).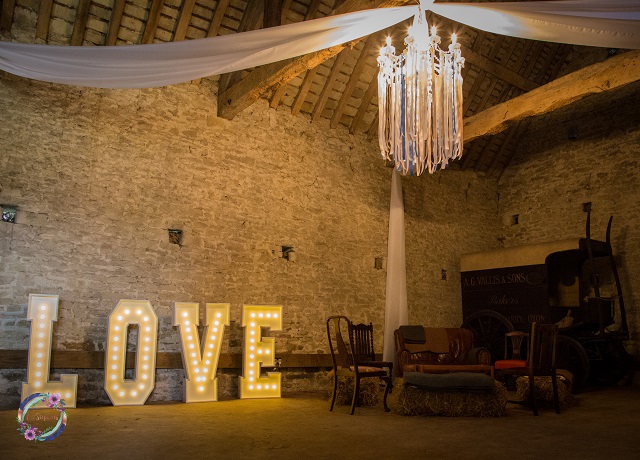 There was also a chill out area complete with a comfy brown leather sofa, bales of hay as well as more vintage chairs (from Linda's Vintage Hire). These were strewn with gorgeous lambswool wide-herringbone throws in mandarin and azure (from The Witney Blanket Hall).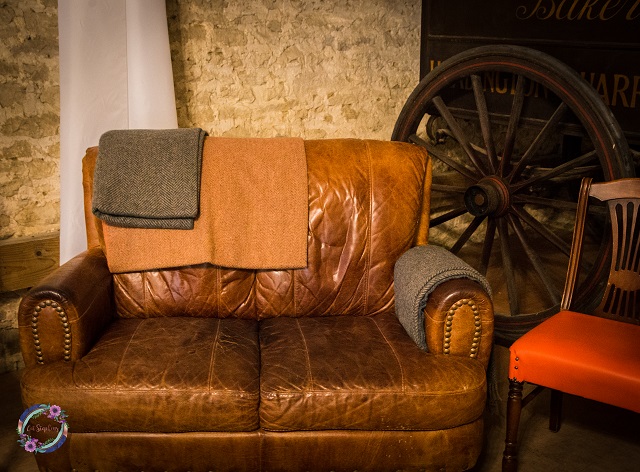 Outside the party continued with a firepit to sit around, garden games and chalk boards highlighting the events of the day.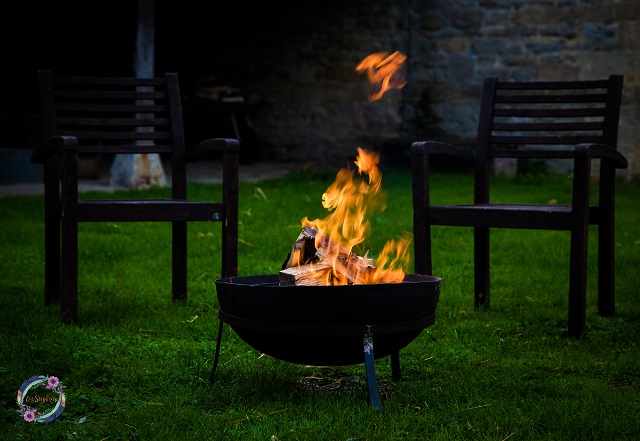 On top of all this, there was delicious food to try (courtesy of Goujon Monkey) such as beer battered cod, Cajun breaded chicken and deep-fried brie, along with paprika dusted chips. Plus, cake tasting from The Cake Element Bakery, drinks from Firkin Mobile Bars, live music from Joely Rendle and Natalya Williams, owl ring bearer from J.E.T. Falconry, a fashion show from Rosie Red Corsetry, plus two workshops on how to make some of the décor that was on display, expertly delivered by MacrAmy's Macrame and Pretty Big Flowers.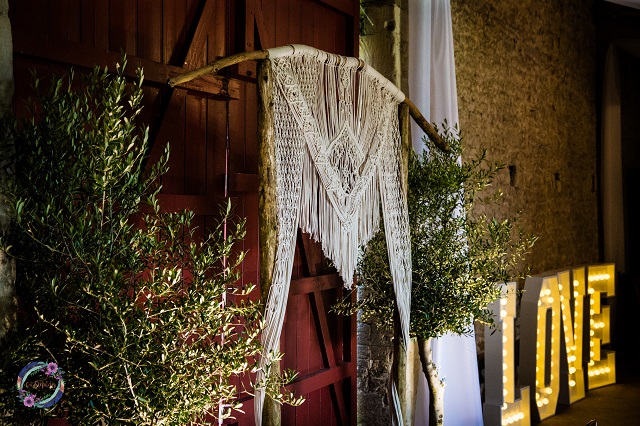 There was a real festival vibe with macramé, hanging plants, dream catcher favours, festoon and ribbon drape lighting, oversized letter lighting, paper flowers, food van, chill out area and fire bowl.
Thank you to all the wonderful suppliers that made this such an amazing wedding open day. It was lovely to meet excited couples in the midst of wedding planning – all the best with your special days!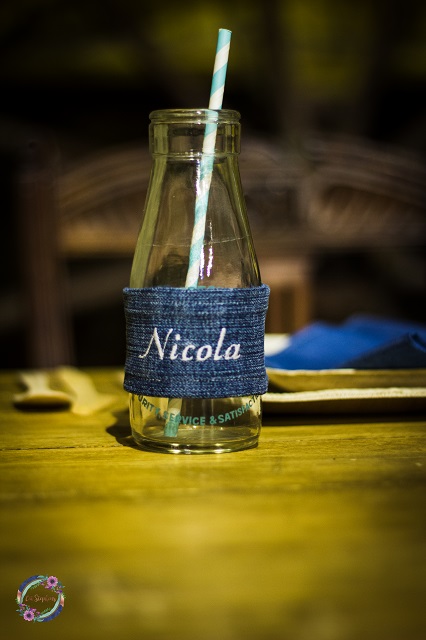 It's the little details that bring any event to life and this was made possible by the wonderful local suppliers who provided their time, services, venue and products for free. Together we have showcased the amazing talent that our part of the UK has to offer the wedding industry.
Take a look at the fabulous suppliers that were involved in this styled shoot – Keeping it local with suppliers for the Festival shoot
And take a glimpse behind the scenes at the how the theme and designs came to life – Behind the scenes: Festival shoot
#keepitlocal
Planning & Design | Hanami Dream | www.hanamidream.co.uk
Photographer | Cat Stephens Photography | https://www.catstephensphotography.com
Location | Cogges Manor Farm | www.cogges.org.uk
Tree hire | Bampton Garden Plants | https://www.bamptongardenplants.co.uk/
Flag hire | Event Flag Hire | https://eventflaghire.co.uk/
LOVE light up letters | Gilt Edge Events | https://www.giltedgeevents.co.uk/
Food van | Goujon Monkey | http://www.goujonmonkey.com/
Chairs & tables | Linda's Vintage Hire | www.lindasvintagehire.co.uk
Cutlery & crockery | Little Cherry | https://www.littlecherry.co.uk/
Stationery | Little Pickle Creations | http://www.littlepickle-creations.com
Props | Mabel & Rose | http://www.mabelandrose.com/
Macrame | MacrAmy's Macrame | https://www.facebook.com/MacrAmysMacrame
Lighting | Oakwood Events | www.oakwoodevents.co.uk
Paper flowers | Pretty Big Flowers | https://prettybigflowers.com
Cake | The Cake Element Bakery | http://www.cakeelementbakery.co.uk/
Blankets | The Witney Blanket Hall | http://www.witneyblankethall.co.uk/
Delivery | Global 360 International Freight Forwarders | http://www.globalthreesixty.co.uk/