Insight in to weddings
Looking at current wedding trends can provide valuable insight for those working in the wedding industry (such as venues, planners or suppliers) as well as couples wedding planning. Trends can give an idea of popular thinking, areas of growth, ways to save money and how to differentiate and personalise away from these common elements.
Wedding revenue
The wedding industry is a year round business, although it does have seasonal fluctuations with the main wedding season of April-October in the UK. It is currently worth around £10 billion each year in the UK and the market is refreshed 100% every year with new customers.
Value of weddings
Brexit could have a huge affect on prices including importing flowers and labour. Plus a possible recession could mean reduced wedding budgets as inflation rates increase.
A weak value of the British pound may mean that it is less likely for UK couples to travel aboard for a destination wedding. However it may make the UK an attractive destination wedding location for non UK couples. The recent royal weddings have also boosted the wedding industry and tourism. So wedding suppliers may be able to capitalise on these changes.
Number of weddings declining
Since 1972, the number of marriages in England and Wales has shown a steady decline. In 2012, the number of marriages in England and Wales increased by 5.3% on the previous year. However in 2013, the number of marriages in England and Wales decreased by 8.6% which was the first decline since 2009.
In 2014, the number of marriages between opposite sex couples increased by 2.7% from 2013 but dipped again in 2015. There were also 4,850 marriages between same sex couples in 2014 and 6,493 in 2015. The introduction of marriages of same sex couples since 29 March 2014 showed an increase in marriages compared with separate civil ceremonies.
Average age increasing
By contrast the average age of marriages in England and Wales continues to rise overall year on year since the 1970s. Among opposite sex couples, more women than men married at ages under 30; on average, men tend to form relationships with women younger than themselves. Among same sex couples, more women than men married at ages under 50.
For marriages of opposite sex couples, the average age for men marrying in 2015 was 37.5 years, while for women it was 35.1 years. The average age at marriage for same sex couples in 2015 was slightly higher at 40.6 years for men and 37.0 years for women. An aging population means more older couples are marrying/remarrying aged 65 to 69.
Increase in ceremonies in civil approved venues
In 1995, the law was changed to allow marriages to be conducted in other civil approved venues (other than religious venue or a registry office). Now 40% of ceremonies are carried out in these type of venues. The number of civil approved venues continues to rise and more couples chose to marry in this type of premise.
Going forwards the type of ceremony in England and Wales could include legal outdoor ceremonies. There has been lots of talk around the government trying to help couples getting married to keep wedding costs down with a view to the end of austerity. This proposed change is already the case in Scotland where ceremonies can be legally held outdoors, not just by a religious leader or registrants but also for humanists to conduct legally binding ceremonies. 
Saturdays most popular day to get married
The weekend continues to be the most popular (and therefore most expensive) day of the week to get married. Whilst Wednesday is the least popular day. Couples are looking at alternative under utilised week day weddings to open up possibilities and potentially lower the cost of venue hire. However this would mean that guests would need to take time off work to attend.
August most popular month to get married
Whilst British weather isn't guaranteed in summer months, it doesn't stop August, July, September and May being the most popular months to get married in England and Wales.
January, February, November and March are least popular months to tie the knot. Winter and Christmas weddings are on the increase as are those near bank holidays and school holidays such as Easter and October half terms.
Number of couples cohabiting prior to marriage increasing
With the main market of the millennial generation getting married, the number of couples cohabiting prior to marriage continues to increase each year. With 87.7% of weddings of opposite sex couples in 2015 and 95.2% of wedding of same sex couples in 2015.
Average cost of wedding increasing
The average cost of a wedding is currently over £27,000 outside of London (with the average cost of a wedding in London over £38,000). An incredible 4% of weddings in the southeast cost more than £100,000. This often does not include the average cost of a honeymoon at £3,704.
Wedding budget costs have seen an outstanding 35% increase in the last 10 years. However there is an deeper distinction of wedding extremes with budgets being at very ends of the spectrum such as lavish celebrity style wedding versus diy weddings with more homemade elements.
Weddings in the Cotswolds
Located in a beautiful part of the UK with stunning lush countryside, an abundance of barns, manor houses, hotels and beautiful backdrops to tie the knot. It's no wonder that every year 20,106 of couples getting married in England choose to say 'I do' in the Cotswolds, with 3,269 weddings in Oxfordshire each year.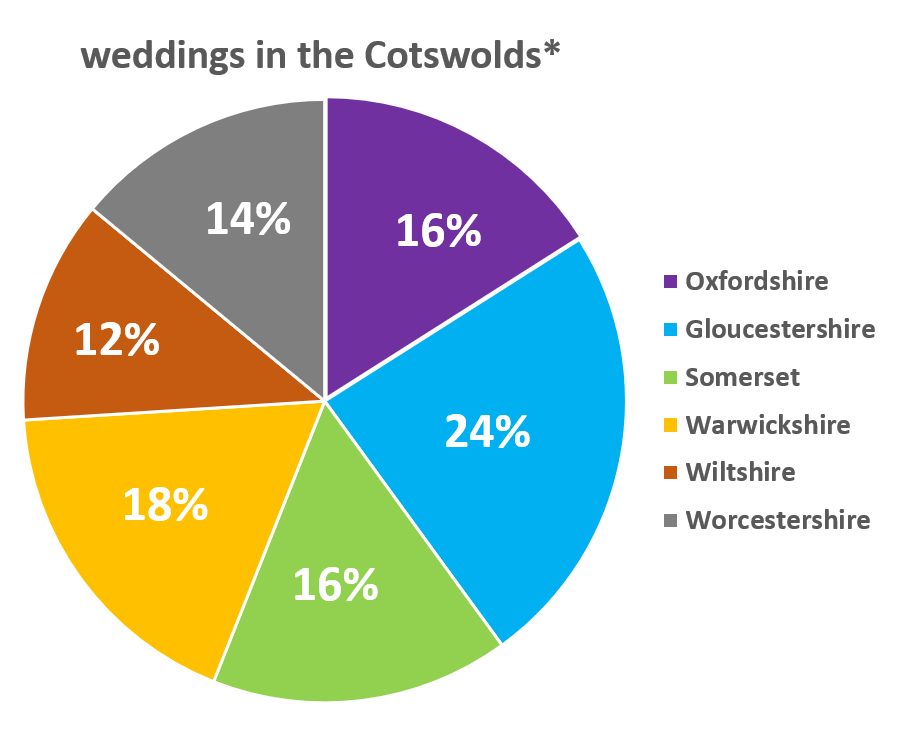 sign up to receive the latest posts straight to your inbox
winner UK Blog Awards 2018