I was delighted to find a new photography partner to work with on a styled bridal shoot this May half term. It was wonderful to work alongside Steve from Squib Photography – another fellow Witney business and we discovered that unbeknown we had even lived next to each other in halls at University! We collaborated to produce an amazing bridal styled shoot based around The Secret Garden. It was also an honour to be able to showcase some amazing products from some fantastic local suppliers.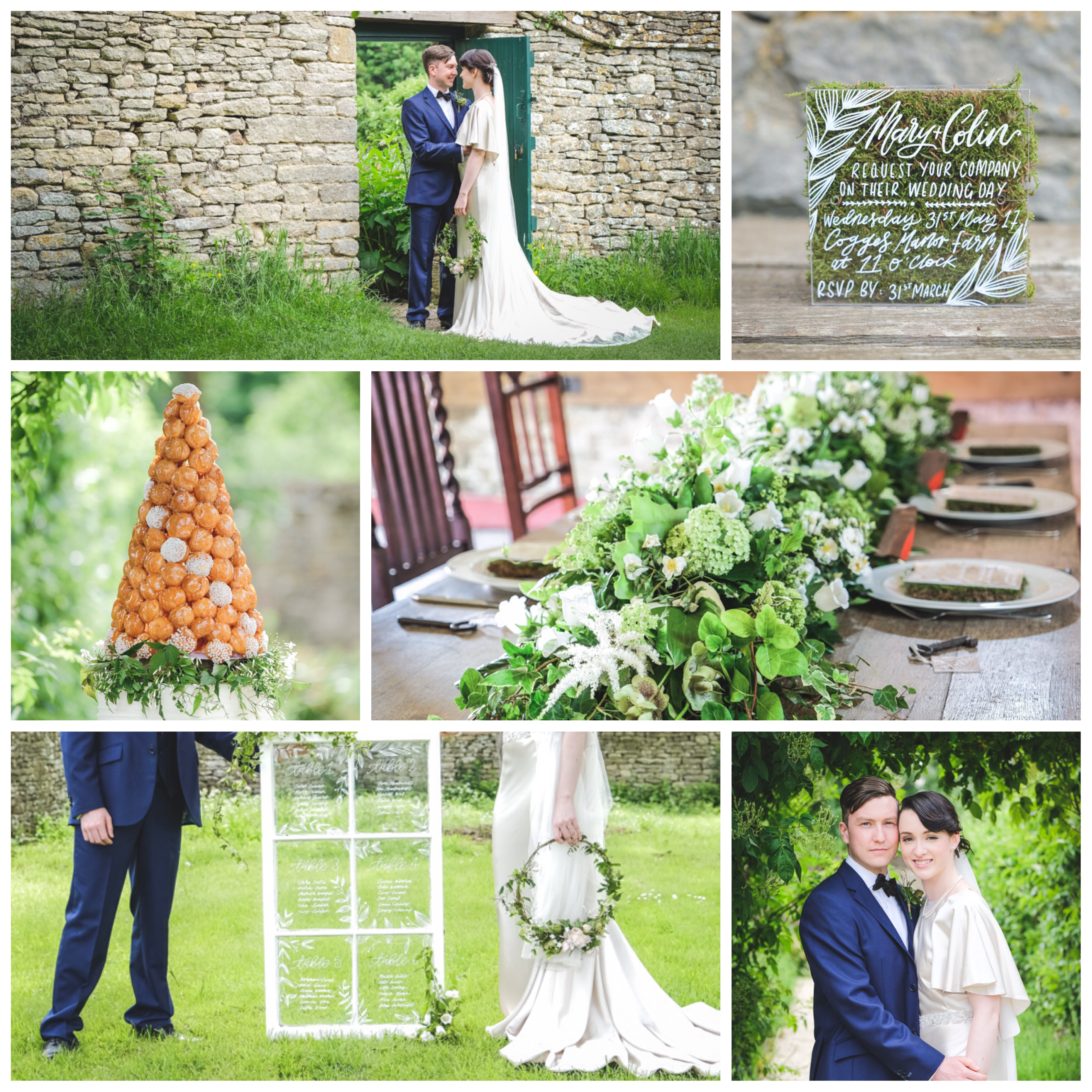 Theme
I chose the Secret Garden theme as it is another classic story with a sense of much needed rejuvenation in current times (see some of my previous styled shoots based on classics books). Published in the 1910s, The Secret Garden focuses on an orphan who is sent to live with her uncle at his mansion. She befriends a robin and discovers a neglected garden that she is determined to bring back to life. I wanted to hint at this theme with slight nods to the book with the name places, wooden robin favours and vintage keys.
Originally my next shoot was going to focus on a stunning local location with beautiful blossom trees in full bloom and falling down like confetti (which obviously stems from my love of cherry blossom). A local jeweller, Designed to Sparkle, wanted to be involved in one of my shoots and she had some stunning blossom pieces that would have fitted this theme perfectly.
However, as planning continued I realised that timings meant that not only would the trees have already had their hanami but also that I wanted to focus more on foliage and really make the most of the Greenery Pantone® colour of the year 2017. I wanted to show case the lush greenery of a stunning garden.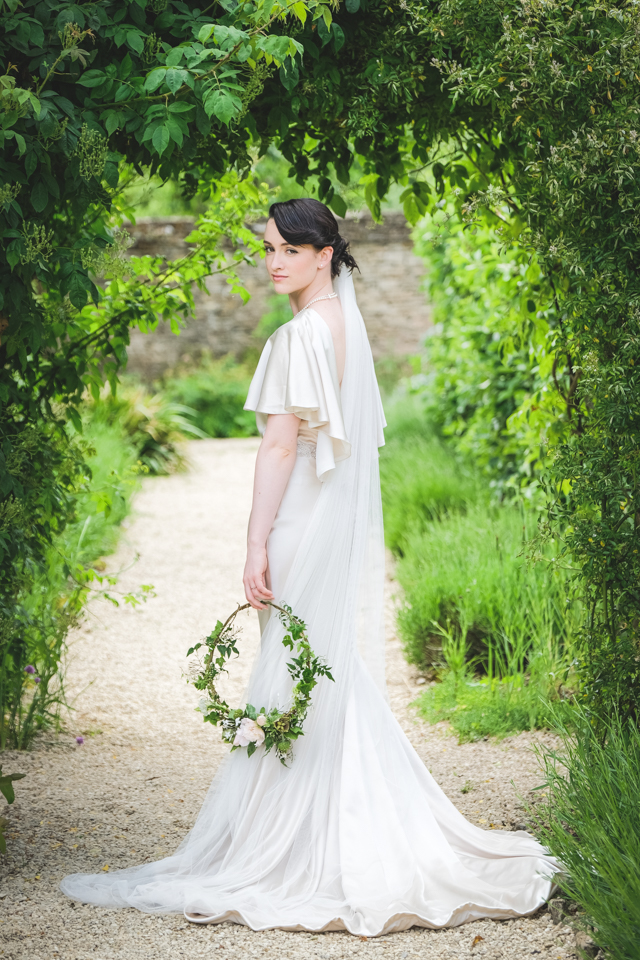 Styled shoot
A styled shoot takes almost as much time and effort to produce as a wedding day and entails bringing together the theme from many different suppliers.
The beauty of styled shoots (versus a real life wedding) is that it is a great opportunity to be a little more extravagant and really show off what you've always wanted to do. You can indulge your fantasies with new trends or products that couples may not have seen yet or something really unusual.
This styled shoot is a collaboration of like minded people that can create great things together but perhaps don't have the budgets to produce this kind of work if they all worked independently.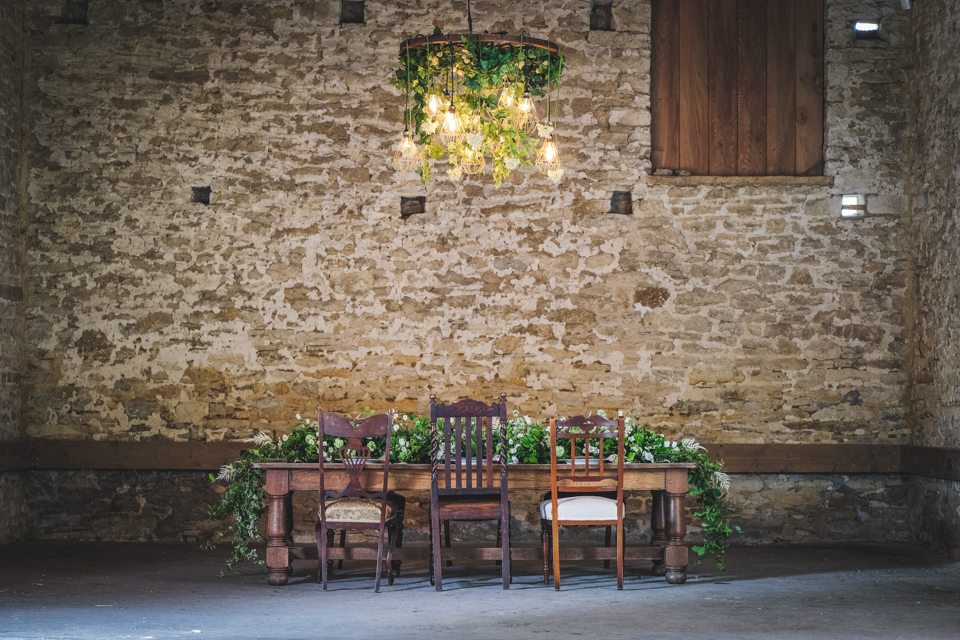 Brief
I am very lucky to live in a beautiful part of the UK and am surrounded by some seriously talented wedding venues, professionals and suppliers. I was honoured that so many wanted to be involved in this shoot and they certainly didn't disappoint with the products that they provided.
I gave them all the same brief that I was trying to achieve:
bring the beauty of nature inside for a secret garden wedding brimming with
lush green foliage, clear Perspex signage and modern twists on wedding traditions
I also provided them with my collated vision and ideas on my Pinterest board.
The themes I wanted to encapsulate included:
Modern
Edwardian
Delicate
Elegant
Greenery
Clear Perspex
Pearl
Hoops
Keys
Robins
I wanted the use of colour to be kept to a minimum with hints of colour and an abundance of green with a focus on white and the following spring/summer 2017 colours:
Greenery (Pantone® 2017 colour of the year)
Pale Dogwood (a really pale 'barely there' pink)
Hazelnut (almost a champagne / pearl colour)
Lapis Blue & Niagara (blues to act almost like cooling neutral colours)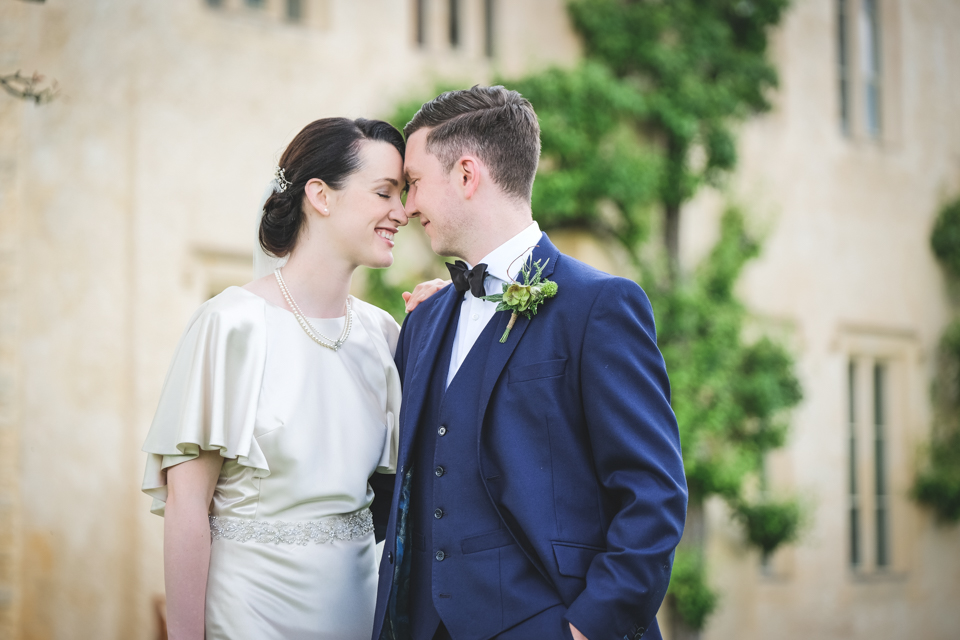 Designs
The creative suppliers worked wonders in transforming my overflowing pot of ideas and pairing it down in to realistic and achievable products for us to showcase.
Stationery designs – One of the first ideas for this shoot came from an image that I saw of clear acrylic stationery and I fell in love with the current trend for Perspex furniture and modern ways to present stationery. I was concerned with how this could be photographed but Squib Photography used the natural light to make sure there wasn't too much glare on the acrylic.
My vision was to present lovely modern, clear acrylic 'stationery' and signage with white brush lettering, where the greenery of the garden can be seen through the clear acrylic – bringing the outside inside.
I sourced the acrylic from a local builder's merchants (and my favourite go to place for any materials) who kindly cut the acrylic to size and drilled holes in the right places. The reclaimed window pane was to be the table plan which my best friend kindly donated (or rather retrieved from the skip outside her house!) which she had going spare as a result of her building project.
Next in stepped the highly talented The Paper Hare to wave her magic brush lettering over this raw material and make it look beautiful. The modern stationery included: menus A6 x6 (105mm x 148mm), invitation square (105mm x 105mm) with moss between 2 sheets, place names x6 (50mm x 50mm) attached to vintage keys from a local hardware shop with ribbon, 'ceremony' signage (297mm x 105mm), 'garden' signage (297mm x 105mm), 'choose a seat not a side' signage (297mm x 420mm), table plan on window pane (whole window is 600mm x 1060mm, each pane is 250mm x 300mm), table number on an acrylic tube (70mm diameter x 150mm tall).
Cake design – I was really keen to reintroduce the traditional wedding dessert of a croquembouche to play on the trend of wedding cake alternatives at the moment. Producers of these pièce montée are few and far between in the Cotswolds, but I was delighted to discover the amazing Paul from Cotswold Baking who rose to the challenge (#sorry #notsorry for the cake related pun!) of creating this masterpiece for the shoot.
A topic close to my heart is cake (do I mention it a lot?!) and I've written a bit on the history of wedding cakes. So I was intrigued to learn more about this style of French wedding dessert. Meaning crunch in the mouth, a croquembouche is made of choux pastry profiteroles piled into a cone and bound with spun sugar. Our dessert was made the traditional (and harder way) of being self supporting rather than being attached to another structure. An amazing and decadent centre piece, created in the late 1700s by a French pastry chef. Traditionally, the croquembouche used to be hit by a sword and the bridesmaids would catch the falling profiteroles in a tablecloth.
Our impressive cake cone stood aloft a plain white cake adorned giving it yet more height and a great modern twist. Several of the little choux were decorated with pearls to tie in with the jewellery worn by the bride.
Flowers – I wanted this shoot to really highlight the modern use of florals including a circle bouquet and floral chandeliers (along with edison lighting). In doing so, it almost became an 'anti flowers' brief, as I wanted the emphasis to be on the foliage and greenery with just subtle hints of white or pale pink (either on the foliage or with minimal flowers). There was also moss under the menus and between the sheets of the invitation so the brush lettering popped out. Plus foliage in the acrylic tubes so guests could read their table numbers. More greenery was used to dress the window pane table plan and fragrant jasmine on the cake stand. Lark Rise Flowers really went to town with my brief of having a lush cascading table runner pouring off the ends of the tablescape. Here are the flowers that were used in the shoot:

Bridal hoop – made from twisted stems of salix, entwined with Jasminum polyanthum, Hedera, and Lonicera japonica aureoreticulta. Embellished with flowers of Paeonia "Alertie", Rosa spray "Sweet Avalanche", Ornithogalum thyrsoides, Helleborus orientalis, Phlomis
Boutonniere – Helleborus orientalis, Astrantia major, Jasminum polyanthum, Phlomis, Hedera, Erica
Landscape table runner – flowers: Campanula "Champion White", Astilbe "Washington", Alchemilla mollis, Dianthus barbatus "Green Trick", Viburnum opulus "Snowball", Rosa spray "Seagull", Helleborus orientalis seedheads, Valeriana officinalis
Foliages: Hosta "Francee", Hedera, Lonicera japonica aureoreticulata, Aucuba japonica, Euonymus, Hebe
Window arrangement – Campanula "Champion White", Ammi visnage, Dianthus barbatus, Phlomis, Hedera, Hosta "Francee", Dryopteris fern
Cartwheel chandelier – Hanging blooms of Allium "Mount Everest"
Jewellery – I was delighted to work with the incredible Fiona at Designed to Sparkle. Despite my brief evolving from cherry blossom to modern Edwardian, she developed some perfect pieces to fit the theme and echoing the pearl accents of the shoot. She created the following pieces for the shoot:

Estrella multi-strand bracelet and necklace, made with navette set Swarovski crystal stones and pearls, in creamrose light shade. Estrella means 'Star', which is the real essence of the burst of sparkle in these beautiful pieces of jewellery.
Avanna hair vine with Swarovski pearls in creamrose light shade. 'Avanna' means beautiful flower, which is so perfect for these clusters of tiny blooms along the length of the hair vine.
Classic Fresh water pearl earrings on sterling silver posts.
Suppliers
I couldn't have been happier (and luckily) with the products that all the suppliers produced and provided.
Venue – The venue that I chose to use has an amazing walled garden (complete with green door) – an under-used aspect of a brilliant blank canvas of a local venue. Along with this, Cogges Manor Farm also has a stunning Manor House and grounds that have been used in the filming of Downtown Abbey. The Edwardian connections seemed to be adding up and I took the opportunity to combine traditional 1910s styled wedding elements with up to date modern twists. The barns are a great blank canvas – just look at the transformation!
Hair and Makeup – I was delighted that Lauren and Laura from Blushing Brides Hair and Makeup were another supplier to approach me to be involved in a styled shoot. They brilliantly interpreted my Edwardian brief complete with smoky eyes, pinched cheek blush and barely-there pale lipstick and even ensured that the groom's hair was slicked back.
Dress – I saw exactly the dress I wanted for this shoot in the window of Proposals of Witney – I walk past their window nearly every day and when I saw it I instantly knew this was the one! A beautiful champagne colour, perfect styling for the theme and, most importantly, looked like it was made for our stunning model. Fabulous high neckline, flutter sleeves, exquisite low back and amazing train.
Groom clothing – The Cotswold Tailor provided a brilliant outfit for our suave groom. The blue suit is actually their own label based on the success of another blue suit they had last year through their ultimate formal hire. They have created their own suits as they were fed up of the cheap poly blends that most hirewear companies offer. It's a British fabric 100% wool. Cut in traditional style but more modern in shape.
Lighting – Oakwood Events are an absolutely amazing company – friendly, reliable and highly sought after. Despite their really busy schedule, I was fortunate enough to involve their services in this shoot and show case a brand new addition to their portfolio. They've now added a large rustic wooden cartwheel hung with 10 squirrel filament bulbs in various shapes, with stylish bulb cages and adorned with greenery. It certainly made the statement that I wanted over the table and fit the theme and surroundings perfectly. I love the Edison style lights which added another modern/traditional element to the décor.
Chairs, glasses & gramophone – To complete the tablescape in the Barley Barn, I called upon the services of Linda's Vintage Hire who kindly provided their brilliant vintage mismatched chairs. They also lent their brandy glasses, decanter and gramophone to help style the garden scenes. I think the models were a bit disappointed that the glasses were only filled with apple juice though!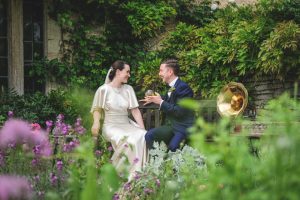 Favours – Another item I was keen to use from the outset were the wooden robins crafted by those clever folks at MuffatPrague. I first spotted these at an Oxfordshire Makers' Market at Relics in Witney and previously featured them in a wedding favour blog knowing that these cute fellows would make the perfect accompaniment for this Secret Garden shoot – in fact it wouldn't have been complete without these guys!
Models – And lastly, but by no means least, the shoot was brought beautifully to life by the stunning models. I advertised for 'the boy and girl next door' type models (think Lady Mary Crawley in Downtown Abbey and Harry Styles with his new short hair in the Dunkirk movie) and was not disappointed with the lovely Úna and Daryl. They are a real life engaged couple and this was great practice for their upcoming wedding in Ireland shortly. Hope you've managed to trick your family with these 'wedding' photos. I can't wait to see pictures from their real wedding in due course. Thanks guys for being such great sports!
See more about our Secret Garden shoot – Inspiration: modern Edwardian Secret Garden wedding
And take a look at the fabulous suppliers that were involved in this styled shoot – Keeping it local with suppliers for the Secret Garden shoot
Plus here's the video from the shoot too – Video: Secret Garden Wedding
#keepitlocal